News | 3 min read
Matherly to chair world's largest economic development association
November 3, 2015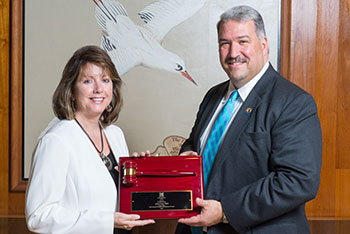 Partnership CEO selected for 2016 term
ANCHORAGE, ALASKA – The Greater Richmond Partnership, Inc. is proud to announce that its President/CEO Barry Matherly, CEcD FM, has been elected Chairman of the International Economic Development Council (IEDC) Board of Directors. Matherly, who will begin his one-year term Jan. 1, 2016, was voted into the position during the IEDC Annual Conference in Anchorage, Alaska.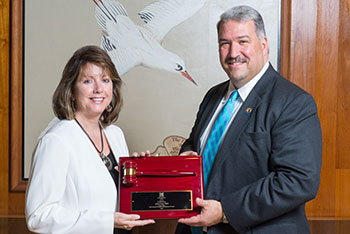 "We have an excellent board lined up for our upcoming year," said Jeffrey Finkle, president and CEO of the IEDC. "We are thrilled to have Barry Matherly as the new chairman of the Board of Directors and I look forward to working with him and seeing all that he accomplishes."
"This is definitely one of the top designations of my career," said Matherly. "It is an honor to serve on the Board and I look forward to working with the other members to increase the awareness and impact of economic development around the world."
Always a servant leader, Matherly worked in various capacities on the IEDC Board, most recently as Vice Chair and Secretary/Treasurer. In 2012, he was awarded Fellow Member (FM) status by the IEDC for attaining unusual stature in the field of economic development and closely related disciplines.
"As the world's leading membership organization for professionals in the field of economic development, IEDC's work has become vital to the global economy," Matherly said. "The Partnership prides itself with helping our employees and our local colleagues increase their knowledge base to gain certification as economic developers."
Barry holds a bachelor's degree from James Madison University and a master's degree from Virginia Tech University. He is also a graduate of the Economic Development Institute at the University of Oklahoma and a recipient of the Robert B. Cassell Leadership Award.
The Greater Richmond Partnership, Inc. was launched in 1994 as a pioneering regional public-private initiative to serve as the regional economic development group for the City of Richmond and counties of Chesterfield, Hanover and Henrico. The mission is to help grow the regional economy through the attraction of high quality jobs and new capital investment, the retention of existing businesses, and the continued improvement of the region's business climate. Please visit www.grpva.com.
The International Economic Development Council (IEDC) is a non-profit membership organization serving economic developers. With more than 4,400 members, IEDC is the largest organization of its kind. Economic developers promote economic well-being and quality of life for their communities, by creating, retaining and expanding jobs that facilitate growth, enhance wealth and provide a stable tax base.
# # #