Blog | 3 min read
Federal grants spark local innovation
November 20, 2023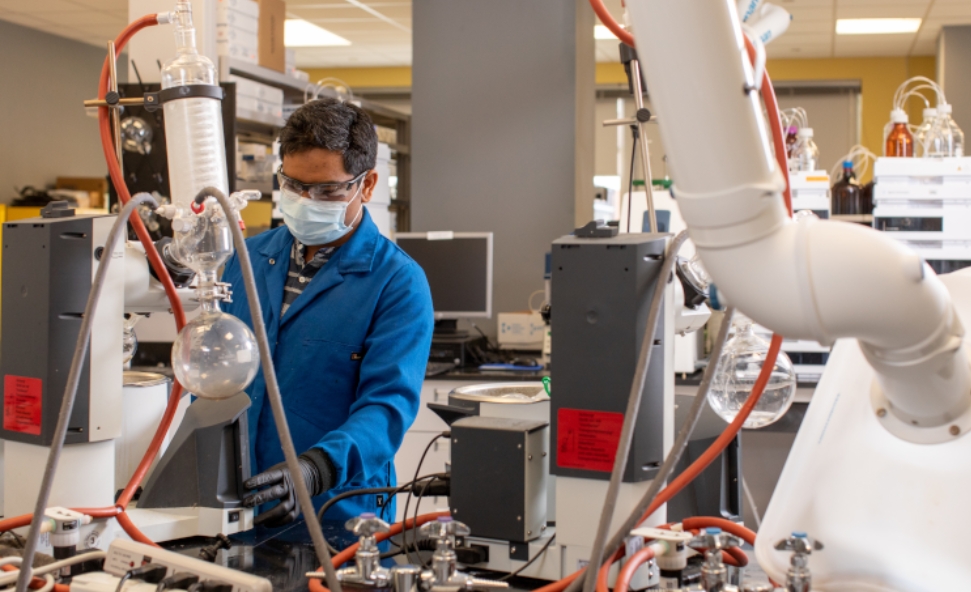 Over the past few years, the federal government has invested in advancing research and innovation in Greater Richmond. From new, innovative medical collaborations to substantial investments in tech infrastructure, the region has become a hub for scientific advancement and economic growth.
Most recently, Richmond was announced as one of the 31 communities across the U.S. designated as a tech hub by the White House Administration. Richmond is one of only 13 communities to receive this designation in addition to winning the Build Back Better Regional Challenge for Biotechnology and Health. As a winner, Greater Richmond will receive $52.9 million and use the award to boost pharmaceutical manufacturing in Virginia through the Alliance for Building Better Medicine. The goal of the Alliance is to bring drug manufacturing back to the United States, create a reliable domestic supply chain for essential medications and ensure better access to quality medicines while advancing manufacturing techniques and standards within the pharmaceutical industry.
Companies in Greater Richmond are also earning funding. Greater Richmond-based Phlow Corp. and nonprofit U.S. Pharmacopeia won a $354 million federal contract and opened two new labs at the Advanced Pharmaceutical Development Center at the Virginia Bio+Tech Park, located in downtown Richmond. The lab technicians will research and develop advanced manufacturing technologies to benefit the pharmaceutical industry and biotechnology companies.
VCU breaks records
In addition to companies, Virginia Commonwealth University (VCU), has received several federal research grants and is committed to advancing research initiatives in many different sectors. Behind the scenes, teams of research administrators work to coordinate the various components that collectively drive VCU's research mission forward, overseeing crucial tasks like managing grant applications and funding.
Most recently, VCU Medical Center expanded its partnership with the Naval Medical Center Portsmouth (NMCP), aiming to enhance trauma care and disaster response by integrating military and civilian expertise. VCU operates the only Level I trauma center in the region, certified for adult, pediatric and burn trauma care. The trauma center treats over 4,000 patients annually so it will give military personnel the opportunity to practice in a busy environment. In return, military medical practitioners will train VCU health providers in battlefield best practices. This collaborative effort not only improves medical care but also fosters academic and research initiatives.
Fiber + Chips
As for tech infrastructure, Virginia already has four high-speed fiber lines connecting it to the rest of the world and providing the world's fastest internet, making the region a hub for IT and data centers. Fiber optic cables are used to connect the world's internet, TV, cellphones and more. VCU's microelectronics lab, built 20 years ago, is now gaining significance due to the increasing demand for the research and manufacturing of semiconductor chips, which work with fiber optic cables to enable the transmission and processing of data.
The federal government invested in VCU's project by passing the CHIPS and Science Act in 2022, which will provide funding for research and manufacturing of semiconductor chips in the U.S. The funding will also be used to train a new STEM workforce that elected officials anticipate will make its way to Greater Richmond, thanks to the region's already well-established data centers, microelectronics labs and strategic position in close proximity to major highways.
Looking to the future
With initiatives ranging from ground-breaking medical partnerships to investments for semiconductor manufacturing and research, as well as pharmaceutical innovation, Greater Richmond is well-positioned to lead the way in advancing research and shaping the future of various industries, both locally and nationally.
Learn about Greater Richmond's industries here.