Blog | 7 min read
Innovation shapes Greater Richmond's future workforce
December 10, 2021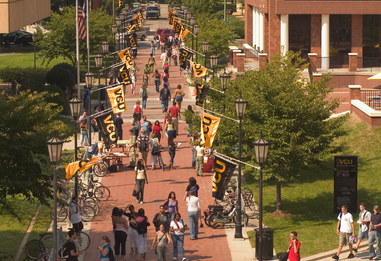 Greater Richmond's reputation for producing a talented workforce begins with its higher education institutions. The region is home to nearly 30 colleges and universities that excel in creating innovative programs to prepare students to be leaders in fields such as engineering, business, medicine, law and more. Institutions like Virginia Commonwealth University and University of Richmond, in addition to several community colleges, welcome thousands of students to the region each year that often funnel directly into the local workforce after graduation. In fact, the Wall Street Journal recently ranked Richmond among the top 20 Cities Where People Can Find a Job.
Why focus on innovation?
The workforce in Greater Richmond is both diverse and educated, a compelling blend for job recruiters and job seekers. Currently, 90 percent of the population 25 and older have obtained a high school degree and 38 percent have obtained a bachelor's degree or higher. Additionally, 38 percent of the region's population is non-white, making the region more diverse than the state and national average.
In Greater Richmond, the workforce of over 665,000 represents individuals of all walks of life and its diversity fuels innovation. With new perspectives come new ideas. Fortunately, diversity is seen throughout the region. The City of Richmond is a minority-majority metro based on the latest U.S. Census data. Richmond also ranks the 13th Most Diverse Midsize City and the 1st for Religious Diversity by WalletHub. Chesterfield County also received an award for its diversity, equity and inclusion practices by Top Work Places.
Why is innovation important? Technology is a crucial element in each key industry sector in Greater Richmond:
Food + Beverage producer Mondelēz International was able to expand its manufacturing and supply chain operations with new equipment that will boost efficiency in its local factory.
Supply Chain software firm Warehowz recently introduced AI-powered technology to increase the speed of the warehousing logistics process.
Advanced manufacturers Liquibox and WestRock collaborated earlier this year to create innovative solutions for packaging liquids. Innovation allows companies based in the region to stay ahead of trends, and oftentimes, it starts in the classroom.
Virginia Commonwealth University
Virginia Commonwealth University's diversity sparks a breeding ground for innovation as seen by VCU's da Vinci Center for Innovation, a program created to develop students' skills across several disciplines. The da Vinci Center aims to create "T-shaped individuals" that have the capacity and open-mindedness to engage their skills through cross-collaboration.
"As a leading urban public research university, VCU is an important catalyst for the future of higher education," says Garret Westlake, executive director of the da Vinci Center.
In addition to da Vinci Center, VCU is comprised of more than 200 programs for its 29,500 students. Nearly 57 percent of students represent minority populations and almost 4 percent represent international students.
University of Richmond
The University of Richmond is home to approximately 4,000 students, 38 percent of which are non-white. UR currently ranks 16th among National Liberal Arts Colleges on the Most Innovative Schools List according to U.S. News and World Report. The university recently developed the Creativity-Innovation-Entrepreneurship Initiative (CIE) to encourage entrepreneurial ingenuity and creativity and to enable students to address problems and challenges from more than one perspective.
UR's new initiative provides students with a unique opportunity to obtain expertise from each of the university's five distinguished schools: the Robins School of Business, Richmond School of Law, Jepson School of Leadership Studies, School of Professional & Continuing Studies and the School of Arts and Sciences.
"As participants progress from ideation to acceleration, UR will provide support through academic and experiential offerings, prototyping funds and mentorship from UR-campus experts and Richmond's startup ecosystem," said Somiah Lattimore, Inaugural Director of the initiative.
Virginia State University
According to U.S. News and World Report, Virginia State University ranks among the Best Colleges in Regional Universities in the South. A historically Black college and university, VSU recently partnered with Apple to create a Community Center for Coding and Creativity. As part of the $30 million Racial Equity and Justice Initiative, Apple provides VSU with equipment and professional development for its students.
According to Dr. Dawit Haile, Dean of the VSU College of Engineering and Technology, "This past year has shed light on the importance of technology in our ever-advancing global society. This new initiative and partnership with Apple provides our students an opportunity to further be a part of the revolutionary world of technology."
Virginia Union University
One of Virginia Union University's primary core values is innovation. As one of the nation's oldest HBCUs, VUU encourages its students to perform groundbreaking research using the institution's state of the art technology and its premier curriculum.
VUU's collaboration with Apple in the Mobile Learning, Mobile Life Initiative prioritizes the experience of students attending the university. In addition to every freshman being provided with an Apple product bundle, the students are also given access to Apple's coding and app development curriculum to prepare students making their way into STEM professions.
Dr. Hakim J. Lucas, President and CEO of Virginia Union University said, "Our collaboration goes much further than technology; Smart Campus will help as we prepare students to enter the workforce, putting them on the path to generational wealth."
Randolph-Macon College
With a current enrollment of 1,500 students and nearly 40 available majors, Randolph-Macon College ensures the success of its students through resources like the EDGE Career Center. Ranked 13th among Best Career Services by the Princeton Review, the Center offers career exploration and professional development tools for students seeking a career post-graduation.
R-MC also encourages innovation by collaborating with the Activation Capital-affiliated Dominion Energy Innovation Center to host a pitch competition that welcomes early-stage advanced technology companies. The collaboration allows R-MC student to participate in hands-on-learning and the potential to network with major employers.
Reynolds Community College
Reynolds Community College allows students the opportunity to complete short- or long-term courses personalize based on their desired industry. As nearly 20 percent of Reynolds campus represents first-generation students, the college offers a variety of degrees and certifications to effectively prepare students for the workforce at their own pace.
Earlier this year, Reynolds partnered with Toyota to establish a new automotive facility set to open in 2022. The facility will help combat the automotive technician shortage by teaching students new and advanced career skills.
John Tyler Community College
John Tyler Community College enrolls more than 10,000 students. Like Reynolds, John Tyler provides students the ability to customize their coursework based on skills they want to learn. John Tyler also works with organizations throughout Greater Richmond like the Community College Workforce Alliance, which helps students develop necessary skills before entering the workforce.
Recruiting to Greater Richmond
Greater Richmond is home to several higher education systems that aim to boost the creativity and innovation of local students and are well-poised to produce creative, interdisciplinary graduates. But if companies have trouble recruiting college graduates, they can find 1.1 million higher education students within 150 miles of the region.
Future Innovation
Thanks to the world class higher education system in Greater Richmond, the local workforce is innovative and ready to work. The region's diversity fuels creativity which is evident by new programs and initiatives from the local colleges and universities. As more innovative programs are introduced in the region, Greater Richmond's workforce will only become more educated and more diverse in the years to come.