Blog | 2 min read
Virginia ranks #2 in CNBC's Top States for Business
July 11, 2023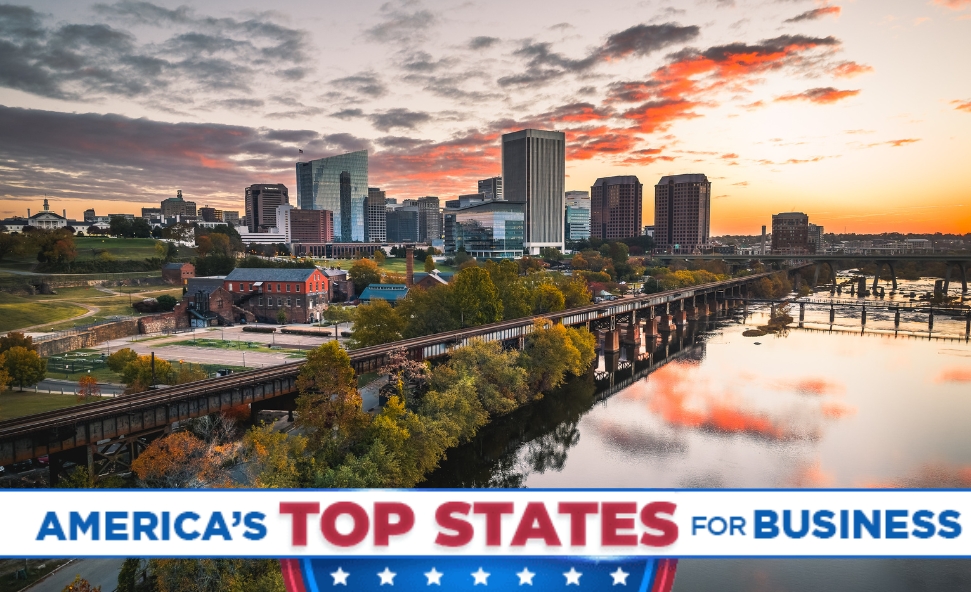 This year, Virginia rose one spot on CNBC's list of the Top States for Business. The Commonwealth of Virginia ranked #3 in 2022 and for two consecutive years in 2019 and 2021 the commonwealth ranked #1. No list was released in 2020 due to the pandemic. Overall, Virginia has ranked #1 five times, more than any other state.
Several factors were considered in CNBC's methodology. For instance, Virginia ranks #1 for education, #4 for access to capital, #6 for business friendliness and #7 for workforce.
What makes Virginia such a strong location for business? Read on to learn why eleven Fortune 1000 companies and major operations from companies like Capital One and Meta call Greater Richmond, Virginia, home.
Why Richmond
Greater Richmond and Virginia are well known for their pro-business climates. In fact, Virginia was even founded as a company in its early beginnings. The region offers a stable environment with policies friendly to both businesses and people. Greater Richmond also provides companies with an attractive cost of doing business compared to other U.S. mid-sized regions.
Thanks to its mid-Atlantic location along the East Coast, Greater Richmond boasts access to 45 percent of U.S. consumers with strong infrastructure networks that span air, road, rail and sea. Greater Richmond is within just two hours of both Washington, D.C., and Raleigh, N.C.
The region's education-to-workforce pipeline is strong with 1.7 million higher education students within 150 miles, providing companies access to a highly educated workforce. In Greater Richmond, 39 percent of residents have a bachelor's degree compared to the U.S. average of 34 percent.
Read more here.
Target industries
Greater Richmond is suitable for companies of all sizes and across several different industries. The Greater Richmond Partnership works to recruit relocating and expanding companies in seven different industries: (1) Advanced Manufacturing, (2) Corporate Services, (3) Finance + Insurance, (4) Food + Beverage, (5) IT, (6) Life Sciences and (7) Logistics + E-commerce.
Learn how companies in these industries thrive with GRP success stories.