Blog | 7 min read
Going Green: how organizations in Greater Richmond embrace sustainability
February 17, 2022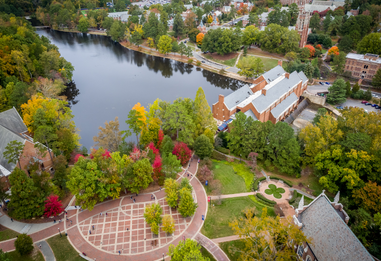 Greater Richmond, Va., is home to a diverse collection of businesses and entities with real commitments to increasing their Environmental, Social and Governance (ESG) efforts. As more businesses in the region demonstrate their commitment to environmental sustainability through action, the region is positioning itself as one that doesn't just support sustainability, it embraces it.
Site location consultants are increasingly using ESG as one of the criteria when scoring communities for new projects. That said, Greater Richmond is primed for companies with a sustainable mindset looking to relocate and it is full of examples of businesses in the area making strides to go green and receiving the support they need to do so.
Here are five businesses and organizations in Greater Richmond that are doing their part to make the region a green hub of sustainability:
Dominion Energy
Over the last 10-15 years, Dominion Energy has reduced its carbon emissions by more than 50 percent and methane emissions by 25 percent. By 2050, the City of Richmond-headquartered energy giant will achieve net-zero greenhouse gas emissions across all its electric and natural gas operations. Dominion's solar fleet is the third largest in the nation and powers 600,000 homes with zero-carbon electricity. In 2022, it has committed to build enough solar infrastructure in Virginia to power in an additional 750,000 homes. Its vision is to become the most sustainable energy company in the country.
GreenCity
Last year, the Henrico County Board of Supervisors approved zoning for the $2.3 GreenCity Project, a mixed-use development that will feature a 17,000-seat arena, two hotels and office and retail space. The project, which will be built on 204 acres, will be the state's first eco-district, a sustainable development with a reduced ecological footprint.
GreenCity will limit its carbon footprint by reusing the existing 300,000-square-foot building on-site and will eventually enable green businesses to relocate to a place that was built with sustainability at the forefront. In addition, the planned arena aims to draw artists from all over the world because of its prime location to I-95 and neighboring cities, but also because many artists are now looking for performance venues that are as committed to the environment as they are entertainment.
GreenCity developers plan to start the first phase of construction in the second half of the year, with the full development slated to be completed closer to 2033 or 2034.
Altria
In February, Henrico-headquartered Altria Group was recognized as a member of CDP's 2021 Supplier Engagement Leaderboard for climate change, with a rating that puts the Fortune 500 organization in the top 8 percent of companies included. The ranking is a measure of how effectively companies are engaging their suppliers on climate change.
In its 2020-2021 Corporate Responsibility Progress, the organization shared its 2025 goals which include:
Reducing absolute Scope 1 & Scope 2 emissions by 55 percent
Reducing absolute Scope 3 emissions by 18 percent
Achieving 100 percent renewable electricity
Reducing waste sent to landfill by 25 percent
Achieving 100 percent water neutrality each year
Meta's Data Center
Meta's 970,000-square-foot data center, which opened in August 2020  in Henrico County's White Oak Technology Park, is powered entirely by renewable energy. Meta, Facebook's parent company, worked with Dominion Energy to secure a renewable rate option that allows large energy users to acquire and pay for renewable resources to cover their energy usage.
Last fall, the tech behemoth signed a power purchase agreement with D. E. Shaw Renewable Investments for the Chester Solar project. Chester Solar will be built in Chesterfield County and will support Meta's regional data centers.
Anthem
Anthem also invests in solar developments. The health insurance company announced a 182-acre solar field in Hanover County in September 2020. The solar development is part of Anthem's commitment to sourcing 100 percent renewable energy by 2025. With another solar field in North Carolina, Anthem anticipates the developments will create enough renewable electricity to power all of Anthem's offices and data centers in the nation.
Greater Richmond's Colleges and Universities
The region's colleges and universities are paving the sustainability way, too.
In December, Virginia Commonwealth University (VCU) received a STARS Gold Rating from the Association for the Advancement of Sustainability in Higher Education (AASHE), an international sustainability organization that measures the performance of higher education institutions. Since 2012, VCU had received the award's Silver Rating. Since then, VCU has made several strides to propel the college to AASHE's Gold Rating and double down on its commitment to sustainability, including:
Phasing out most single-use plastics
Developing the VCU Free Store, an initiative designed to promote equitable access to supplies for students in need while diverting usable goods from landfills
Investing $17 million in an energy performance contract to reducing its carbon emissions by more than 59,000 metric tons
The University of Richmond is also working to decrease its carbon footprint. The University of Richmond has already reduced its greenhouse gas emissions by 30 percent and has committed to being net-zero by 2050. Over the next three years, the university has also pledged to achieve 75 percent diversion of materials to landfills.
In a strong effort to reduce its carbon footprint, the University of Richmond announced in January 2021 it is now able to match 100 percent of its electricity needs with a single solar power source. The university powers its day-to-day operations with its 47,000-panel and 20-megawatt off-site solar energy facility.
Randolph-Macon College also has a robust sustainability program. The college focuses on initiatives like recycling, composting, LEED-certified locations, energy tracking and savings, water-use reduction and more.
Virginia Union University and Virginia State University both offer programs focused on sustainability. Virginia Union University offers a Community Health & Sustainability program and Virginia State University boasts its own Sustainable and Urban Agriculture Program. VSU's program provides a comprehensive educational program for Virginians to adopt sustainable and urban agriculture practices. In addition, the university has been recognized as an Exemplary Environmental Enterprise in the Virginia Environmental Excellence Program for its environmental management system, pollution prevention program and strong track record of sustained compliance with environmental regulations.
The area's community colleges are also doing their part to going green. John Tyler Community College was the first college in the Virginia Community College System to have a building registered under the Leadership in Energy and Environmental Design (LEED) Green Building Rating System and Reynolds Community College has committed to making a positive impact on the environment by implementing responsible practices for the conservation of energy and natural resources and the reduction of waste on its campuses.
Transportation
Founded in 1860, the Greater Richmond Transit Company (GRTC), provides transportation services to Richmond and parts of Henrico, Chesterfield and Petersburg. Since 2012, GRTC has operated more than 25 million miles with Compressed Natural Gas (CNG) vehicles. CNG-fueled vehicles are more economical, environmentally friendly and quieter than vehicles with diesel fueling.
In addition, Greater Richmond has a growing number of alternative and sustainable transportation options.
Over time, the region has grown to become more and more cycling friendly. In 2018, Richmond was included in Bicycling's round up of the Best Bike Cities in America for the first time, and the area boasts a "Very Walkable" walk score of 86, a metric that measures the walkability of any location based on the distance to nearby places and pedestrian friendliness.
Greater Richmond is home to the Virginia Capital Trail, a 52-mile paved pedestrian and bicycle trail that runs from Richmond to Virginia's past capital city of Jamestown. And similar to the Capital Trail is the Fall Line, a new project that will connect Petersburg to Ashland with a 43-mile regional walking and biking trail. Construction for the Fall Line has yet to be announced.
And for those interested in other sustainable options, the region is full of scooter and bike shares: Bird, Boltz, Helbiz and Lime, to name a few. We'd be remiss not to include RVATuk Tuk, an environmentally responsible electric transportation company providing three-wheeled, 100% electric, "open-air limos" to the region.
From higher education and technology to mixed-use development and transportation, organizations in Greater Richmond value sustainability and are investing in making the region a healthier place to live, work, learn and play.