Blog | 2 min read
Greater Richmond in-migration leads to population increase
September 14, 2021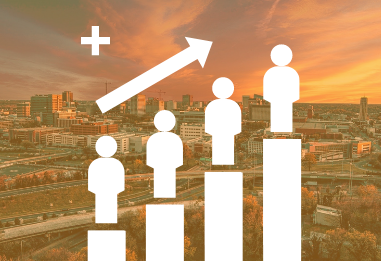 Greater Richmond is a mid-size market great for young professionals establishing their careers. In fact, WalletHub recently included the region among the top 25 Best Places to Start a Career and the Wall Street Journal ranked Richmond in the top 20 cities where people can find a job. Accolades like these help draw people to the region and according to new data from the U.S. Census Bureau, the Greater Richmond population is indeed growing.
In May 2021, the U.S. Census Bureau released its annual population estimates for the nation down to individual counties and county equivalents like the Virginia cities of Richmond, Colonial Heights, Petersburg and Hopewell. The U.S. Census Bureau also provides population data for metropolitan statistical areas (MSAs) and estimates natural population changes (births minus deaths), net domestic migration and net international migration over the past two and 10 years.
In 2010, nearly 1.2 million people lived in the Richmond MSA. According to the U.S. Census Bureau, the population increased 9.7 percent by 2020, equivalent to gaining 32 people every day, totaling more than 1.3 million. The Richmond MSA's growth rate was much higher than the average growth rate of 5.2 percent and higher than the 8.1 percent rate for the 55 MSAs with 1 million or more people. The Richmond MSA was the 46th largest MSA by population in 2010. By 2020, it rose to the 44th largest MSA.
Between 2019 and 2020, Richmond gained nearly 9,500 new residents for a 0.7 percent increase, higher than the mean increase of 0.4 percent for MSAs with populations of 1 million or more. The source of these new Greater Richmond residents is what makes the region stand out.

In metro areas with more than one million people, 48 percent of new residents relocated from somewhere else within the U.S. and 11 percent relocated from abroad. In Greater Richmond, however, 51 percent of the new residents moved from within the U.S. and 25 percent came from abroad.
According to Patrick O. Gottschalk, Partner and Chair of the Economic Development Team at Williams Mullen, "We have seen a lot of companies and related personnel from the United Kingdom locate in the Richmond Region and another top country would be Germany. It seems that Europeans continue to find the Richmond MSA a great place to do business and grow in the U.S. market."
While the Richmond Region lags in population growth from natural increase, Greater Richmond has higher growth from domestic and international migration than the large metro area average.