Blog | 6 min read
Fleeing Washington, D.C., for greater value in Richmond
September 9, 2021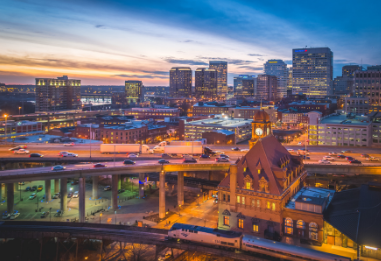 Greater Richmond is a prosperous mid-size region that is gaining both companies and individuals from larger cities like Washington, D.C. Recent studies show people are moving away from large metropolitans in search of more affordable and less congested cities. Greater Richmond has claimed several accolades recently, including its ranking among the top 50 Best Places to Live and top 10 cities that people are moving to during the pandemic.
Are you in the market to relocate?

Strategic Office Locations
Office users gain strategic advantages by locating within Greater Richmond. The region is currently home to 12 Fortune 1000 companies, more than any other mid-size market. Locating in Greater Richmond allows corporate office users to reap the benefits of a growing world class workforce, cheaper operating costs than other regions and low costs of living for business executives and their employees.
Greater Richmond's strategic mid-Atlantic location also serves corporate offices. In only two hours, drivers from Greater Richmond can reach the nation's capital 90 miles away which is one of the reasons ICMA-RC relocated from Washington to the Richmond Region.
Bob Schultz, former CEO of ICMA-RC – now MissionSquare Retirement – said, "One of the reasons we arrived in Richmond was because it's much less expensive than other cities, but only an hour and a half to 2-hour drive from our headquarters [in Washington]. So, we could get to meetings and stay in touch with the staff there. Almost all the other locations we were looking at were in different time zones where we had to get on a plane and spend a day traveling there and a day getting back for a relatively short meeting."
Manufacturing Advantages
Like corporate services, Greater Richmond is a strategic location for several industry sectors, especially manufacturing. The region is currently home to more than 1,100 manufacturing facilities that help employ more than 31,000 local workers. Companies like AdvanSix, Altria, DuPont, NewMarket and WestRock continue to stake a claim in Greater Richmond, investing $2.95 billion since 2010.
In addition to a positive business climate, manufacturers need access to strategic supply chain options. Greater Richmond is located along the middle of the East Coast, enabling drivers to reach 45 percent of the U.S. population in a day's drive and 24 of the top 50 most populous U.S. cities. Manufacturers in Greater Richmond also take advantage of several different types of infrastructure: road, river, runway and rail. The region is connected by four interstate highway systems (I-64, I-95, I-85 and I-295), the Richmond Marine Terminal operated by the Virginia Port Authority, rail service provided by CSX and Norfolk Southern and finally, the Richmond International Airport, where companies can take advantage of Foreign Trade Zone 207 to defer paying customs duties on goods.
Workforce
Greater Richmond, Va., is the northernmost right-to-work state on the East Coast with union membership (4.2 percent) comparatively lower than that of Washington, D.C. (8.2 percent). Companies operating in Greater Richmond also save on annual wages, which are almost $50,000 less than in the nation's capital.
Greater Richmond's workforce is abundant, growing and highly educated. The labor force in the region offers 665,000 workers, but more individuals commute into the region which brings Greater Richmond's combined labor shed to 1.1 million. In addition to the region's 30 higher education institutions, the 1.1 million students within 150 miles often funnel into the local workforce.
Lisa Ruggles, CoStar's Senior Vice President of Global Research, Analytics and News, is happy to have relocated to Greater Richmond where CoStar can benefit from the local workforce. According to a recent statement from Ruggles, "As a fast-paced company with plans for further expansion, this new space will allow us to comfortably grow our team, create job opportunities and tap into the local, rich talent pool, allowing for increased engagement and networking opportunities in a city we are proud to call home."
In addition to the strong workforce that already calls Greater Richmond home, thousands of individuals that move into the region funnel into the workforce, adding skills and new perspectives. Studies show almost 56,400 individuals moved to Greater Richmond in 2018 and 10,000 of them moved from Washington and the surrounding MSA. Why are people moving to Greater Richmond from other metropolitan areas? Hear what they have to say here.
Low Operating Costs
Locating in Greater Richmond comes with many advantages, like cheaper operating costs when it comes to commercial real estate and state income taxes. In Greater Richmond, companies can lease class A office space for $24.52 per sq. ft. compared to Washington's $45.93 lease rate. Flex space in the Richmond Region is also cheaper than in Washington, as is warehouse space. In Greater Richmond, companies can lease flex and warehouse space for $11.34 and $6.20, respectively, while Washington-based companies pay $15.99 for flex space and $11.61 for warehousing.
In addition to its proximity to Washington, Bob Schultz expanded MissionSquare Retirement to Greater Richmond to cut down on real estate costs. "We were getting really squeezed in Washington and it's really expensive to rent additional space. And so, we decided that we needed to shrink our footprint in Washington back to the space that we owned in our headquarters building and stop renting so much space nearby," says Schultz. "Space here in Richmond – believe it or not – costs about one-third of what it costs for that space in Washington. We looked at 20 other cities across the country searching for this alternative or second location and thank God, we arrived in Richmond."
Companies operating in Greater Richmond also save when it comes to state corporate income taxes. In the Richmond Region, companies pay only 6 percent while those in Washington pay 8.25 percent.
More Affordable Costs of Living
Money goes further in Greater Richmond compared to Washington. The cost of living in the Richmond Region is below the national average at 96.5 while Washington's is well above the national average at 159.0. Additionally, those in Greater Richmond save when it comes to personal income taxes. The tax rate in the region is only 2 to 5.75 percent while comparatively, individuals can expect to pay 4 to 8.95 percent in personal income taxes.
In addition to personal tax rates, Greater Richmonders save exponentially when it comes to purchasing single-family homes. Compared to Washington's $1 million listings, families in the Richmond Region can find the perfect fit for less than $320,000.
Many young professionals are moving out of Washington to Greater Richmond to begin their careers in a more affordable location. Lauren Clark of Thompson Reuters is one of those professionals who made the move to enjoy the most bang for her buck. According to her, "anybody can find something for them in Richmond. My commute changed when I moved here and I went from living in a three-bedroom apartment with two other roommates to having my own place and a yard and a dog."
Summary
Greater Richmond has long been a manufacturing and corporate services hub for its proximity to the nation's capital, available infrastructure and strategic location along the East Coast. Combined with a strong work force at a lower cost, cheaper real estate and tax rates than other regions and affordable living, Greater Richmond is poised for continued success. By re-locating from metropolitans like Washington, companies can save on costs and gain long-term value.