Blog | 3 min read
Ukrops receive namesake economic development award for their dedicated efforts
September 19, 2022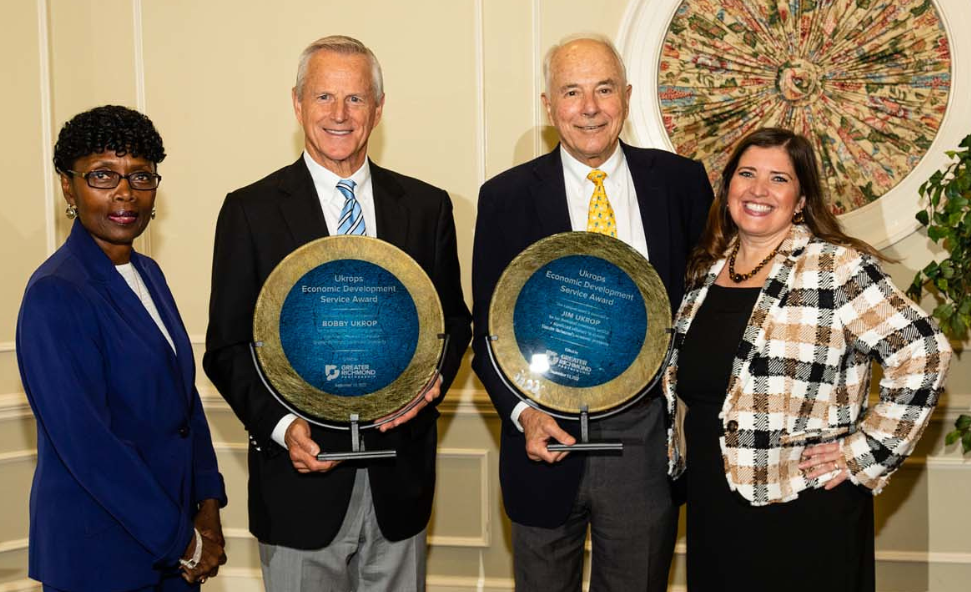 The Greater Richmond Partnership (GRP) held its Annual Meeting on Tuesday, Sept. 13, where the organization's leadership announced record-breaking annual results and recognized partners who have dedicated time and resources to aiding GRP's vision for the region.
Among those recognized were Jim and Bobby Ukrop who have served the organization for nearly three decades. Along with other business leaders, Jim Ukrop was among the organization's founders in 1994 and helped raise the initial private-sector funds to establish GRP as a public-private partnership.
In the late 1990s, Bobby Ukrop of Ukrop's Homestyle Foods joined the organization's leadership, sharing his brother's passion for regional economic development and eventually serving as three-time Chair of the Board of Directors.
"Even before I was hired, the Ukrops had proven themselves as leaders of the business community by helping to guide and establish relationships across decades," said GRP founding President + CEO Greg Wingfield. "It's difficult to imagine a Greater Richmond without their significant influence."
"This year, we have created an inaugural award for two people who have inspired community and corporate leadership alike for a long period of time," said GRP Board Chair Dr. Cynthia Newbille. "I am honored to present this award to both Bobby and Jim."
To celebrate the Ukrop brothers for their efforts, the Greater Richmond Partnership created the Ukrop's Economic Development Service Award to honor volunteers who dedicate themselves to Greater Richmond's economic prosperity. GRP will continue to honor future awardees with this Ukrop namesake designation.
"The nation's economic landscape has changed dramatically in the last 10 years, but during that time, one thing has remained constant: the importance of a regional economic development organization spearheading the business attraction efforts of Greater Richmond," said Bobby Ukrop. "The public sector can't do it alone, and neither can the private sector."
"What a wonderful ride," said Jim Ukrop upon accepting the honor. "Thank you for making our families a part of this wonderful experience. We've got a long way to go and we've come a long way."
"Jim and Bobby are behind so much of Greater Richmond's economic success," said GRP President + CEO Jennifer Wakefield. "Under their leadership and guidance, the organization has outperformed itself time and time again, raising Greater Richmond to national prominence. They are both well deserving of this recognition."
Photos from the Annual Meeting can be found here.
Watch the Ukrops Economic Development Service Award introduction video here: