News | 1 min read
Kings Dominion's newest spinning, tumbling roller coaster, Tumbili, is now open
March 23, 2022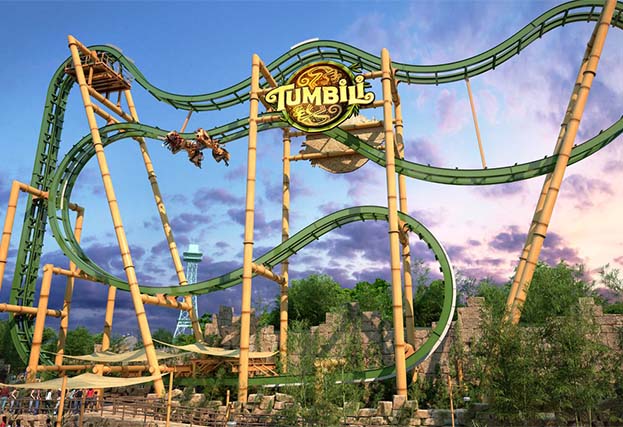 Kings Dominion's newest roller coaster inverts its riders forward and backward as the cars whip around, independent of the track, mimicking the path of a monkey swinging from vines.
The park, which is now open on weekends, debuted the coaster on Saturday.
Tumbili, which is Swahili for "monkey," stands 112 feet, reaches 34 mph and lasts almost a minute. The name captures the ride's essence as riders tumble their way down the track. Manufactured by S&S — Sansei Technologies, the coaster's format is called a 4D free spin coaster. A spokesperson declined to share the cost.
It's located where The Crypt used to stand, across the former home of Volcano: The Blast Coaster.
The theme park in northern Hanover County now has 13 roller coasters — it last added one in 2018 when it opened Twisted Timbers, a coaster to replace Hurler. Three coasters have been removed since 2015: Hurler, Shockwave and Volcano.
Kings Dominion hasn't announced a replacement for Volcano, its most popular coaster. A spokesperson said this week that the location was prime for a new attraction — the internet is buzzing with speculation.
Read the full story here.