Blog | 3 min read
Greater Richmond is a top spot for talent to Work from Home
August 31, 2020
The COVID-19 pandemic has caused a seismic shift in people working from home. But even before stay-at-home orders were put into place, work-from-home jobs were growing faster than the overall labor market by 11 percent since 2005 according to Chmura Economics and Analytics. In fact, the Bureau of Labor Statistics said that 24 percent of employed persons in 2019 did some or all of their work at home.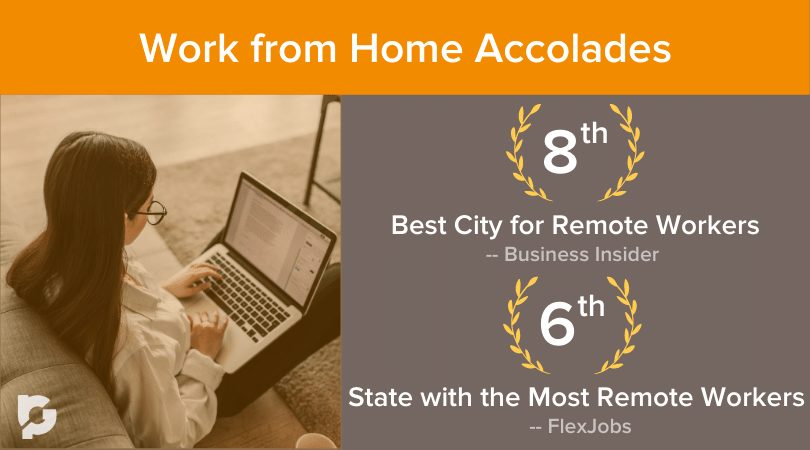 Now six months into the pandemic with no feasible end in sight, nearly half of companies are saying their employees can work-from-home indefinitely according to Gartner. And when workers can live anywhere, many are re-assessing why they live where they do according to a recent Wall Street Journal story. In fact, with so many residents of larger cities like New York City fleeing to smaller mid-size markets, some movers are even turning potential clients away.
As of June, FlexJobs ranks Virginia #6 state with the most remote workers. Chmura Economics and Analytics completed an occupational analysis to determine which jobs can be done remotely. It turns out that several of the key industry clusters found in Greater Richmond – corporate services / middle office, information technology, finance and insurance – are situated ideally for these positions.
Business Insider said Greater Richmond is the #8 best city for remote workers based on cost of living, commute-time savings, Wi-Fi speed, coffee shops, and coworking spaces. And a new list from Finance Buzz says Richmond ranks among the top 25 cities for newly remote workers who value affordability (and sushi) ranking factors like cost of living, wi-fi speeds, delivery options, parks per capita, proximity to major airports and affordable 3+ bedrooms on the market.
"Richmond has all the best features of a big city: a thriving arts scene, a beer trail, and plenty of museums and attractions. It's also a great spot for outdoor enthusiasts, with multiple options for biking, hiking, and river rafting. And there's a diverse culinary scene with hundreds of delivery options to keep your appetite sated." – Finance Buzz
According to CoStar data, the Richmond Region had the strongest apartment rent growth of any metro area in the country between April and June with Chesterfield County with the most units under construction and the highest percentage of its supply currently under construction. "No other metro has thrived quite like Richmond throughout the pandemic," said CoStar Senior Market Analyst Michael Cobb when discussing Richmond's robust apartment market.