Blog | 4 min read
Richmond Region bioscience industry outpaces state, U.S.
May 30, 2019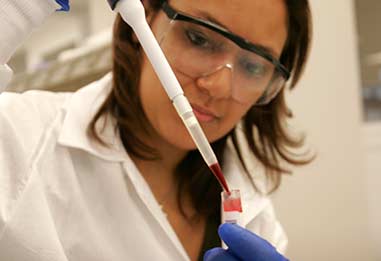 Bioscience firms in Richmond are growing at nearly twice the rate of Virginia and the United States, according to Chmura JobsEQ. In Greater Richmond alone, over $140 million have been invested by bioscience businesses since 2008. The region's bioscience industry is thriving with no signs of slowing down.
University innovation
Virginia Commonwealth University (VCU) recently announced the opening of a new Center for Pharmaceutical Engineering and Sciences. The pharmaceutical engineering field involves chemical, mechanical and biomedical engineering in addition to pharmaceutical sciences, chemistry and materials science. The center is a collaboration between VCU's School of Pharmacy and College of Engineering. Together, they will focus on drug product design, drug discovery, preclinical studies, manufacturing, formulation and packaging.
The new center complements the Medicines for All Institute (M4ALL), whose mission is to improve access to affordable and high-quality medicines. The institute accomplishes its goal by decreasing the costs of active pharmaceutical ingredients (APIs) through low-cost manufacturing and production. With support from the Bill & Melinda Gates Foundation, M4ALL was formed to pursue and to deliver this patient access to existing and new medications.
A center for industry
Adjacent to the VCU Medical Center in downtown Richmond is the 34-acre VA Bio+Tech Park. The park is home to more than 60 companies, laboratories and research centers with 2,400 workers in 1.2 million square feet of space. Companies located in the park include the United Network for Organ Sharing (UNOS), Tympanogen, the Altria Center for Research & Technology, and Thermal Gradient.
Outside of the park and throughout the region, industry representatives include Kaléo, Fareva, McKesson Medical-Surgical and Pfizer. These companies and more help contribute to the large number of bioscience workers in the region, totaling over 5,700 existing bioscience employees, while roughly 67,000 are employed in health and life sciences.

STEM education advancement
Greater Richmond's bioscience workforce is highly educated due to the numerous colleges and universities in the region. In addition to VCU, universities in the region include the University of Richmond, Virginia Union University, Virginia State University and Randolph-Macon College, which all offer undergraduate programs in Biology, Biochemistry, Molecular Biology, Chemistry and Physics and master's programs in Biology. Total higher-education enrollment in the region is nearly 80,000 with more than 16,000 degrees conferred annually. Beyond the Richmond Region, there are more than 1.6 million higher educations students within 150 miles including some of the top universities on the East Coast. These include University of Virginia, Virginia Tech, Duke University, James Madison University, George Mason University, Georgetown University and American University.
Over 1,500 of the degrees conferred annually at VCU alone are in STEM fields. Recently, VCU was approved in state budgets for a new $121 million STEM building for the Monroe Park campus, in the heart of Richmond. It will be 160,000 square feet and six floors of classrooms, labs, and office space dedicated to enriching STEM students with experiential learning.
Virginia STEM graduates will join a rapidly growing workforce in the U.S.; over the past decade, STEM fields have experienced a 9.5 percent increase, in contrast to the 2.5 increase of non-STEM fields. As of October 2018, 76.5 percent of STEM graduates from VCU remain in Virginia, an experienced workforce for the thriving bioscience and technology industries based in the Greater Richmond area.
As biosciences touch upon more technological advances, Virginia is committed to doubling the state's tech-talent pipeline which will benefit employers across the commonwealth. A new performance-based investment program will double the annual number of graduates with bachelor's and master's degrees in computer science and closely related fields, ultimately yielding 25,000 to 35,000 additional graduates over the next two decades in excess of current levels.