Blog | 8 min read
Richmond to become premier global Internet hub in North America
June 26, 2019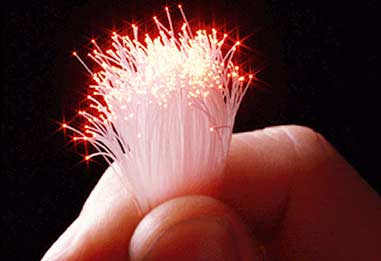 Clint Heiden, Chief Revenue Officer of QTS Realty Trust, Inc., discussed the Richmond area Network Access Point (NAP) — where data center, subsea fiber and terrestrial networks converge — as a factor in drawing large technology and Internet companies to Greater Richmond.
QTS, a leading provider of data center solutions, along with Telxius, a telecom infrastructure provider responsible for subsea Internet cables MAREA and BRUSA, created the new Richmond NAP. The NAP allows customers to complete high-speed international networking without having to collocate in or connect through the Ashburn, Va., mega center.
"The subsea cables that terminate in Richmond have opened an amazing opportunity for Henrico County to become a LOCUS for both domestic and international applications. That gives good reason for the creation of the QTS Richmond NAP, a place where multiple providers and Internet services can meet, connect and reach the international cables that link Virginia to other parts of the world." – Vint Cerf, Chief Evangelist for Google, also known as one of the co-inventers of the Internet.
The Richmond NAP will offer the fastest, lowest-latency connectivity in North America from the U.S. to Southern Europe, Latin and South America.
Heiden responded to several questions on the Richmond NAP and why the world's largest technology and Internet companies are coming to Henrico County:
Q. Why is it an opportune time for infrastructure investment?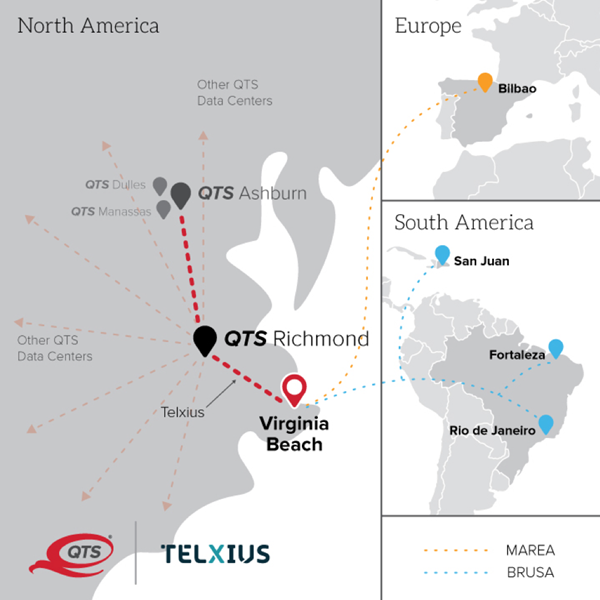 A. The confluence of the MAREA/BRUSA next-generation subsea cables and the QTS Richmond NAP are establishing Richmond as the premier North American global interconnection hub. There have been some significant investments in Henrico recently. In just two years since the cable landing deployment, Henrico County accounted for 53% of announced statewide investments in Data Processing and Hosting, compared to just 6% during the nine-year period from 2008 to 2016, according to Mangum Economics for the Northern Va. Technology Council in 2018.
It's amazing when you consider the technology and business influence global leaders have. Their interest validates the importance of the subsea cables terminating in Henrico County and the business ecosystems that are being created. In addition to the obvious value to Henrico, this new NAP is important to the growth of the Internet and its data flow allowing for a bypass of Ashburn, which is becoming congested and overly expensive.
Q. What are the forces driving the Richmond NAP?
A. If you think your business is not a data business, then you are late to the game. Just think about banking: if I can't bank online I'll switch to another bank. Likewise, if you don't understand that once on the Internet your business is global, then you're missing growth opportunities and not thinking big enough. The NAP addresses both of these issues. In addition, new applications and services are generating staggering increases in data production that are fueling dramatic growth in demand for local, regional, national and global connectivity that rely on subsea cables as the cornerstone for global interconnection and transmission.

Richmond is an ideal geographic location for North American continental access of subsea cables and all forms of interconnection mentioned previously. The QTS Richmond NAP is one of the world's largest carrier-neutral data centers as well as a business-friendly environment. Facebook has begun their multi-billion investment adjacent to the Richmond NAP, along with Bank of America and Kinsale Insurance who are expanding their operations in Henrico County. These are just three of many enterprises making major investments in data-driven infrastructure in the region. The region is also creating a business ecosystem for entrepreneurial firms and is becoming an area of incubation for startups led by students coming out of leading surrounding state universities.
Q. What are the technological advancements making the QTS Richmond NAP a reality?
A. Good question and it's about more than just technology. Henrico County has been at the forefront of attracting investment from network and data center providers due to a combination of business-friendly policies, attractive land for development, scalable power and a highly educated workforce in the county and surrounding areas. As a result, the area has a rich tapestry of existing fiber networks, Internet exchanges, SDN networks and data centers serving thousands of customers.
In just the last two years you have the arrival of both the MAREA and BRUSA subsea cables, along with the Facebook investment. These are transformative events that have opened the European, Latin and South American markets to the region via the lowest latency and highest capacity ever deployed between the continents.
Then when you consider the performance enabled by these subsea cables, it all becomes clear. MAREA and BRUSA are the highest capacity, lowest latency subsea cable systems ever built. MAREA is a Telxius joint project with Facebook and Microsoft. Innovations in optical transmission are enabling staggering increases in capacity. MAREA has reached 200 terabits per second (Tbps) of ultrahigh transmission capacity and is the highest capacity subsea cable system across the Atlantic connecting the US and Southern Europe.
BRUSA is a private cable built by Telxius and offers one of the lowest latency communication links between the U.S. and Brazil. Together, these cables provide state-of-the-art connectivity to enable the development of next generation cloud services and content distribution to and from Latin America and European markets.
To put this next-generation capacity and speed into perspective, 200 terabits per second is the equivalent of being able to download 12,000 HD movies per second, or every movie ever made in 42 seconds! This compares with cable systems developed as recently as 2013 that only delivered 9 Tbps.
Another major advancement is innovation in optical transmission that is enabling a new interconnection model where subsea cables can now terminate directly inside a multi-tenant data center rather than the traditional cable landing station (CLS) typically near a beach with limited interconnect options. Today's data-intensive applications are driving demand for capacity and performance that is better served by terminating subsea cables directly in a connectivity-rich NAP as close as possible to the CLS.
Also in the works are numerous additional subsea cable terminations in the Richmond NAP that will connect the continents of Africa, the Middle East and Asia, as well as a second path to Europe.
Q. Why did Telxius choose Richmond and QTS for the cable terminations?
A. Because of its speed and proximity to the rest of the US, Richmond is the best access point into North America — more so than older cable landings in Florida, New York and New Jersey. QTS' Richmond data center is one of the world's largest and features in-building access to a wide array of on-net carriers including multiple fiber routes, third-party neutral Internet peering exchanges, and direct access to the world's largest cloud platforms.
The Richmond NAP provides unmatched speed and savings for enterprises and hyperscalers that no longer must route their content through exchanges in Northern Virginia. Traffic can now be routed to major metropolitan areas like Philadelphia, Atlanta, Pittsburgh, Charlotte, Cleveland and many more areas faster and cheaper than relying on Northern Virginia. Facebook, Amazon, Microsoft and Google have established, or are in the process of establishing, a presence in the region to take advantage of the new opportunity.
Q. How important are the cables to the global economy?
A. The Internet and its growth, such as the new QTS Richmond NAP, means every company is global and as such has access to new customers, technologies and even employees. Just a few years ago you rarely heard talk about subsea cables when you were talking about data center infrastructure. Today, virtually every data center is making interconnection with subsea cables a priority to support data-driven global business. And it's reflected in the international capacity deployed by the big content, cloud and hyperscale companies increasing 14-fold between 2012 to 2016, according to TeleGeography. They recognize the need to be where the subsea cables terminate to get the direct, many-to-many global connectivity that enables them to provide their customers with private and proximate connections to the Internet ecosystems that grow around it.
Every global business is now required to collaborate with partners instantly, across oceans, and meet user expectations for high-performance connectivity anytime, anywhere. This is not possible with conventional IT architectures where data is transmitted via lower latency networks and across distant, centralized corporate data centers. Subsea cables are the only option for extending businesses globally.
The global economy is quickly taking shape and every business is considering new growth strategies. Those that eliminate geographic boundaries and allow for the elegant movement of data across new paths such as MAREA and BRUSA to access new markets will be successful. Those that do not will be left behind.