Blog | 4 min read
Richmond's hot industrial real estate market draws investors
October 8, 2020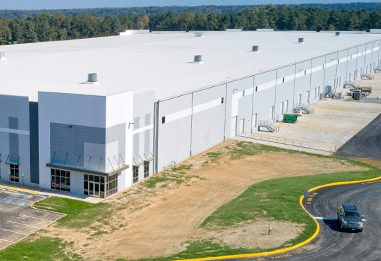 With 3.2 million square feet of industrial real estate under construction and more on the way, Greater Richmond is a hot market for industrial construction among developers, particularly with speculative investments.
The Richmond area's growth rate places it among the nation's fastest growing industrial real estate markets — only 46 cities have more construction under way than Greater Richmond. In comparison, 343 metro areas have less. Other cities with our same growth rate include Denver, Colo., Orlando, Fla., Provo, Utah, and San Francisco, Calif.
"Industrial development has been soaring in Richmond over the past two years."
– CoStar, Richmond, VA Industrial Market Report, October 2020
This year has been one of the most active years for industrial development in Richmond's history according to the latest CoStar Industrial Market Report. Investors have been most active in the logistics subtype with new space for Amazon, FedEx and Brother International.
Each of the four localities that make up Greater Richmond have speculative industrial space in the pipeline. A small sampling of these properties currently under development includes:
Deepwater Industrial Park in the City of Richmond includes 1.2± million sq.ft. of new distribution/warehouse on 110 acres
Willis Commerce Center in Chesterfield County offers 405,000 sq.ft. with 112 trailer drops and 32' ceiling heights
Cardinal Commercial Center in Hanover County includes 260,000 sq.ft. in Building A and 420,000 sq.ft. in Building B
Byrd Center Business Park in Henrico County offers 75,000- and 45,000 sq.ft. options just miles from Richmond International Airport
Seeing and meeting the need for investment
Two years ago, Hanover County realized there was a critical need for additional product with a .6% industrial vacancy rate. "We quickly moved to create a speculative building program with specific parameters that would provide a real-estate tax rebate to developers who would take on the calculated risk," said Linwood Thomas, Director of Hanover County Economic Development. "Twenty-four months later, we currently have almost 1 million square feet of speculative space coming out of the ground from nationally-known developers. What we are finding is a majority of it is being leased before the roof is set."

"Chesterfield County continues to be an attractive location for manufacturing and we are seeing strong demand for ready to go sites and buildings," said Garrett Hart, Director of Chesterfield County Economic Development. "Developers are once again constructing speculative flex-industrial buildings that are being leased up before construction is complete. With our low machinery and tools tax rate, quality workforce, and proven fast track permitting process, more and more developers are choosing to make investments in Chesterfield County,"
The same holds true throughout the entire region.
"The City of Richmond has experienced great success in industrial development over the past couple of years.  Speculative industrial buildings have been leased and new construction is close to starting on new speculative buildings in Deepwater Industrial Park," said Leonard Sledge, Director of Economic Development for the City of Richmond. "Proximity to the Richmond Marine Terminal, transportation infrastructure and the region's workforce has fueled our industrial growth."
Shovel-ready sites are going quick
Sites zoned for manufacturing and light industrial in the Richmond Region are in high-demand for tilt-up construction, indicating a steady pipeline for spec investment.
"Every property with 50 acres or more of industrial zoning is getting multiple offers," said Tim Davey, principal of Timmons Group. "Our challenge in the next 3 years is trying to get more industrial product on the market, either in new buildings or new land properly zoned to meet the growing demand."
"Henrico County has state-certified Tier 4 sites ready for development, a top-notch inventory of industrial product and fast-track permitting," stated Anthony J. Romanello, Executive Director of Henrico Economic Development Authority. "We're ready to meet the needs of any investment development."