Blog | 3 min read
Top 5 impacts of economic development
May 1, 2020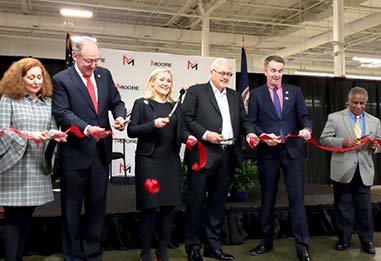 According to the International Economic Development Council (IEDC), economic development is the intentional practice of improving a community's economic well-being and quality of life. Here in Greater Richmond, Virginia, the Greater Richmond Partnership (GRP) serves as the lead regional economic development organization for the Richmond Region. GRP works in partnership with the local economic development authorities at the City of Richmond and the counties of Chesterfield, Hanover and Henrico, as well as with the state-led Virginia Economic Development Partnership (VEDP).
Here are our thoughts on the top five impacts of economic development:
Brings job opportunities to RVA
Economic developers provide critical support and information to companies that create jobs in our community. When a new company locates in the region, they hire within the community for newly-created jobs or recruit new residents to the area. By attracting more companies to the region, the pipeline of available jobs widens which provides residents with more opportunities. GRP focuses on recruiting companies who are not already located in the region in partnership with our localities. Our localities then capture those opportunities by providing outstanding customer service such as permitting and providing ongoing support to ensure the companies which choose Greater Richmond not only stay but grow here. ChamberRVA works to ensure Greater Richmond is a good environment in which businesses want to operate. It is all of the partners in the region that help to support a healthy local economy.
Promotes the region worldwide
Much like Richmond Region Tourism promotes RVA as a great place for visitors and meetings, GRP promotes the region globally as an ideal place for companies to locate their businesses. We do this through marketing efforts with our website, videos and content marketing. Our dedicated business development professionals meet with companies in key markets both in person and virtually that align with our key industries. We also develop and nurture long-term relationships with site selectors, as over 50 percent of all site location decisions go through a site selector.
Strengthens and diversifies the regional economy
Thoughtful and coordinated economic development diversifies the economy and works to minimize the effects of an economic downturn. GRP works to recruit companies in targeted industry clusters including Middle Office, Data Centers, BioScience, Advanced Manufacturing, Supply Chain, and Food & Beverage.
Supports talent recruitment and retention
"Can we hire our next workforce in Greater Richmond?" That's the first question asked by every company we talk to. So that's why it's imperative for our region to continue to develop, train and recruit quality workers companies need. Companies often desire to relocate employees to their new location and we help in that process by offering tours and specialized presentations of the region. Economic developers also partner with the Community College Workforce Alliance to provide custom-designed training for companies looking to hire residents who may need credentials for their new job.
New investments help the community thrive
Increased presence of companies in the region leads to economic prosperity of the community. Through increased tax revenue stemming from capital investment by these companies, local infrastructure and community projects can be funded. Schools, parks and even non-profit organizations benefit from new companies entering the local economy.
***
The Greater Richmond Partnership is celebrating Economic Development Week (May 4 – 9) along with economic development organizations across the world and the International Economic Development Council (IEDC).