Blog | 4 min read
Top 5 impacts of economic development
May 9, 2022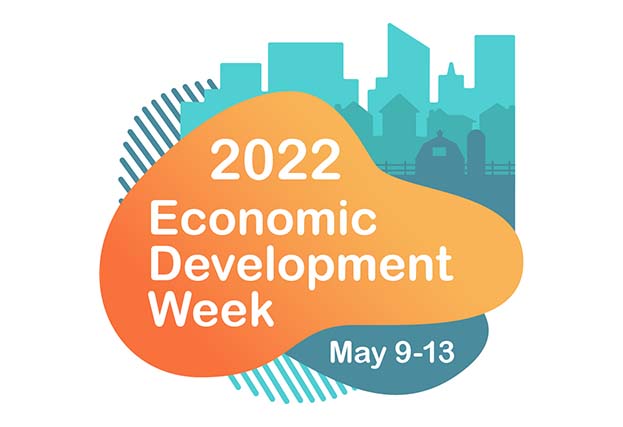 Economic development is a team sport. When new jobs and capital investment are won in Greater Richmond, it's because many players were involved across the state, regional and local levels including our partners in the City of Richmond and counties of Chesterfield, Hanover and Henrico.
Together with our local partners, GRP aims to enhance the region's economic prosperity. Here are our top 5 impacts of economic development: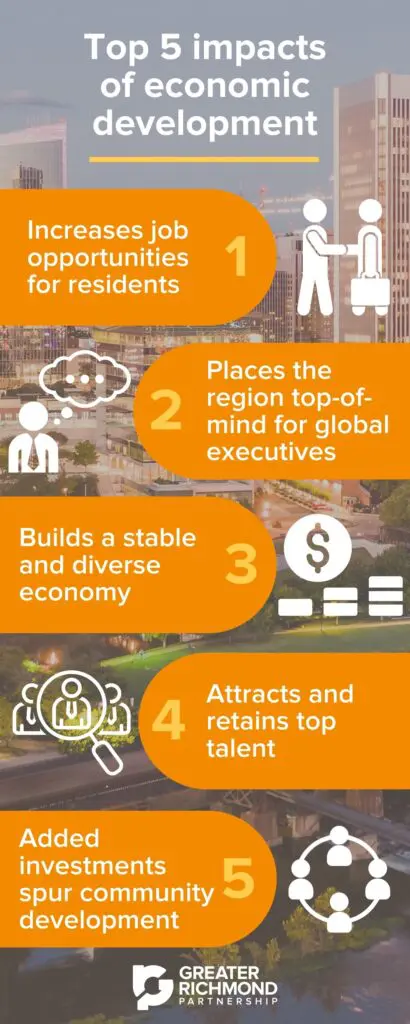 1. Increases job opportunities for residents
Economic developers work hard to attract new companies to the region. They provide critical support and information to companies considering a relocation or an expansion in hope those businesses will invest in the region and create jobs. New-to-market companies need to hire within the community, meaning more jobs become available for current residents. It also means the region may gain new residents who seek local job opportunities, which can boost the region's economy. After a company chooses Greater Richmond, local partners provide ongoing support to companies that locate in the region so they not only stay, but also grow here.
2. Places the region top-of-mind for global executives
The Greater Richmond Partnership markets the region internationally as an ideal location to do business. Through lead generation, marketing and research, GRP reaches top-level executives considering relocation. Companies of every size and industry can succeed in Greater Richmond, but the local economy has strengths and assets in the Corporate Services, IT, Finance & Insurance, BioScience, Advanced Manufacturing, Supply Chain and Food & Beverage industries. GRP's Business Development team, as well as those with the City of Richmond, Chesterfield, Hanover and Henrico, plus the state-led Virginia Economic Development Partnership, meet with companies in prominent markets that align with the region's key industries. GRP also works to grow long-term relationships with site selectors as research shows this exclusive group is involved in more than half of all company location decisions.
3. Builds a stable and diverse economy
Growing and maintaining Greater Richmond's diverse economy is important in case of an economic downturn. During the COVID-19 pandemic, Greater Richmond took less of a hit than other metro areas thanks to the region's economic diversity. Creating a coordinated strategy across state, regional and local levels is crucial to minimizing the effects of a fluctuating economy. Together with local and state partners, GRP constantly works to recruit companies in Greater Richmond's target industries to create long lasting economic prosperity.
4. Attracts and retains top talent
When companies are looking to relocate, their first question is usually whether Greater Richmond residents will meet their workforce requirements in the short and long term. Therefore recruiting, training and attaining quality workers is crucial to economic development. Relocating companies are drawn to regions that have strong and growing workforces. GRP promotes local organizations like the Community College Workforce Alliance which provides custom-designed training for companies looking to hire residents who may need credentials for their new job. New-to-market companies often relocate their employees to their new offices in which case, GRP aids in providing custom regional familiarity presentations and tours.
5. Added investments spur community development
As new companies enter the region, the local economy, schools, parks and even non-profit organizations reap the benefits. In other words, the quality of life found within Greater Richmond increases with every new company who chooses the region as its new home. Economic development helps everyone in the community through job creation, supporting local initiatives and cultivating a place for future endeavors to succeed. Thanks to the collaborative nature within the region, economic development in Greater Richmond continues to thrive, paving the way for future success.

The Greater Richmond Partnership is celebrating Economic Development Week (May 9 – 13) along with the International Economic Development Council (IEDC) and economic development organizations across the world.