News | 2 min read
Richmond ice cream sandwich brand Nightingale flies into Walmart stores
May 4, 2022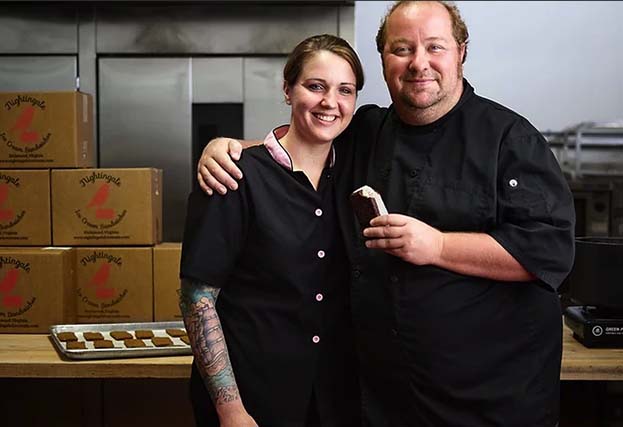 Nightingale Ice Cream Sandwiches hopes to expand its flock of customers with a new strategy featuring a tinier take on its frozen treats.
The Richmond-based company launched a new four-pack of half-sized ice cream sandwiches in 200 Walmart stores last month in the Northeast and mid-Atlantic, including local stores.
The smaller sandwiches are branded as Chomp by Nightingale and are intended to be a lower-cost offering that will expand its customer base as well as the range of stores that carry the company's ice cream sandwiches.
"We really wanted to make a part of Nightingale that is a value brand, something less expensive and available to a wider range of consumers," Nightingale spokeswoman Erica Jacobs said.
Walmart sells individual four-packs for about $5. The company's suggested price for a full-sized ice cream sandwich is $4 to $5.
The new four-pack was developed with Walmart in mind after the big-box retailer inquired about bringing Nightingale into its stores.
"They're trying to offer more premium offerings and they came to us," Jacobs said. "We put that together with that in mind."
The launch of four-packs in Walmarts came as Fresh Market also began to sell individual Chomp single-serves at all of its 160 stores in April.
Nightingale's suggested price for Chomp single-serves is about $2 to $2.50.
Though Chomp has existed since October 2020, the expansions into Fresh Market, which also sells the full-sized sandwiches, and Walmart happened last month. Jacobs said larger stores prefer products that come packaged in multiples.
Nightingale is working on plans to bring Chomp to more companies along the lines of Walmart.
"We needed to create something that fit more with those types of stores. They want more of a box with multiple products," she said.
Read the full story here.