Blog | 3 min read
Va. earns Top 10 ranking on Site Consultant Survey
September 23, 2019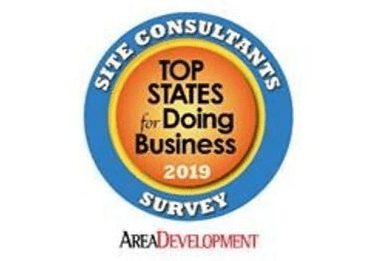 Virginia has once again proven that it's a top destination for business. The state ranked 10th on Area Development's 2019 Top States for Doing Business Site Consultant Survey. Moving up three spots from last year's survey, this new achievement is just one of many business accolades Greater Richmond and Virginia have earned this year.
These state rankings are determined through a survey of site consultant experts who are well acquainted with which states have the best taxes, regulatory environments, workforce development, and competitiveness in cost of doing business.

One reason Virginia ranked among the top 10 states on this year's list was because of its "ready-to-go" sites. The state's "Business Ready" sites were recognized as being innovative and assist the evolving needs of businesses. According to the Virginia Economic Development Authority (VEDP)'s Site Selection page, there are currently thirty-four sites in the Greater Richmond Region that have a minimum of 25 acres of land, water access, and are less than 10 miles from a major highway. Four of these sites are certified cites, meaning that they are certified by the Virginia Business Ready Sites Program (VBRSP), where each site contains a minimum of 100 contiguous acres that can be developed.
Created by VEDP, the Department of Environmental Quality (DEQ), and other organizations, VBRSP promotes development and characterization of sites to enhance the commonwealth's infrastructure and competitive business environment. The program is structured into five tier levels ranging from raw land to "Business Ready" certified sites classifying site readiness to better assist businesses looking for specific site requirements.
Regional support programs have also contributed to this year's high ranking. GRP's familiarization tours with the Greater Richmond Association for Commercial Real Estate (GRACRE) provide high-quality opportunities for site consultants exploring the Greater Richmond Region. Together, we create a unique relationship that fosters an environment where site consultants receive customized one-on-one tours to gain higher exposure to the Richmond Region. GRACRE is the only organization in the region that advocates for commercial property owners and developers to address issues affecting Greater Richmond's Commercial Real Estate industry.
Overall, Greater Richmond and Virginia offer one of the best pro-business climates in the nation. In addition to Area Development's ranking, CNBC named Virginia a Top State for Business, the state jumped from #20 to #7 on U.S News' Best States Ranking, and Business Facilities Magazine named Richmond a top destination for corporate headquarters.