News | 2 min read
VCU celebrates the opening of its new STEM building
May 8, 2023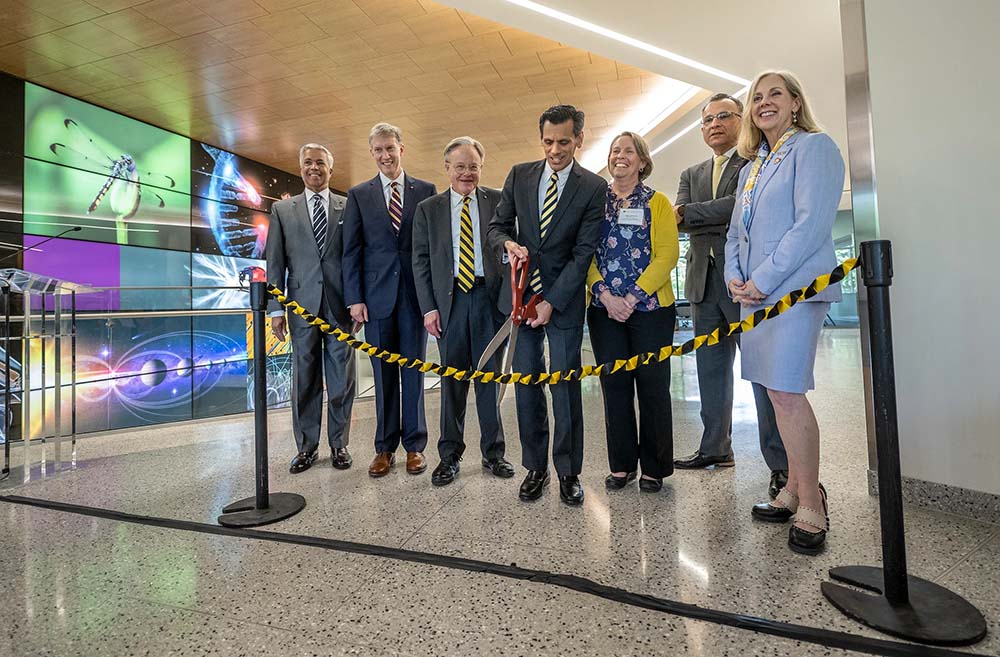 Walking through the Franklin Street entrance of Virginia Commonwealth University's new STEM building, visitors are greeted by a monumental staircase rising alongside a two-story illuminated glass display of colorful images representing the scientific fields that will soon be taught in the building, including anthropology, biology, chemistry, forensic science, kinesiology and health sciences, math, physics, psychology and more.
VCU held a ribbon-cutting ceremony for the 168,000-square-foot, six-floor building dedicated to STEM located at the site of the former Franklin Street Gym at 817 W. Franklin St.
"I always say, we're here to meet the needs of students and patients. This is a six-story version of how we will meet the needs and put the needs of students first," said VCU President Michael Rao, Ph.D., who described how the STEM building has been among his top priorities since he came to VCU in 2009.
The STEM building expands lab, classroom and office space for the College of Humanities and Sciences, which is home to 17 departments, two schools and three programs. Nearly 60% of VCU undergraduate students are enrolled in the college.
"The College of Humanities and Sciences' STEM Building will be the center of instruction, collaboration and discovery for the sciences and mathematics at VCU," said Catherine Ingrassia, Ph.D., interim dean of the College of Humanities and Sciences. "It will serve the vast majority of undergraduates when they take the introductory and early level classes in their majors, and it will also provide space for upper-level laboratory courses."
The building features 32 teaching labs; the Math Exchange, an innovative facility for math instruction; a Science Hub for student/faculty interaction, study groups and specialized support for STEM classes; two 250-seat, team-based learning classrooms; computer labs; and large- and small-capacity flexible classrooms. Instructional wet and dry labs are included in addition to classrooms for STEM subjects.
Read the full article here.