Blog | 3 min read
Virginia back on top as America's Top State for Business
July 10, 2019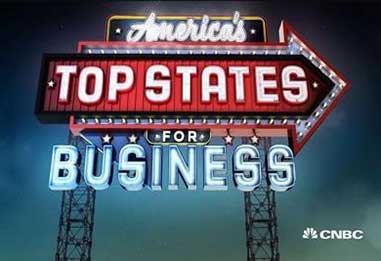 Virginia has been named the #1 Top State for Business in 2019 by CNBC. The newest ranking means a return to form for Virginia which previously ranked at the "Best State for Business" in 2007, 2009 and 2011.
The top ranking is due in large part to Virginia landing the most competitive economic development project in history — Amazon's HQ2. This effort, led by the Virginia Economic Development Partnership (VEDP), is a reason why Site Selection magazine named VEDP the "most competitive state-level economic development group" in the country.
This new accolade comes just months after Virginia jumped up the U.S. News Best States Rankings, moving from #20 to #7 based on strong fiscal stability, economic opportunity, and education.

In addition to its top place overall, CNBC ranked Virginia:
#1 in workforce – The state-wide impact of HQ2 means that Virginia's tech talent pipeline will double the already fourth-highest graduation amount in the nation. In Greater Richmond, the labor force of more than 680,000 (including nearly 55,000 veterans) work in a variety of industries and companies including the 10 Fortune 1000 companies that are headquartered here. In addition, business training programs, such as Virginia Career Works Capital Region, and exceptional education systems create a skilled workforce to meet the expectations of any business. The Virginia Jobs Investment Program and Workforce Investment Act rewards and assist businesses in sourcing and retaining skilled workers throughout the state.
#1 in education – The state's exceptional educational program ranked first in 2019 by the Cato Institute for having the best public school system in the country with accreditation reaching 92 percent. At the university level, the state produces the fourth highest amount of STEM graduates in the United States. Here in the Richmond Region, K-12 education options – public and private – offer some of the best individual schools in the nation and an array of cutting-edge career programs. And there are more than 1.6 million higher education students within 150 miles of the region helping push the educational attainment level in the Richmond market at 36.1% for bachelors degree or higher versus the 31.8% average for the U.S.
#3 in business friendliness – State, regional, and local entities are welcoming and available to working with corporate entities, especially in Greater Richmond – the City of Richmond and counties of Chesterfield, Hanover and Henrico. The state's tax rate has remained at 6 percent since 1972, causing the Tax Foundation to rank Virginia's sales and corporate rates among the lowest in the nation in 2019.
Top 20 in five other categories, including infrastructure, technology and innovation, access to capital, economy, and quality of life – These core business attributes have been noted previously by various publications:
See the full rankings for CNBC's 2019 Top States for Business here.