Blog | 3 min read
Creating a prideful workforce in Greater Richmond
June 23, 2021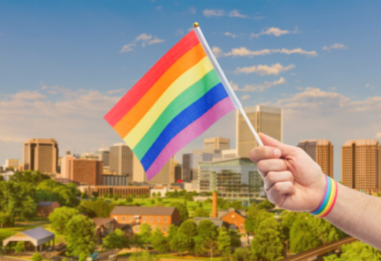 Companies operating in Greater Richmond have a prideful workforce at their disposal. Pro-LGBTQIA+ state and regional leaders, non-profit organizations and major employers in the region all bolster the quality of life for LGBTQIA+ individuals in the Richmond, Virginia, Region.
Last year, the Human Rights Campaign (HRC) analyzed the City of Richmond's Municipal Equality Index (MEI) based on laws, policies and leadership that impact the LGBTQIA+ community. Richmond is no stranger to the MEI. In 2017, the HRC scored Richmond 42 and more than doubled its score the next year at 94. Richmond gained recognition as the city with the biggest increase in score before reaching 100 in 2019 and carrying the perfect score into 2020.
Inclusive workplaces
Greater Richmond is full of major employers that are fully committed to supporting Richmond's LGBTQIA+ community. In addition to the MEI, the HRC publishes a Corporate Equality Index (CEI) based on non-discrimination policies across business entities, equitable benefits for LGBTQ workers and their families, supporting an inclusive culture and corporate social responsibility.
The HRC scored nine Richmond-based companies a perfect 100 on the CEI in 2021, including Altria Group, CarMax, Dominion Energy, the Federal Reserve Bank of Richmond, Genworth Financial, McGuire Woods, Performance Food Group and Williams Mullen.
The internal and external support for Richmond's LGBTQIA+ led the HRC to provide these companies with perfect scores. For example, Altria Group joined America Competes to support nondiscrimination laws last year, encouraged the passaging of the south's first LGBTQIA+ anti-discrimination legislation and filed amicus briefs to support major LGBTQIA+ cases. Altria's work also led it to be recognized as one of the "Best-of-the-Best Corporations for Inclusion" by the National LGBT Chamber of Commerce in 2020.
HRC president Alphonso David said in a statement, "Our participating companies know that building an LGBTQ-inclusive workplace is not just the right thing to do — it is also the best business decision — allowing companies to attract, retain and engage top talent."
Pride and diversity
Richmond aims to earn another perfect score in December when the HRC unveils new MEI scores. Local politicians and non-profit leaders work tirelessly to advance the visibility of Richmond's LGBTQIA+ community. This year for the first time ever, a version of the Pride flag flies high above City Hall for the entirety of Pride month. Known as the Progress Pride flag, it aims to represent and support overlooked groups of people within the LGBTQIA+ community such as Black and Brown transgender individuals.
As a minority-majority city, Richmond's support for intersectionality does not come as a surprise. In fact, there are numerous organizations in the region available to support LGBTQIA+ community members (outRVA, VA Pride, Nationz Foundation), LGBTQIA+ youth (Side by Side) and LGBTQIA+ people of color (Black Pride VA), among others.
The flag above City Hall is not the only symbol of Pride in downtown Richmond this month. The Dominion Energy building and Main Street Station are both displaying rainbow colors or flags to highlight inclusion and celebrate Pride.
"Symbols matter," said Director of VA Pride James Milner in a statement earlier this month. "[Raising the Pride flag] combined with the downtown buildings that will be illuminated in pride colors beginning tonight send a powerful and irrefutable message that LGBTQ belong here."
Greater Richmond is a diverse hub of talent. Learn more about the available workforce below.