Blog | 3 min read
Employers seeking veteran experience find Greater Richmond
November 6, 2019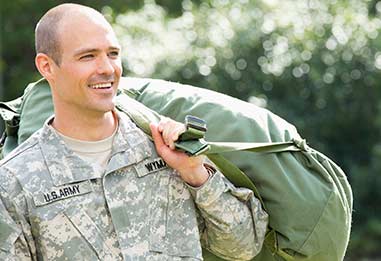 Along with Washington, D.C., and Norfolk, Greater Richmond is part of the 'golden crescent' that forms between government and military installations in Virginia. This locational advantage provides a good mid-point for suppliers, vendors and contractors that may serve multiple clients – and employers seeking veteran experience. Thousands of military personnel and spouses are stationed at the Pentagon, Fort Lee in Prince George, Fort Belvoir in Fairfax, Quantico and the Norfolk Naval Base.
Virginia has 27 military bases and 89,300 active duty personnel, with 12,000 exiting the service annually. The Virginia Department of Veterans Services reports that up to two-thirds of those separating would remain in Virginia if an attractive job could be found, and they are often willing to relocate around the state if the new area offers a desirable quality of life and cost of living. Forty-seven percent of those personnel separating have training and skills in occupations key to the manufacturing sector.
While there are higher numbers of exiting veterans in the Northern Virginia and Hampton Roads, Greater Richmond is a popular destination for in-migration. Both of these metro areas have thousands of residents leaving for the Richmond Region on an annual basis. This makes recruiting veterans from these two parts of the state to Richmond relatively easy.

Two state-led programs assist veterans with the transition to civilian careers:
Military2Manufacturing (M2M) offers world-class career resources to help veterans start a private sector career in advanced technology industries such as manufacturing. The M2M career pathway helps recently separated veterans to convert past military experience and training into industry-recognized credentials and access job opportunities. M2M is a military transition training program, using the Manufacturing Technician Level 1 (MT1) Certificate Program to help document manufacturing work readiness.
Virginia Transition Assistance Program (VTAP) offers transitioning service members and their spouses the best Virginia has to offer. By providing peer-to-peer support through the transition process, VTAP works alongside the transitioning service member or spouse to make referrals that address specific needs. The referral services could include (but is not limited to) resume review, introduction to the Virginia Labor Market index, connection with the Virginia Values Veterans (V3) certified companies for employment, and other Dept. of Veteran Services programs as applicable. The VTAP core areas of focus are those seeking employment, education, and entrepreneurship, but we will also assist those with needs outside of those three core areas.
The Commonwealth of Virginia and the Virginia Employment Commission are committed to assisting transitioning military and veterans to be productive in the civilian workforce through the "Hire a Veteran" program. Local companies seeking veteran workforce include Capital One, Bank of America, Brinks, Dominion and Northrop Grumman are on the VEC's list of military-friendly employers.