Blog | 9 min read
Richmond gives birth to a new life sciences cluster
November 1, 2019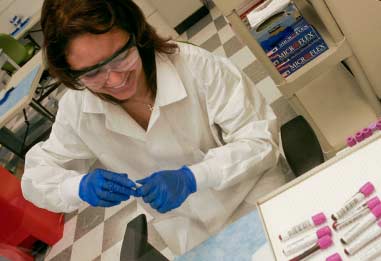 Frank Gupton is trying to revolutionize the pharmaceutical industry by completely changing the way it manufactures drugs. He has attracted $40 million in funding from the Bill and Melinda Gates Foundation because of their interest in making HIV and other disease-treating drugs more affordable. At the same time, Gupton is working with colleagues at the Massachusetts Institute of Technology (MIT) on a project supported by the Pentagon's future-oriented DARPA unit to make vending machine-like devices that can be dropped into remote areas such as Afghanistan and produce a variety of medicines on the spot, saving many lives. The concept is called "medicine on demand."
Where is Gupton doing all this? At Virginia Commonwealth University (VCU) in Richmond, Va. "Richmond is a good place to do something like this," says Gupton. "It's not in Cambridge, Mass. It's not in the Research Triangle in North Carolina. I'm not competing for resources. And I'm close to Washington, D.C. and the Food and Drug Administration (FDA), which are good things. Perhaps more importantly is VCU itself. If this were Harvard or MIT, they would be probably not as nimble as VCU has been. My colleagues at MIT are very envious of what we've got here." Being located in Bio+Tech 8 of the Virginia Bio+Tech Park allowed for Gupton's team to have the support to convert 15,000 square feet of open space into world-class laboratory space in three months.
"We have more equipment capabilities than any other university on the East Coast and we are getting ready to double our space," Dr. Frank Gupton.
The university has ponied up $13 million to support Gupton's research, which concentrates on making drugs through a continuous loop process rather than making large batches of medicine, which is inherently wasteful and somewhat unpredictable. He likens the difference to that of making spaghetti sauce, where many different ingredients are combined, versus making pasta, where material is continuously fed in and turned into a consistent stream of pasta. "All the pasta tastes pretty much the same," he explains. "But each batch of spaghetti sauce tastes a little different. The reason is that the batch processes lack reproducibility."

A fusion of biosciences and technology
Gupton is at the epicenter of a new segment of a vibrant life sciences cluster in Richmond, which many have regarded as a sleepy old tobacco town. Altria, the parent company of Philip Morris, maintains a large presence in Richmond, but energy and money appears to be pouring into inventing a technology-based future than in clinging to the past. To be sure, Richmond's life sciences cluster is in earlier stages than other life sciences hot spots such as San Diego, the San Francisco Bay area, Research Triangle or Cambridge, Mass.
But for the first time, Richmond has all the ingredients that go into creating a genuine technology cluster—a university committed to commercializing technology, both start-up and large companies interested in new ideas, the availability of angel and venture capital, and a supportive government and quasi-government economic development network. Not to mention a surge in funding for VCU from the National Institutes of Health and other federal agencies for research, mostly in the medical school, regarding such ailments as opioid and alcohol abuse, diabetes, aging and arthritis. Altogether, the university received $310 million in research funding in fiscal 2019.
VCU is at the heart of Richmond's ecosystem because it is dedicated to the concept that as an "urban university" it has a responsibility to transfer technology into the community around it. It is eager to do "translational" research, which means finding practical uses for cutting-edge ideas, whereas some other universities are interested in only pure research. That's one reason VCU has received so much support from NIH, which is eager to show results from the tens of billions of dollars it has invested in research and development. "Most of these other great institutions are driven by basic science," Gupton explains. "All the stuff we're doing is translational research that's outside the comfort zone of most universities."
Other universities also have technology transfer departments but they tend to seek to control the outflow of technology because of the fear of "another Gatorade," a reference to how the sports drink was invented at the University of Florida but commercialized without the university receiving compensation. Faculties at some universities regard tech transfer departments as barriers. "The perception may be that the tech transfer office is more concerned about protecting the university's ownership position and cutting the best financial deal possible for the university," says Dan Berglund, President and CEO of SSTI, a national organization based in Westerville, Ohio that is dedicated to technology-based economic growth.
In contrast, VCU's technology transfer department is pointedly called the "Innovation Gateway" to emphasize its role as a facilitator in tech outflows. Both Merck and Pfizer, for example, have recently licensed technologies from the university. And the university is committed to assisting faculty and staff startups.
The school has grown rapidly to nearly 35,000 students and the school of medicine has been the engine of innovation, although the College of Engineering and other departments are catching up.
A Park serves as a beacon
The Virginia Bio+Tech Park is located adjacent to the medical campus of VCU, which – in part – provides the place for professors and students to easily leave campus to work on start-ups. It is like an incubator or accelerator designed to move ideas out of the university into a commercial setting, a crucial step in the commercialization of technology that many universities lack. "Our ecosystem is getting stronger," says Carrie Roth, President and CEO of the VA Bio+Tech Park and Activation Capital. "If you are in a university setting for your company, then the university owns everything you create. If you are here, you have more opportunity to create your own destiny."
The Bio+Tech Park has an impressive 1.2 million square feet of space in seven buildings, all located within walking distance of VCU. Some 36 early stage companies have labs or offices in the Bio+Tech Center. A majority of companies fail without the proper support. "Success comes in a variety of different forms," says Roth. "Sometimes failure is a success. Our efforts are focused around opportunities to share the risk and provide the founder the best opportunity to take an idea from start to phenomenal." It may take a life sciences company 10 years to fully develop and go through all the regulatory approvals that are necessary. Roth also runs Activation Capital, which is a new $5 million Ecosystem Direct Investment Fund to support the growth of entrepreneurial support organizations.
One company that was born in the Bio + Tech Center is Kaléo. Two twin brothers from VCU, Eric and Evan Edwards, were highly allergic to peanuts and had trouble remembering to carry their bulky EpiPens, which dispense a drug to help them recover from an allergic reaction. They came up with an auto-injector the size of a credit card, called the Auvi-Q. It can be carried much more conveniently. The company, based in Richmond, also makes a similar product to revive an individual who has overdosed on opioids.
In addition to start-ups, VA Bio+Tech has the research and development components of companies based outside of the Commonwealth because the cost structure of Richmond is so much cheaper than, say, San Francisco. In addition, the juxtaposition of large companies and start-ups in the Park allows a cross-pollenization of ideas to occur. The United Network for Organ Sharing, which coordinates organ donations and transplants globally, also has facilities in Bio+Tech, offering another type of synergy among life sciences and technology.
Changes that could save the world
Gupton's story best illustrates VCU's pragmatic approach. He had a Ph.D. but was working in the pharmaceutical industry until retiring at age 55 some 12 years ago. He then came to VCU as a professor, an unusual career path indeed. At the same time that he was teaching advanced organic synthesis to students, the university helped him find and equip the lab space in the Bio+Tech Park and he has been able to hire experts from industry and even from the Pentagon's DARPA unit—another variation from standard university practice.
Moreover, because his labs are off campus, four companies are interested in or have co-located in the same building with his research team, which would violate most universities' policies if the labs were on-campus. He declines to name the companies but says that two are large established companies and two are start-ups and all are eager to get early access to the processes Gupton is developing. "Frank retired from industry and thought he was just going to spend time relaxing," says Francis L. Macrina, the university's former Vice President for Research and Innovation. "But what Frank is doing with the Gates Foundation is at the forefront. He's hired great people to collaborate with. He's going to create medicine on demand."
Ultimately, Gupton and his supporters believe they can spawn a cluster of companies all focused on making pharmaceuticals using the continuous process. Gupton's work on creating the vending machine-style dispenser relies on a specialized clear-plastic "reactor" where drug compounds are mixed. The components need to be in the form of a liquid-like slurry, rather than solid. Certain catalysts and solvents must be present. And very precise sensors are needed to monitor the creation of the medicines. Specialized companies that make all those items may spring up in the Richmond area to support Gupton's work. "We think it could be a new industry cluster in our region," says Roth.
They are thinking big in Richmond.