Blog | 3 min read
Export Initiative awards 5 grants to local companies
January 25, 2018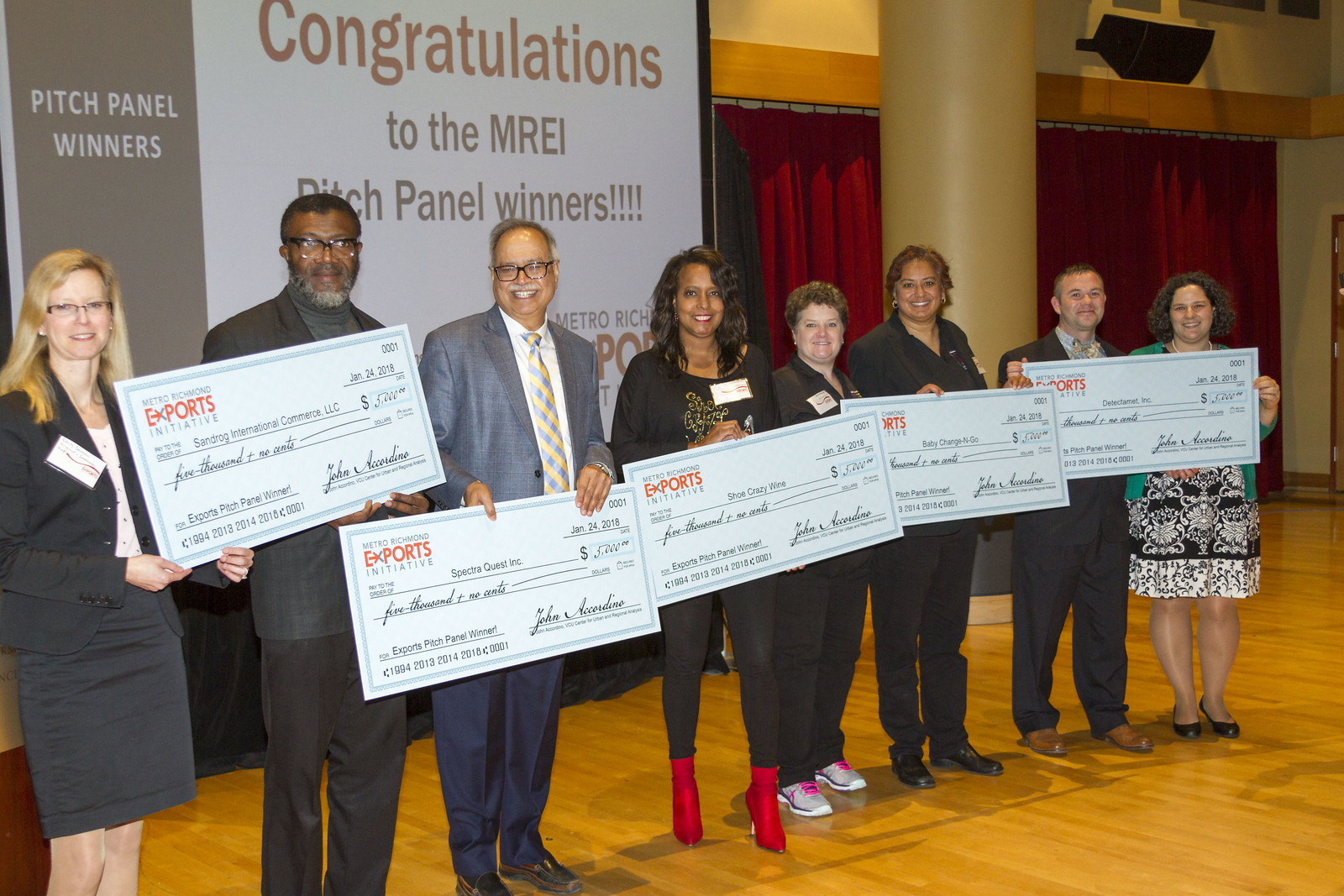 The Metro Richmond Exports Initiative ("MREI") held a "Shark Tank"-style pitch panel competition yesterday and awarded five small- and medium-sized local businesses $5,000 grants for initiating or increasing their export business.
Contest entrants included small- or medium-sized businesses of less than 500 employees that are headquartered within the Richmond Metropolitan Statistical Area and seeking to initiate or increase the export of goods or services within the next 12 months. The five winning companies were announced at the MREI Annual Reception, held later that evening at Rhythm Hall at Dominion Arts Center in downtown Richmond. Winning companies included:
Detectamet, a designer, manufacturer and distributor of tools and equipment made of x-ray detectable plastic.
SpectraQuest, Inc., a leading developer and manufacturer of complete turn-key systems for training and diagnosis in machine vibration analysis, rotor balancing and shaft/coupling alignment.
Sandrog International Commerce, LLC, which specializes in the distribution of laboratory equipment and chemicals used for academic research.
Baby Change-N-Go, a portable diaper changing station that hangs from public bathroom stall doors/walls and when not in use folds up to fit in a diaper bag/backpack/stroller.
Shoe Crazy Wine, a wine distribution company specializing in custom blends for the Shoe Crazy Label.
"I am honored to have received the award grant!" said Gwen Hurt, CEO and Founder of Shoe Crazy Wine. "This relationship has benefited Shoe Crazy with education and mentoring. We are focused on taking our company to the next level and this award will allow us to start the process."
Contestants were allowed five minutes to present to a panel of guest judges that included Brett Vassey, President & CEO, Virginia Manufacturers Association; Van Wood, Director, Virginia Commonwealth University's Center for International Business Advancement; Bill Houck, Regional Manager, Small Business Administration Office of International Trade; Nick Klym, Executive Director, Virginia Market Executive, JP Morgan Securities; and John Vivadelli, President & CEO, AgilQuest. The panel was moderated by Greg Wingfield, Senior Fellow at VCU's L. Douglas Wilder School of Government and Public Affairs.
In addition to providing grants, the pitch panel competition sought to:
Formalize the networking potential for Richmond businesses to increase exports;
Provide a structured opportunity for local businesses to showcase their exportable goods and services;
Provide local businesses with new strategies for exporting those goods and services; and
Introduce local business leaders to a larger community to identify potential new relationships.
The initiative — a nonprofit program that helps Central Virginia businesses export their goods and services — is a collaboration of the Greater Richmond Partnership, Virginia's Gateway Region, and the VCU L. Douglas Wilder School of Government and Public Affairs' Center for Urban and Regional Analysis. The program also receives support from JP Morgan Chase and the Virginia Economic Development Partnership.