News | 2 min read
Four more 1,000-barrel tanks added to Stone Brewing's facility in Fulton
March 10, 2022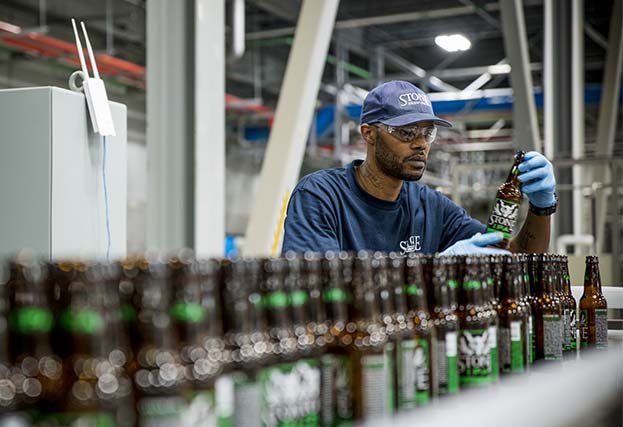 With its long-planned beer garden in limbo, Stone Brewing Co. is kicking off a nearly $3 million expansion of its Fulton production facility.
Last week the San Diego-based brewery began installing four new 1,000-barrel tanks in its Richmond facility at 4300 Williamsburg Ave.
Stone uses the Richmond plant to brew and ship beer as far west as the Rocky Mountains, as well as into parts of Europe. With the new hardware, Stone COO Sean Monahan said, it can now brew up to 200,000 barrels of beer annually, up from its previous capacity of 150,000 barrels.
Monahan said the company felt confident investing around $2.7 million into the expansion due to rebounding sales after two years in the pandemic.
"I'm not sure COVID will ever be done, but at least we're feeling that bars and restaurants are stabilizing. We're feeling more comfortable and feeling more bullish," Monahan said.
"We're on track to hit our (first-quarter sales) plan, which we thought was pretty aggressive, and it's been supported by normal packaged beer growth as well as on draft on-premise (sales) coming back."
In addition to the production tanks, Stone is also installing a pilot 10-barrel brewing system for Richmond, which Monahan said will be used to experiment with new beers.
Read the full story here.