News | 2 min read
Greater Richmond gains five new direct air routes
March 10, 2022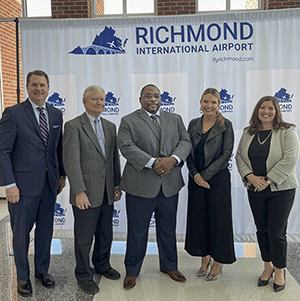 RICHMOND, Va. (March 10, 2022) – During one of the busiest times for economic development, Greater Richmond's toolbox of assets continues to grow. Breeze Airways announced this morning that it is adding five routes with a historic direct destination from Richmond International Airport (RIC) to San Francisco (SFO). The new route is now the longest transcontinental flight from RIC to the West Coast.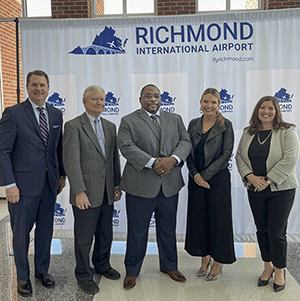 "Companies that we recruit to the region want air access and these new routes will help tremendously," said Jennifer Wakefield, President and CEO of the Greater Richmond Partnership.
GRP is seeing an incredible amount of activity this fiscal year – nearly 3,000 direct jobs announced, over $500 million in investment and 2 million square feet in real estate consumed.
"This new direct flight to San Francisco allows Richmond-headquartered companies to make significant connections to their offices on the West Coast — for the first time ever," said Wakefield. There are 20 Richmond-based headquarters operate facilities in San Francisco and 34 San Francisco-based firms have a presence in Greater Richmond.
"Thanks to prolonged work with regional allies such as Perry Miller at the Capital Region Airport Commission, today is a historic win for the Richmond International Airport and economic development in Greater Richmond," said Wakefield.
New Breeze Routes
Jacksonville, Fla. (Thurs and Sun, starting May 19, rates from $49-$99 one way);
San Francisco, Calif. (Wed and Sat, starting May 25, rates from $99-$199 one way);
Hartford, Conn. (Fri and Mon, starting June 3, rates from $39-$89 one way; summer seasonal route);
Las Vegas, Nev. (Thurs and Sun, starting June 9, rates from $99-$199 one way); and
Providence, R.I. (Thurs and Sun, starting June 30, rates from $49-$89 one way).
The Greater Richmond Partnership has worked with public- and private-sector allies to expand the direct destination offerings of RIC, including the Los Angeles flight announced last year via JetBlue.
###