Blog | 4 min read
Greater Richmond workplaces awarded for company culture
July 22, 2021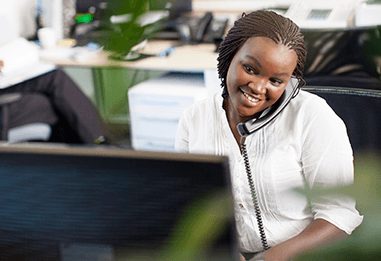 The Richmond Region has numerous businesses and organizations that foster great company culture in addition to creating a dynamic balance between work and personal life. The Richmond Times-Dispatch and Virginia Business magazine recently released rankings for the top workplaces in local companies, government divisions and nonprofits in the Richmond Region. Of the 80 businesses recognized in the Richmond Times-Dispatch's Top Workplaces program, nine have been honored annually since the program's inception eight years ago. This is the 11th year of Virginia Business rankings with seven companies acknowledged for 10 years or more on the list.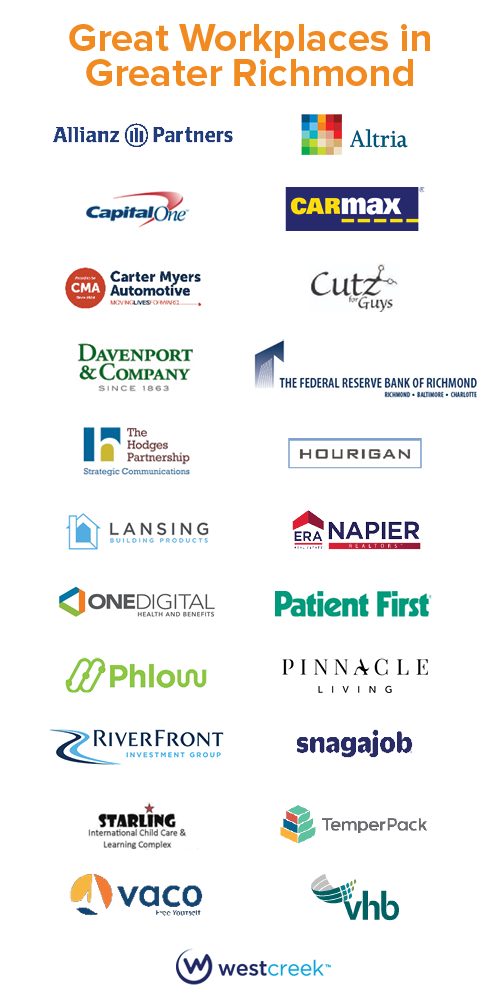 Forbes has also released its rankings for America's best startup employers with two Greater Richmond companies making the list. The publication ranks the top 500 startup companies forced to pivot during the pandemic and engage with employees virtually. Two companies that stood out during this time were TemperPack (406) and West Creek Financial (464), both of which exhibited exceptional performances through tumultuous times.
The Richmond-Times Dispatch measured topics such as workplace life, views on leadership, managers, training, work-life balance, pay and benefits through responses from roughly 16,000 employees. The survey also examined how businesses encourage diversity and how employers support involvement in their communities. CarMax, with offices throughout Richmond, is among the four companies who won first place awards in the Richmond-Times Dispatch Top Workplaces program. CarMax received first place for the mega-size category. CarMax has won first place awards for eight consecutive years since the program started. The three other first place winners include Pinnacle Living, Napier ERA and the Starling International Child Care & Learning Complex. Pinnacle Living, a senior living provider based in Henrico County, achieved first place in the large company category. Napier ERA is based in Chesterfield County and is a residential real estate brokerage which won first place among midsize companies. Lastly, Starling International Child Care & Learning Complex, a private day care and learning center, achieved first place for small sized companies.
In addition to these companies' achievements, the Richmond Times-Dispatch also awarded individual leadership awards to one executive in each of the four Top Workplace size categories. The recipients include Dr. Richard P. "Pete" Sowers III, founder, chairman and CEO of urgent care chain Patient First, who won the mega company category; Elena Edwards, who became CEO of Allianz Partners in 2020 and won the large company category; Liza Myers Borches, President of Carter Myers Automotive who won first place in the midsize category; and Tammy Record, co-founder and district manager of Cutz For Guys, who won the small company category.
Virginia Business created similar categories and divided them into small (15-99 employees), midsize (100-249) and large (250+) companies. The surveys compiled benchmarks for: core values of leadership and planning, corporate culture, communication, work environment, role satisfaction, relationship with supervisor, training, benefit packages, salary and overall engagement. Click here to see the full list of companies.
Virginia Business:
Large Employers (more than 250 U.S. employees)
Davenport & Co. LLC (5)
VHB (14)
OneDigital Health and Benefits Inc. (20)
(up to 99 U.S. employees)
The Hodges Partnership (5)
Vaco Richmond (10)
RiverFront Investment Group (12)
The Hodges Partnership was also recently honored by Inc. magazine in its Best Workplaces 2021 in a Micro company category.
On a similar note, Altria Group announced it has been officially certified by Great Place to Work, a global authority on workplace culture. Altria joins the ranks of many other businesses from various industries in the region that are certified, including: Phlow Corp., the Federal Reserve Bank of Richmond, CarMax, Lansing Building Products, Hourigan and Snagajob; which all exhibit exceptional company culture. The breadth of industries of biotechnology & pharmaceuticals, construction, real estate and retail are all represented and show the diverse range of companies that meet the benchmark for certification.
Capital One also made headlines recently as it was listed among the 50 best workplaces to grow your career according to LinkedIn's Top Companies List. Ranking at No. 39, LinkedIn highlighted the company's Invest in Yourself Day, which lets employees take one day off per month for personal and professional development.
Greater Richmond talent is prospering thanks to employers who care about their workforce. Even through the pandemic, employees were able to adapt and excel. The region's overall quality of company culture, along with an outstanding work-life balance, makes Greater Richmond a prime location for businesses of all sizes.