Blog | 2 min read
Labor shed provides additional workforce draw
October 30, 2018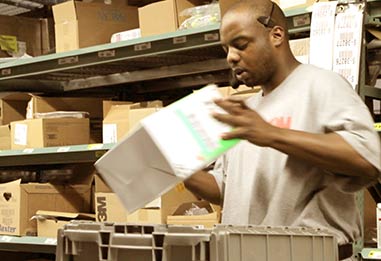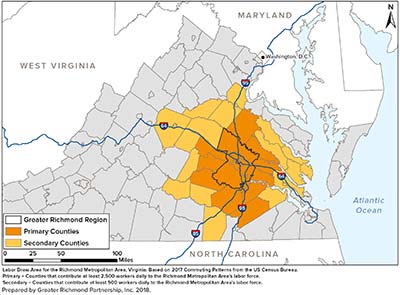 Businesses in the Richmond, Virginia, metro area draw labor from 38 counties in central Virginia – an area with 2.1 million population and a workforce of 1.1 million.
The area's primary labor shed includes 17 communities, bringing the civilian workforce to nearly 678,000. These localities contribute at least 2,500 workers daily to the Richmond MSA's labor force.
The secondary labor shed includes 21 counties with 866,000 population and a workforce of 428,000, provide at least 500 residents to the Richmond MSA workforce. Secondary counties spread south to the North Carolina border along I-85, west to Charlottesville along I-64, north to Stafford on I-95 and east to Gloucester on I-64.
One big reason for the large geographic labor draw is the region's interstate network which provides comfortable commuting patterns. Automobile travel is the primary transportation source for suburban and rural workers, allowing employees to commute to non-targeted commute patterns.
For workers within the GRP represented communities of the City of Richmond and counties of Chesterfield, Hanover and Henrico, the daily commute averages 25 minutes. The Texas Transportation Institute has even listed the Richmond Region as the least congested large city in the U.S.
The region's population has increased by 7 percent since 2010, adding 20,300 additional residents annually, and the labor force has increased by 11 percent, adding 14,200 new workers annually.