Blog | 7 min read
Rise of the HQ2s
February 10, 2022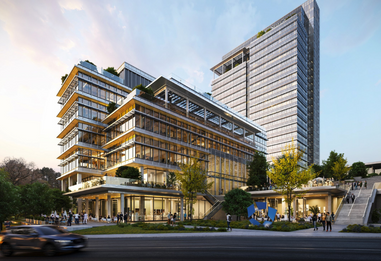 CoStar recently chose Greater Richmond for its $460 million+ corporate campus that will create 2,000 jobs throughout the region. The investment represents a recent business trend called the Hub & Spoke model which suggests companies benefit from operating satellite offices as opposed to one large corporate location. Companies operating under the Hub & Spoke model could have a homebase location for its corporate headquarters, a second headquarters in another location dubbed its HQ2 plus offices specializing in finance, research and development, legal, data centers and more.
Mid-Atlantic ripe for HQ2s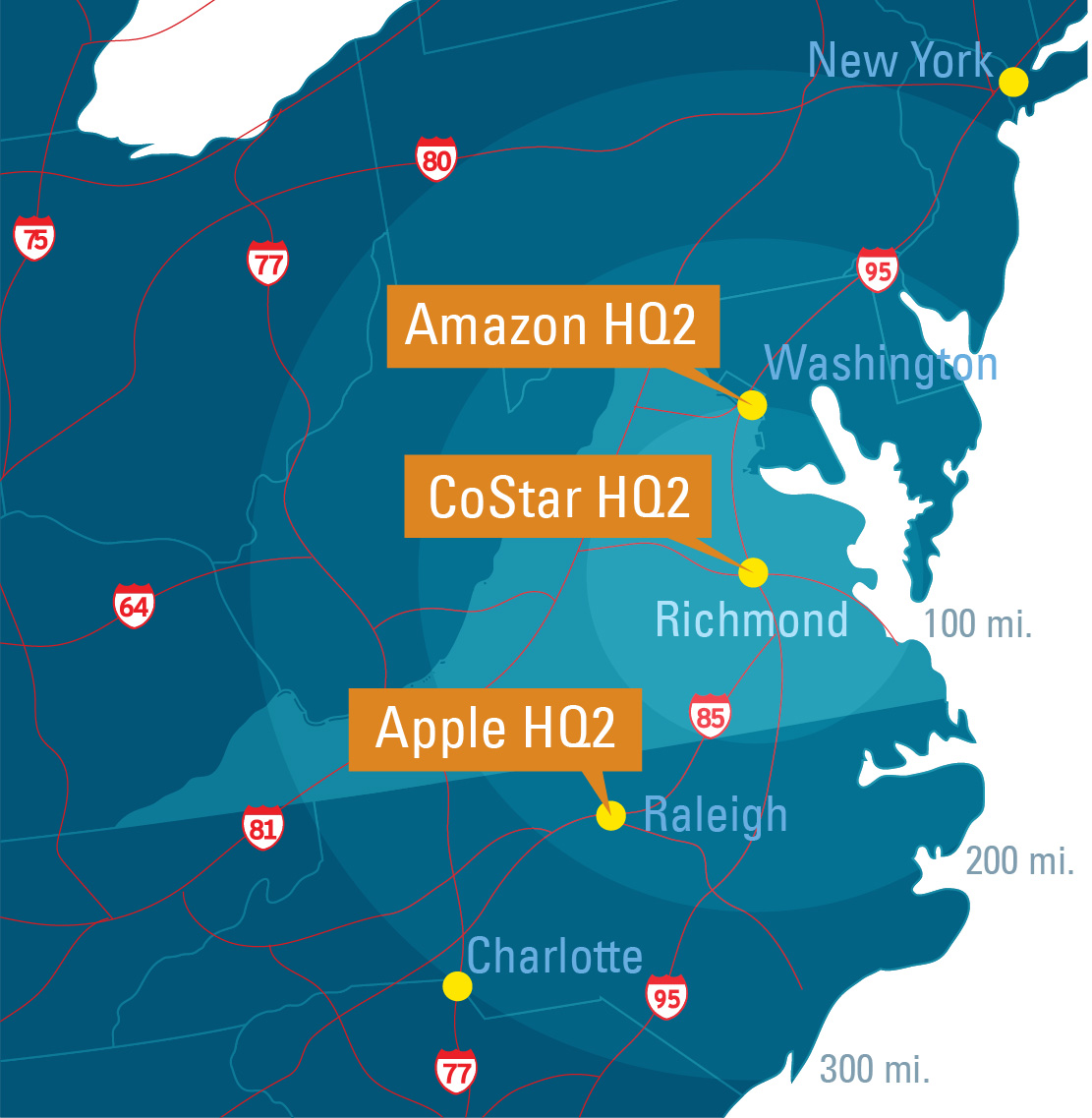 Not only are companies realizing the benefits of the Hub & Spoke model, but they are also seeing the value in choosing the mid-Atlantic area for their operations.
Seattle-based Amazon created interest in the Hub & Spoke model when it announced Arlington, Va., for its HQ2 location in November 2018. Amazon also operates several spokes in Greater Richmond and recently announced a local robotics fulfillment center.
California-based Apple also made news when it chose Raleigh, N.C., for its HQ2 in April 2021. Centrally located between the two is Greater Richmond which is home to the latest HQ2 announcement from CoStar.
It's no secret why companies are choosing to locate in the mid-Atlantic: the area is becoming a talent corridor for tech-heavy offices. Greater Richmond alone is home to 2,340 information technology companies and 23,390 IT workers. Companies also find it advantageous to locate in or near major metros like New York City and Washington, D.C., however, they can find equal success in more affordable metros like Greater Richmond.
Based on the most recent U.S. Census data, Greater Richmond is gaining residents at a faster rate than larger metros thanks to domestic and international in-migration. Coupled with the region's ~30 colleges and universities that help produce 1.1 million students within 150 miles, in-migration allows companies to recruit top talent.
Recent accolades place Greater Richmond as the 6th Best Place to Work in Tech in 2021. As more tech workers flock to the region, we can expect more companies to locate in the region to access the strong workforce.
The benefit of Hub & Spoke
Companies across the nation have been forced to reconsider business models and office spaces during the COVID-19 pandemic. Adopting the Hub & Spoke model benefits companies for several reasons, especially during the pandemic.
First, operating a smaller headquarters location and introducing divisional offices in new locations can help companies save on operational costs. Businesses based in more expensive metro areas than Greater Richmond may save money on operational costs like leases, employee salaries and overhead expenses.
Second, the Hub & Spoke model provides companies access to top talent in several locations and flexibility for both employers and employees. Hybrid work options have become more prevalent since the pandemic and can easily fit into companies' Hub & Spoke models.
Lastly, adopting the Hub & Spoke model provides companies with operational redundancy. Businesses with separate divisional offices are more equipped to maneuver public health emergencies, natural disasters and other issues.
Behind CoStar's HQ2 decision
CoStar, the leading provider in real estate information, analytics and online marketplaces, has been a staple in Greater Richmond's business community since it located its research headquarters in downtown Richmond in 2015. Since then, CoStar has invested in the region on several occasions. The company's local activity makes it clear CoStar values Greater Richmond, so much so that it decided to locate its HQ2 adjacent to its current research headquarters.
Greater Richmond is an enticing HQ2 location for several reasons. According to CoStar Founder & CEO Andrew Florence, "Richmond is a growing community with access to a deep pool of diverse, highly-skilled workers, a vibrant culture of innovation and a wonderful quality of life for our existing and future employees. The strong partnerships we have established with the Commonwealth of Virginia, the City of Richmond, and institutions of higher education such as VCU, will be critical for our continued growth."
Based on Florence's comments and more from those involved in the project, CoStar chose Greater Richmond for its HQ2 for the following reasons:
"Since locating its research headquarters in Richmond five years ago, CoStar has found the right type of experienced, diverse IT talent the companies of tomorrow are looking for. We're thrilled CoStar is continuing to invest in Greater Richmond," said Jennifer Wakefield, President and CEO of the Greater Richmond Partnership.
Local HQ and HQ2 community
Greater Richmond, the capital of CNBC's Best State for Business two years in a row, has a strong corporate services industry backed by 12 Fortune 1000 headquarters. In fact, the region is home to more Fortune 1000 headquarters than any other mid-sized region.
Divisional offices, including some HQ2s, are also heavily present in the region. Northern Virginia-based Capital One operates a corporate campus in the region with more employees than its headquarters. McKesson Corp. is another example of a company using the Hub & Spoke model. McKesson Medical-Surgical, a division of the drug wholesale giant, opened a divisional headquarters in the region in 2015 to tap into the strong local workforce. According to Stanton McComb, President of McKesson Medical-Surgical, "McKesson has benefitted from the diverse talent pool in Greater Richmond. It has been a strategic advantage for us."
More divisional HQs are operated by businesses across several of Greater Richmond's key industries. Examples include advanced manufacturers Westrock and Morooka America, finance and insurance firms Allianz Partners and Markel, and retail companies like Kroger and Wegmans.
Previous investments by CoStar
Since opening its research headquarters in 2015, CoStar has invested millions of dollars by leasing and purchasing several locations in the City of Richmond. In addition to its new corporate campus, recent investments include:
the purchase of four acres of land adjacent to its research headquarters in August 2020,
the January 2020 acquisition of its 9-story research headquarters property, and
the sublease of 51,000 square feet of office space for 200 additional employees in March 2021.
CoStar has increased its office footprint nearly every year since joining Greater Richmond's business community. The firm occupied 69,000 square feet of space in 2016 and ramped up to 167,000 square feet by 2020. With the completion of CoStar's corporate campus, the firm will occupy nearly 1 million square feet of office space placing it among the 10 largest office tenants in downtown Richmond.