Blog | 3 min read
Tech talent triumphs in Greater Richmond
October 11, 2023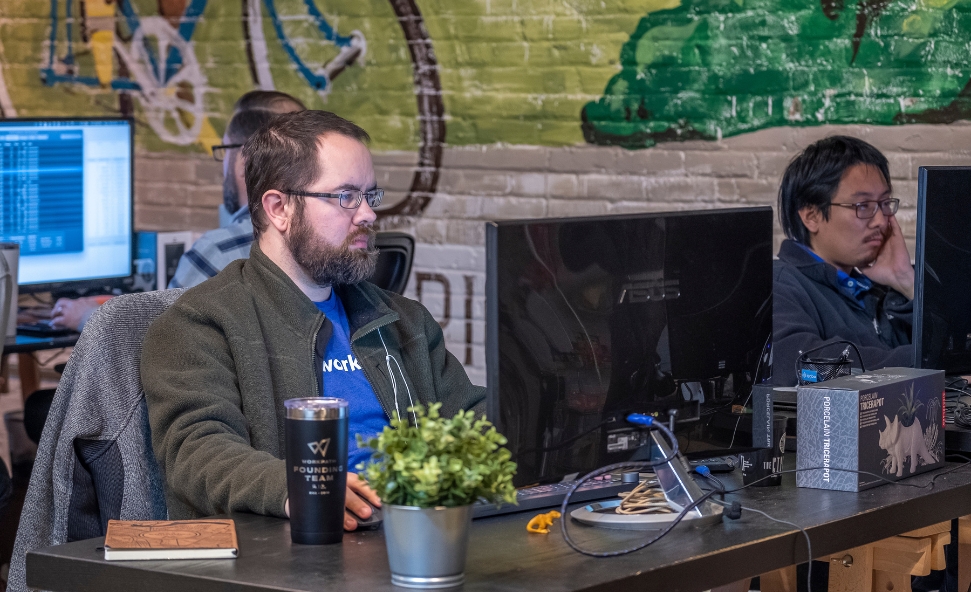 Virginia has been recognized as a leading state for tech talent for two years in a row by Business Facilities, a leading authority in corporate site selection and economic development. Virginia was ranked #1 for tech talent in 2022 and #2 in 2023. Not only is the state a hub for tech talent, but it has also emerged as a national leader in cybersecurity, earning the #1 spot by Business Facilities three years in a row.
Greater Richmond advantages
Greater Richmond offers many advantages that make it a strategic choice for companies in the IT industry. Several successful companies operate data centers throughout the region, including the Federal Reserve Bank of Richmond, Capital One, Thomson Reuters and Bank of America. These companies operate data centers, cyber security and more throughout the region.
Companies like these choose Greater Richmond thanks to the region's location value for data centers in the mid-Atlantic with pre-certified, secure sites that offer reliable fiber and redundant power. Greater Richmond also benefits from seamless global connectivity through its access to four high-speed fiber lines. Plus, Greater Richmond has a low risk of natural disasters enabling companies to operate safely and continuously.
Industry incentives
There are many incentives available to companies looking to take advantage of Virginia's tech talent pipeline. Virginia was ranked #1 in customized workforce training in 2023 by Business Facilities thanks to incentives like the Virginia Talent Accelerator Program from the Virginia Economic Development Partnership. The goal of the program is to create and maintain the state's talent, providing training and recruitment solutions that are fully customized to a company's workforce needs.
While the number of jobs requiring tech skills will continue to expand, Virginia's program, coupled with Greater Richmond's access to higher education, makes it a winning strategic initiative. Other incentives include the Commonwealth's Development Opportunity Fund, Chesterfield Data Center Tax Reduction, Henrico Data Center Tax Reduction, Virginia Economic Development Incentive Grant, and the Virginia Jobs Investment Program.
Tech talent and average wages
Greater Richmond's employment rate of more than 660,000 is steadily increasing thanks to our strategic location near many colleges and universities. There are 22 institutes of higher learning with 1.7 million students enrolled within 150 miles of Greater Richmond. In 2021, 33,800 graduates were awarded computer and tech degrees.
Virginia has the highest concentration of tech workers of any state in the U.S. Currently, there are over 24,000 people employed in computer operations throughout the region.
| Occupation | Average Richmond Wage | Higher/lower | Average U.S. Wage |
| --- | --- | --- | --- |
| Information Security Analysts | $109k | | $113k |
| Computer Network Support Specialists | $68k | | $71k |
| Computer User Support Specialists | $55k | | $58k |
| Database Administrators and Architects | $102k | | $103k |
| Computer Programmers | $87k | | $97k |
| Software Developers | $114k | | $121k |
| Web and Digital Interface Designers | $76k | | $96k |
| Data Scientists | $107k | | $109k |
| Computer Systems Analysts | $100k | | $102k |
| Computer Systems Administrators | $90k | | $91k |
Average annual wages for computer and mathematical occupations are about 17 percent lower than in competing markets like Washington, D.C. Electrical server rates are also lower than the national average, at 8 percent. Our concentration and proximity to top-notch talent, coupled with our low cost of living, means that companies can attract the skilled workers they need at wages well below other metros.
Virginia's consecutive recognitions as a leading state for tech talent and cybersecurity, coupled with Greater Richmond's IT industry advantages, competitive wages and an influx of graduates position the region as a prime destination for business seeking to attract and retain tech talent.