Blog | 3 min read
Top five 2022 announcements at Richmond International Airport
January 5, 2023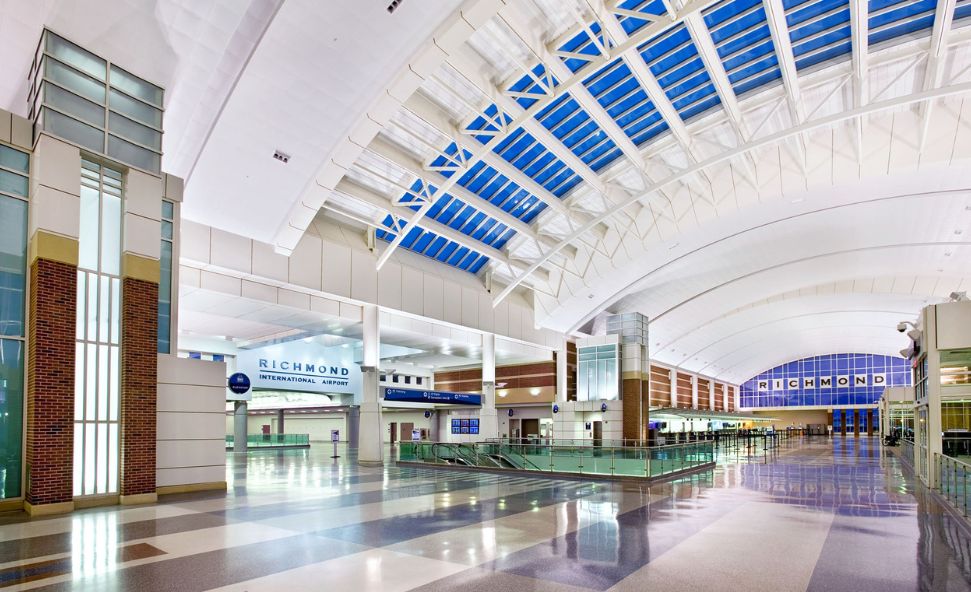 Greater Richmond had a strong year full of project wins, capital investment raised and new jobs created thanks to the work of regional collaboration and assets like the Richmond International Airport.
Economic development tools such as air travel are major factors in business relocation decisions. That's why Richmond International Airport's developments in 2022 were crucial in attracting global companies like the LEGO Group, Germany-based Max Schlatterer GMBH and Israeli company Starplast.
Here are the top 5 highlights presented by Richmond International Airport:
#5: New infrastructure projects underway
RIC constantly improves its infrastructure to improve not only its own processes and procedures, but also the experience of its flyers. In 2022 alone, RIC worked to increase aircraft parking, de-ice pads, renovate its Federal Inspection Service (FIS) facility for international arrivals and more.
#4: "Welcome to Richmond" mural by local artists unveiled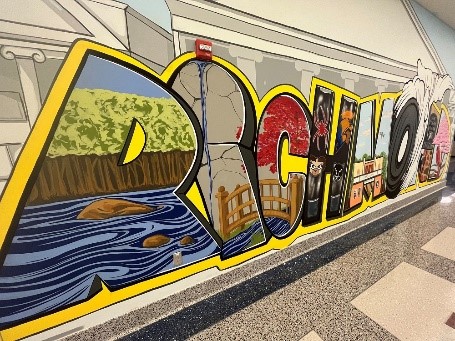 In February, RIC premiered a new mural by local artists Paris Allen and Christian Kyle Harrell (aka "Humble") in Concourse A to highlight Greater Richmond's art scene.
According to Perry J. Miller, A.A.E., I.A.P., president and CEO of the Capital Region Airport Commission, "The Richmond Region offers a range of experiences for visitors and the new mural at Richmond International Airport (RIC) highlights some of the most popular attractions of RVA."
#3: Recognized for sustainability efforts
In April, Virginia Green recognized RIC for its efforts in protecting the environment and for supporting sustainable tourism at the 9th annual Virginia Green Travel Conference held in Richmond. Among the airport's sustainability initiatives was a focus on its recycling program and in 2021, more than 33 tons of recyclable materials were saved from going to landfills.
"RIC is committed to conserving resources and being an environmentally responsible partner to the community we serve," said Perry J. Miller, A.A.E., I.A.P., president and CEO of the Airport Commission. "The Airport, certified as a Virginia Green Travel Partner since 2015, continually reviews operations for innovative approaches to sustainability and efficiency."
#2: 95 years serving Greater Richmond
RIC celebrated 95 years this past October in addition to celebrating the impact it had on the region. Data from October by the Virginia Department of Aviation reported RIC created nearly 16,000 jobs and contributed $2.1 billion in economic activity each year in Greater Richmond.
#1: Six new routes in 2022
Throughout the year, RIC continued to announce new direct routes which now total 33. The airport's six new routes include:
Hartford (BDL)
Las Vegas (LAS)
Minneapolis/St. Paul (MSP)
Phoenix (PHX)
Providence (PVD)
San Francisco (SFO)
RIC connects Greater Richmond to locations and companies all over the world. Business executives rely on efficient travel and RIC constantly improves not only in efficiency but also convenience. In fact, one factor in the LEGO Group's location decision was RIC's direct route to Hartford, Conn., which is near its U.S. headquarters.
An asset to economic development
Greater Richmond has a strategic advantage compared to other mid-sized metros thanks to Richmond International Airport. The airport's growing number of direct flights is both a major asset for the region and a benefit for traveling c-suite executives.
Click here to learn more about Greater Richmond's infrastructure.