News | 2 min read
Virginia Commonwealth University receives Minority Serving Institution eligibility status
May 4, 2022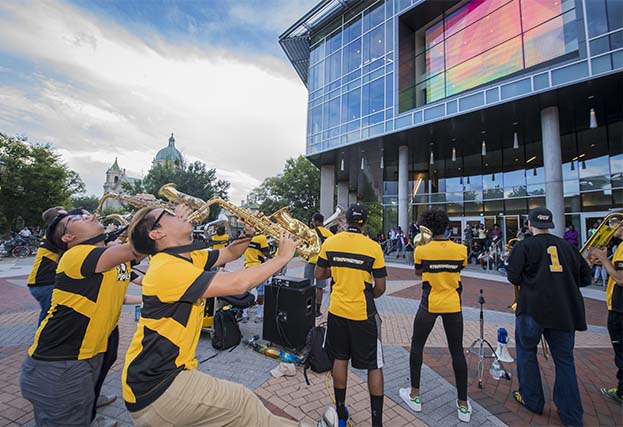 The U.S. Department of Education has provided Virginia Commonwealth University with Minority Serving Institution (MSI) eligibility, effective July 1. VCU's MSI eligibility is based on a focus on students who are from Asian American and Pacific Islander backgrounds. The university also qualified for the Strengthening Institutions Program, which recognizes colleges and universities serving a high proportion of low-income students.
"This designation is an affirmation of what we see every day throughout VCU – that our student body is beautifully diverse and inclusive," said Michael Rao, Ph.D., president of VCU and VCU Health. "Nearly one-third of our undergraduate student body is Pell-eligible and a third are first-generation students. More than half of our undergraduate students are from minority populations, while more than a third are underrepresented minorities. Becoming an MSI supports our commitment to putting the needs of students and patients first at VCU."
The formal identification of VCU as an institution that serves a high percentage of minority students provides VCU researchers access to certain federal grant programs available to minority-serving institutions.
"In addition to the opportunities the MSI designation provides our students to promote access and equity, our faculty members are now eligible for federal grants and related assistance to empower VCU to expand its capacity to serve and conduct research. Researchers and scholars at MSIs are crucial to advancing the frontiers of knowledge," said P. Srirama Rao, Ph.D., vice president for research and innovation.
MSI eligibility also enhances VCU's ability to attract faculty and staff who are passionate about serving minority populations.
"VCU's recognition as a Minority Serving Institution will broaden access to higher education and allow our campuses to continue focusing on student success, further promulgating our mission to serve all," said Aashir Nasim, Ph.D., chief diversity officer, advisor for ONEVCU, and vice president for institutional equity, effectiveness and success.
Additional information is available at https://research.vcu.edu/resources/msi/.
Read the full story here.