Blog | 2 min read
Virginia: Best State for Business. Again.
July 20, 2021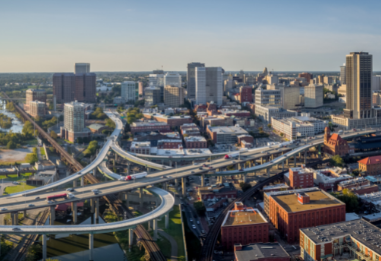 "Virginia has captured top honors five times — more than any other state — and is the first state to notch back-to-back wins." – CNBC
CNBC just released its best state for business rankings and Virginia maintains its front-runner position. It's the first time a state has secured the spot for a second year in a row and Virginia has received this accolade more than any other state in this regular CNBC ranking.
To be fair, there are other rankings for top states for business.
Forbes. Last compiled in 2019, the list named Virginia the #4 state for business. Virginia landed the #1 position for quality of life and the #3 position for both labor and regulatory environment. Other factors that go into the objective rankings include costs, economic climate and growth rates.
US News. This compilation features the top 10 states based on criteria such as average patent creation, average business creation rates, tax burden, the number of top company headquarters in the state and venture capital investments. However, California, not known as a business-friendly state, comes in at #2 on this list so….
Chief Executive. This annual survey of corporate executives is largely perception driven versus strictly based on objective factors. Texas and Florida tend to dominate this list on an annual basis. Virginia has made headway over the last several years and sits at #13.
CNBC analyzes a variety of factors including Cost of Doing Business, Infrastructure, Life, Health and Inclusion (formerly Quality of Life), Workforce, Economy, Business Friendliness, Access to Capital, Technology and Innovation, Education and Cost of Living.
Virginia's strongest categories are education, workforce and life, health and inclusion. This last factor was formerly known as quality of life and takes diversity, equity and inclusion efforts into account. Virginia has made great strides in this area in the last few years and has the country's first Chief Diversity, Equity and Inclusion Officer at the state level.
It's great to see that CNBC is taking these efforts into account. The article specifically calls out Texas for its "policies that run counter to inclusiveness" and highlights the important work that Virginia has done and is doing here.