Blog | 4 min read
Virginia business tax costs among most affordable in the U.S.
July 30, 2021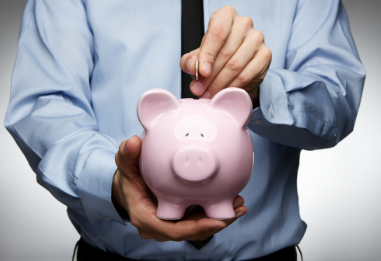 According to the Tax Foundation, Virginia ranks among the states with some of the most affordable tax costs. The Tax Foundation analyzed mature and new firms in several of Greater Richmond's key industries and ranked mature firms in Virginia in the top 10 lowest business tax costs for corporate headquarters, distribution centers, capital-intensive manufacturers and labor-intensive manufacturers.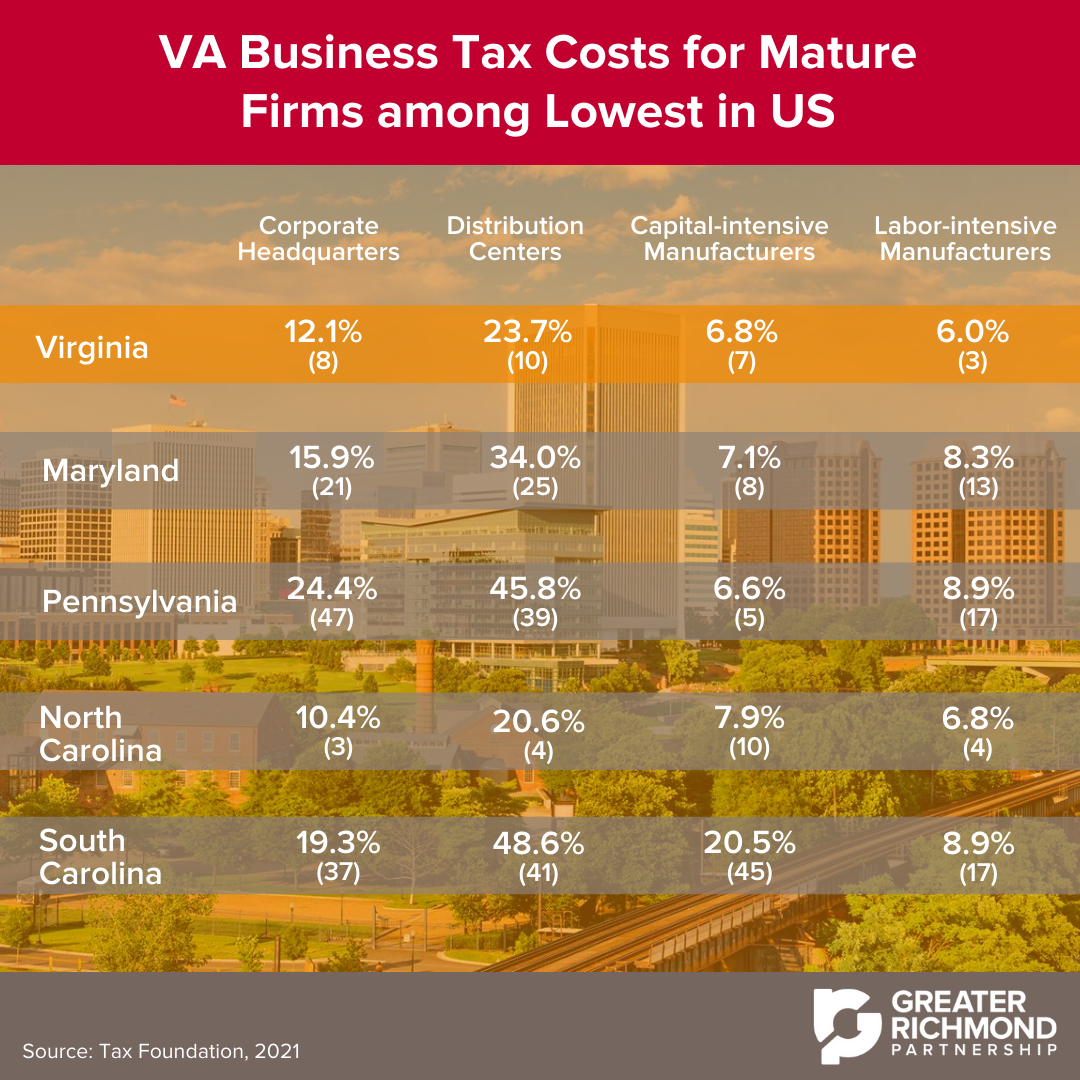 On average, new firms in Virginia pay 17.8 percent in state business taxes while mature firms, or firms that have operated for at least 10 years, only pay 12.5 percent. Mature firms in Virginia pay the 14th overall lowest state business taxes. Although new firms pay slightly higher taxes than mature firms, those new firms are just a few years away from declining costs.
3rd & 7th: Capital- and Labor-intensive Manufacturers
Both labor-intensive and capital-intensive manufacturers benefit in the Richmond Region. According to the Tax Foundation, mature labor-intensive manufacturers pay the 3rd (6.0 percent) lowest business taxes in the U.S. while capital-intensive manufacturers pay the 7th (6.8 percent) lowest business taxes in the U.S.
With nearly 33,000 manufacturing employees in the region, capital- and labor-intensive manufacturers can attain a proven workforce skilled in manufacturing technologies like computer-aided engineering, computer-integrated manufacturing, robotics and automated materials handling. Jo Vanhoren, President and CEO of heat exchanger manufacturer Alfa Laval, appreciates the ample talent: "There is a large variety of local workforce available, especially young talent from the universities based in the Richmond area."

#8: Corporate Headquarters
The Richmond Region is currently home to seven Fortune 500 and five Fortune 1000 company headquarters. Industry experts and business consultants are drawn to the region for its competitive state taxes and bountiful resources. According to the Tax Foundation, mature corporate headquarters located in Virginia pay the 8th lowest state business taxes at only 12.1 percent. Business-friendly regulations and an affordable, high-quality lifestyle for employees and executives are just some of what makes the Richmond Region an ideal headquarters location.
Greater Richmond has one of the most concentrated group of Fortune 1000 companies in one region. Additionally, the region was just recognized as a Top Ranked Location for Corporate Services by Business Facilities magazine. Why? On top of competitive tax costs, Greater Richmond provides convenient distribution access, prime real estate and an educated and growing workforce. Greater Richmond alone is home to nearly 30 higher education institutions with a total enrollment of nearly 80,000 students preparing to join the workforce.
Additionally, numerous associations and corporate services incentives are available to aid companies relocating their headquarters, including professional and incentives such as the Commonwealth's Development Opportunity Fund and Small Business Operation Grants. Between Virginia's low tax costs of doing business and Greater Richmond's available incentives, organizations relocating from New York City, Washington, D.C., and other metropolitan cities in the Northeast can save up to 14 percent on labor and 45 percent on Class A office space. Greater Richmond also offers various spaces to lease or purchase and multiple sites to build new facilities as construction costs in the region are almost 12 percent below the national average.

#10: Distribution Centers
Once manufacturers have completed their products and are ready to ship, distribution to customers has a tax advantage, too. The Tax Foundation reports mature distribution centers in Virginia pay the 10th lowest state business taxes at 23.7 percent. Companies operating distribution centers in Virginia can cut additional costs by taking advantage of the region's mid-Atlantic location.
When it comes to distribution, location matters. Greater Richmond's strategic location enables distribution centers to reach 55 percent of the nation's consumers and manufacturers within a two-day drive. Four major interstates meet in the region and provide access for more than 100 motor freight companies and brokers to serve the area. Rail service and access to the Richmond Marine Terminal and the Port of Virginia in Hampton Roads are available as well.