Blog | 4 min read
Greater Richmond a safe spot for specialty insurance
August 6, 2021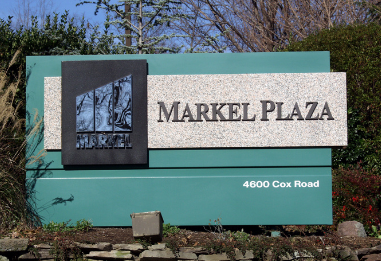 For specialty insurance, you're unlikely to think of the Richmond Region among New York City, Chicago and Atlanta among the national hubs. However, with access and surplus lines in addition to regional underwriters, Greater Richmond, Virginia, is among the nation's largest metro areas competing for specialty insurance contracts.
A cornerstone of insurance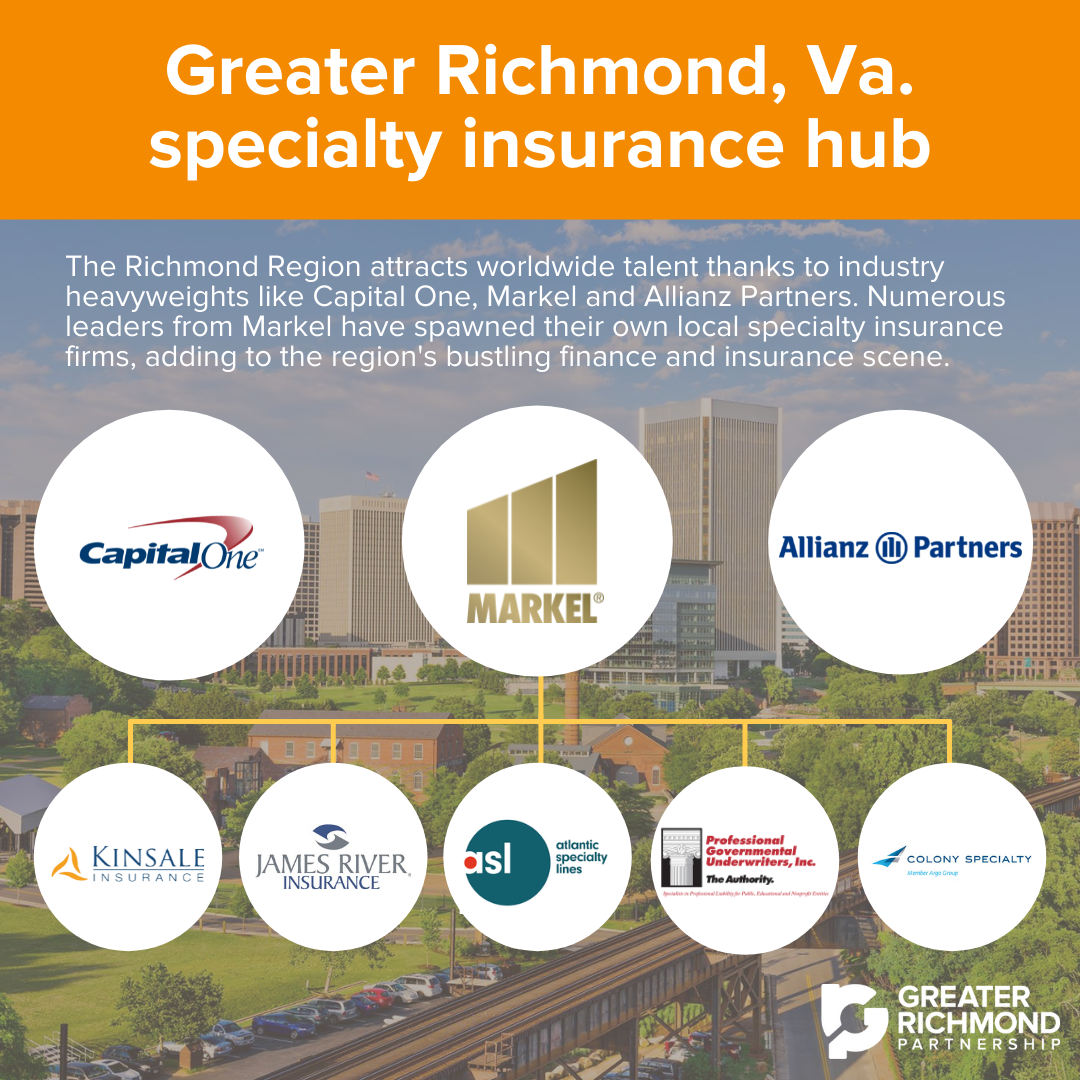 Headquartered in Henrico County, Va., and founded in 1930, Markel reports its ongoing underwriting operations in three segments, and products originate from four insurance divisions and one reinsurance division. Markel is the second-largest excess and surplus lines insurer according to S&P Global Market Intelligence (Sept. 2020).
In April 2020, Markel combined some of its U.S. operations under the name Markel Specialty. Markel Specialty underwrites a wide range of risks for large corporations, small businesses, not-for-profits, and individuals across all 50 states and international operations in Bermuda, Dublin and London.
With finance and insurance heavyweights such as Capital One and Markel, Greater Richmond attracts talent from all over the world – and some decide to launch their own endeavors. Leadership from Markel have spawned several other local specialty insurance firms including: 
Kinsale's specialty offerings include allied health, health care, management liability, professional liability and public entity.
James River Insurance Company (JRIC), formed in mid-2002, operates as an Excess & Surplus carrier from its home office in Richmond, Va.
Atlantic Specialty Lines was acquired in 2019 by Ryan Specialty Group, in a deal that bought over ASL's book of business, nearly 160 employees and its Richmond-based headquarters. ASL originally was formed within Markel, where it was known as Markel Services before spinning off as an independent company in the mid-1990s.
Professional Gov't Underwriters: Marty Kanipe, formerly with Markel, founded the company in 1993.
Colony Specialty, of the Argo Group, was founded by John Latham in 1994 after serving the excess and surplus market since 1988 under a different banner. Formerly known as the Argonaut Group, the company acquired the Colony insurers in 2001 as part of a strategic plan to become a national specialty underwriter.
Other specialty insurers include Allianz Partners, which operates its 700-employee North American headquarters in Henrico County. The company offers travel protection plans and served more than 45 million customers last year. If you've ever purchased a concert or event ticket, it's very likely that Allianz has offered protection for it.
Talent pipeline
Nearly 52,000 Richmonders work in the Finance, Insurance and Real estate sector and employers have a strong pipeline coming from local and state universities.
Virginia Commonwealth University's Risk Management and Insurance program is a nationally-recognized track in the School of Business that prepares students with skills in financial management, risk management and financial planning. It's also a favorite breeding ground for Richmond-based insurers.
"We always look local before looking outside the market," said Bob Neal, VP of Marketing at Kinsale. The average age of Kinsale's workforce is 32 years old. "We have a young workforce where we hire a lot of recent grads and second-job candidates."
"We also recruit students from the business schools at the University of Virginia, Virginia Tech, the College of William & Mary, George Mason University and Hampden-Sydney College," Neal added.
However, the region's quality of life proves an easy sell for recruiting Kinsale's workforce.
"Whether it's the food scene, or festivals on the weekend, Greater Richmond is a real livable town with family-oriented events," he said.
Closing
Specialty Insurance is but a small piece of Greater Richmond's Finance and Insurance community, however, it can be a surprisingly strong subcluster for a region of Richmond's size. With abundant talent, affordable Class A office space and a like-minded business community, Greater Richmond is a low-risk destination for insurance companies.