Success Story | 2 min read
Anton Paar USA
May 25, 2017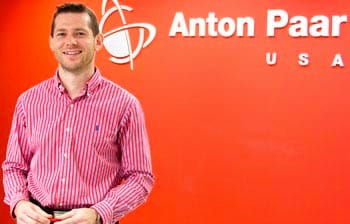 Anton Paar USA is the North American Headquarters for Austrian-based Anton Paar GmbH. They are a world leader in many areas of scientific instrumentation, producing high-end measuring and laboratory instruments for industry and research applications. Anton Paar has 17 subsidiaries worldwide, with its North American business as its second oldest.
Reinhard Eberl, President of Anton Paar USA, notes that transportation is an important asset to their business. "Richmond International Airport is about 20 minutes away. Norfolk is about 2 hours away," Eberl says. The proximity to Washington-Dulles Airport helps, too. "Products from the parent company in Austria arrive in Hanover in three days."
Anton Paar is known worldwide for its innovations in areas of scientific instrumentation. The main areas of their business are density measurement, rheology, viscometry, polarimetry, refractometry, microwave synthesis and x-ray structure analysis. An example of their work is testing the carbonation for products such as Pepsi and Coca-Cola. They also test deformation and flow behavior in asphalt for various Departments of Transportation in the United States.
Throughout their 90 years the innovative spirit of the employees and their commitment to quality have been the driving forces of the company. A strong research and development department and partnerships with external research institutes has kept Anton Paar at the cutting edge of technology.
Hanover County provides Anton Paar USA a great backdrop for business. Employees enjoy a great work-life balance.
"There is a lot to do in Hanover and all of Virginia," says Eberl. "The work-life balance helps attract and retain talent."
The future looks bright for Anton Paar USA. They have experienced 20 percent annual growth over the past seven years. The company recently expanded their Hanover facility.
"We recently purchased a neighboring building in order to expand our facilities. Hanover County worked closely with us and was very helpful during the process," Eberl said.