Success Story | 4 min read
Ippon Technologies USA
June 20, 2017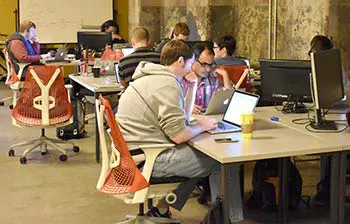 Driving to the end of East Cary Street in the Shockoe Bottom neighborhood, passers-by might notice the large Lucky Strike smoke stack on one of the loft buildings. They might also notice the 'Connecticut' statue at the top of that same building. But what they might not notice, underneath some of Richmond's history, is a company that could be a part of Richmond's future.
Ippon Technologies USA, a subsidiary of a Paris-based technology consulting firm, came to the U.S. in March 2014. The digital, data, and cloud solutions company, which specialize in java-based architectures, chose Richmond as a first landing spot in their quest to expand on the East Coast. According to Romain Lhéritier, the Managing Director of Ippon USA in Richmond, coming to the city was a great business decision for the growing company.
"Virginia is business friendly from a tax standpoint in helping businesses," explained Lhéritier. "Our target market is the East Coast, and when you look at Richmond on the map, it's pretty central. So all these were the business reasons to do things here."
Along with the geographical and business motives to come to Richmond, Lhéritier said the city is a great place for recruiting new computer engineering talent from the surrounding universities and colleges, including Virginia Commonwealth University. Dennis Sharpe, a technical director with Ippon, explained the company's relationship with the school.
"We're very heavily involved with VCU," said Sharpe. "We do senior capstone projects with VCU every year. We also do internships with them."
When describing the business culture at Ippon, many of the employees, including Sharpe, say it's a "work hard, play hard" atmosphere. The company's culture, Lhéritier says, comes from its founder Stéphane Nomis, a former Judo champion in France who founded the company in 2003.
"He gives it a very unique culture," said Lhéritier. "It's a sense where people join a club because they want to be better. So the moment that you show up, you realize you're joining a team of people who are better than you, and you want to improve yourself, and be with people who are smarter than you and train with them until you reach their level. It's being a team and collaborating, but also… friendly competition."
The company culture of learning, competing, and improving has extended beyond their own office and into the local tech community. According to Ben Scott, a technical manager for the company, Ippon hosts various events geared toward helping other engineers and future engineers.
"We work with and sponsor Agile Richmond's annual Innovate Virginia Conference," said Scott. "We also host technology meetups. We present topics or we actually manage the entire meetup, and we host it here quite often. Almost every week there will be a meeting here with the community coming in. We also mentor students at a hackathon, that's a yearly thing, and we do mock interviews to help them find jobs."
In addition to working with the local technology community, Ippon also dedicates time to helping the Richmond community by working with local nonprofit organizations, including HandsOn Greater Richmond, to give back to the community they call home.
As the company continues to recruit talent, gain clients, and expand their reach and client base up and down the East Coast, the company, according to Lhéritier, looks forward to growing within Virginia's capital city. In order to grow, Lhéritier says they are always looking for new talent and specifically, new talent with a passion for their work.
"The first thing that I look for is being intellectually curious and wanting to learn," explained Lhéritier. "So the people we hire are just as passionate about technology and learning. I often ask the question in an interview, what would you do when you retire, then many people will say 'I want to code.' I mean, they're just getting paid for what they love to do. So passion is very important."
Ippon's presence in Richmond could be sign of a new economic direction for the city. While Richmond might not be known as a major technology hub, the growth and leadership of a company like Ippon could be the spark the local industry needs.