Success Story | 2 min read
AvePoint
December 17, 2019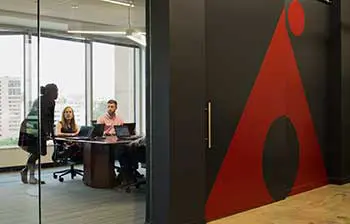 Company Needs and Goals:
In 2015, independent software provider AvePoint Inc. made plans to expand its sales operations within three months. Its new location would required 30,000 square feet of Class A office space and would create 100 jobs over three years. The available workforce in the new location needed to have bachelor's degrees and sales experience, and the surrounding area needed to offer an easy commute, a walkable community, and proximity to restaurants and other amenities. In December of 2015, AvePoint announced it had selected the City of Richmond, Va. as the location for its new sales office.
Partnership Involvement:
The Greater Richmond Partnership's research team provided research support with labor supply analyses, cost comparisons, and presentations on the region's advantages. GRP organized a real estate tour to assist AvePoint in selecting suitable space, then helped the company obtain local and state incentives. GRP facilitated connections with the Capital Region Workforce Partnership to develop training for AvePoint's new workforce.
Why AvePoint Chose Greater Richmond:
AvePoint conducted extensive analyses of multiple locations along the East Coast including: Newark, N.J.; Philadelphia, Penn.; and Atlanta, Ga. Greater Richmond proved to be the best place for the company's expansion with its strong business climate, thriving technology scene and excellent quality of life.
About AvePoint:
AvePoint is the established leader in enabling enterprise collaboration across platforms and devices. Assisting enterprises in their digitization journey to enable their information workers to collaborate with confidence, AvePoint is first to market with a unique solution that centralizes access and control of information assets residing in disparate collaboration and document management systems on-premises and in the cloud. Founded in 2001 and headquartered in Jersey City, N.J., AvePoint serves over 14,000 organizations and 3 million Office 360 users worldwide. AvePoint is privately held and backed by Goldman Sachs.
About the Greater Richmond Partnership, Inc.:
The Greater Richmond Partnership, Inc. (GRP) is the lead regional public-private economic development organization for the City of Richmond and counties of Chesterfield, Hanover and Henrico in Virginia. GRP recruits companies from all over the globe which provide employment opportunities and taxable capital investment for the community. For more information, visit www.grpva.com