Success Story | 3 min read
BGB Technology, Inc.
March 14, 2014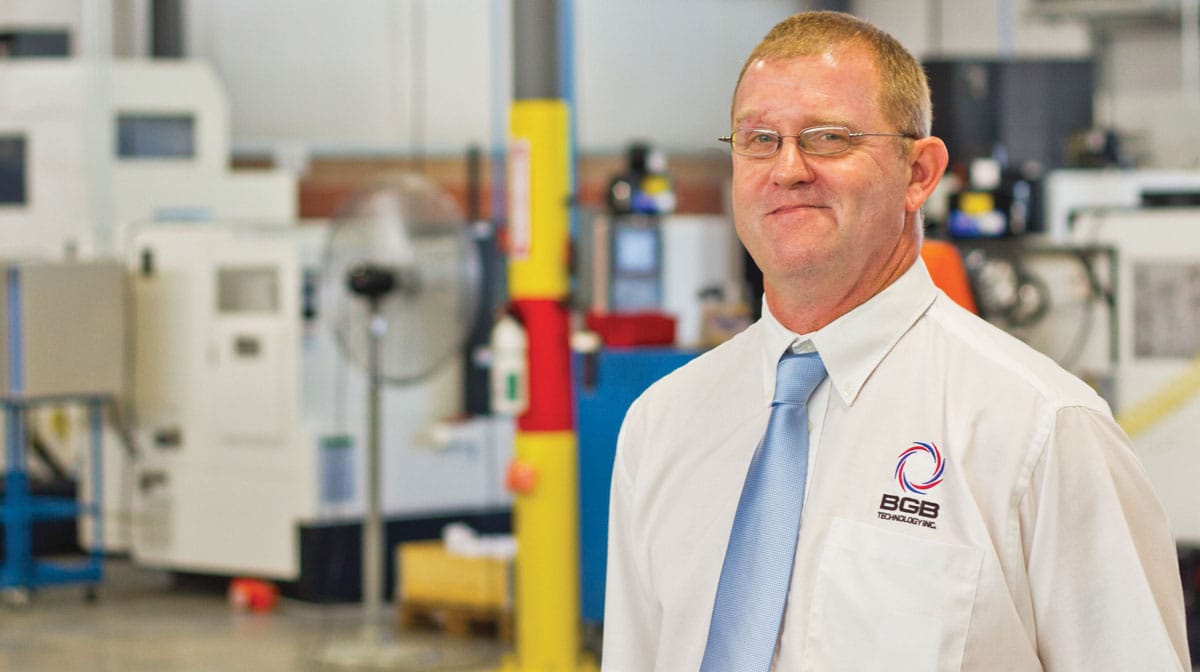 Ian Hemstock, Operations Director of BGB Technology Inc., proudly walks through their manufacturing facility, pointing to a broad range of equipment. "Almost all of the machines you see in here are brand new, where pretty much all of the $2.5 million of investment have gone in plant machinery and equipment."
BGB Technology Inc., a Virginia registered business of UK-based owners, is a manufacturer of rotating electrical and optical slip ring assemblies for equipment like wind turbines. Due to their international address, many US companies demanded localized parts, and BGB responded by exploring the American market.
"The process started probably 4 years ago. Our biggest customer – a Danish turbine company called Vestas – for a number of years they've been putting us under pressure to have a more localized sourcing," Hemstock explained. "We supply them pretty much all over the world, but it was the US market that was more demanding of localized sourcing. On top of that, as a business, we're very strong in Europe, very strong throughout the rest of the world, but we never really enjoyed as much business in the US as we should've done."
In 2010, representatives from BGB Technology attended a "Profit in America" seminar in the UK hosted by the Greater Richmond Partnership. During the seminar, GRP representatives presented the advantages of expanding to the US market and the challenges that international companies could face.

"The options were to just set up a sales office, a sales force, or set up a full-blown manufacturing facility. And we're manufacturing people, so the options were relatively limited," Hemstock said.
"We looked around Chicago, Minneapolis and Milwaukee. We've been over to Colorado, which is where our customer is based … We came over (to Greater Richmond in) January 2012, specifically to start looking for facilities and properties and each of the four economic development agencies had selected a number of properties for us to go and take a look at."
Two years after the initial contact, BGB officials were ready to visit more than 20 properties from around the region. The company settled on a 24,000 square-foot facility in Chesterfield – a clean, airy and bright workspace for their employees to fulfill orders from around the country.
David R. Holt, CEO of the family-owned company, said "their pro-business attitude and business friendly environment made the decision much easier." Hemstock agrees, saying "we were superbly looked after by the GRP, every time we visited or asked their help or guidance we were given hugely professional, well -researched advice and support, knowing that knowledgeable base remains available even after almost 2 years is very comforting. The decision taken to land our business, our colleagues and our families in RVA was made very easy thanks largely to the support of the GRP."
When Hemstock reflects on BGB's expansion the US, he can't believe where the time's gone. "After looking back after a year, 18 months of this project, we absolutely wouldn't do anything different at all … I absolutely don't know where the last year and a half's gone," he said. "We have quite an exciting project coming on board for 2014. 2014 will come and go in a flash as well."