Success Story | 2 min read
Thomson Reuters
December 17, 2019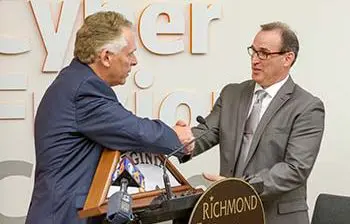 Company Needs and Goals:
In 2017, Thomson Reuters, an international media and information company, began looking for a location for its Cyber Fusion Center. It needed at least 10,000 square feet of office space and would provide a minimum of 60 new jobs. By September of 2017, Thomson Reuters had selected Richmond, Va., as the location of its new Cyber Fusion Center.
Partnership Involvement:
The Greater Richmond Partnership (GRP) had established a relationship with Thomson Reuters in 2011, initially introducing the Richmond area to the company. The Virginia Economic Development Partnership (VEDP) and GRP assisted with the company's inquiries into the region for its 2017 Cyber Fusion center. GRP supported the company and VEDP by locating available office space and providing data on the region.
Why Thomson Reuters Chose Greater Richmond:
Thomson Reuters considered locations in South Carolina, Maryland, and Florida before settling on the Richmond Region. The low operational costs and strong labor forces in Greater Richmond were unbeatable.
A $50,000 grant from Virginia's Opportunity Fund and the state's job investment fund provided additional resources to assist the company with employee training. The opportunity to establish internship programs with Richmond Public Schools was an additional benefit to the company, as was the chance to form connections with area universities.
About Thomson Reuters:
Thomson Reuters is the world's leading source of news and information for professional markets. Customers rely on Thomson Reuters to deliver the intelligence, technology and expertise they need to find trusted answers. The business has operated in more than 100 countries for more than 100 years.
About the Greater Richmond Partnership, Inc.:
The Greater Richmond Partnership, Inc. (GRP) is the lead regional public-private economic development organization for the City of Richmond and counties of Chesterfield, Hanover and Henrico in Virginia. GRP recruits companies from all over the globe which provide employment opportunities and taxable capital investment for the community. For more information, visit www.grpva.com