Blog | 7 min read
7 Steps to Business Success in the USA
May 4, 2017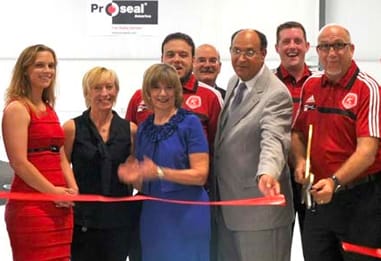 INTRODUCTION:
Looking to grow your business to America is a natural progression for international companies that have seen success in their home market and possibly other European countries. Success can be achieved by following a few simple steps with the assistance of various government and economic development professionals such as the Greater Richmond Partnership. The below seven steps are a practical guide — in some cases not all are necessary — and for some companies, they have already started the journey but need reassurance that a crucial step has not been missed:
---
1. Be Successful First
Ask yourself these questions:
Are you already a successful company?
Do you already have a proven product or service?
Is that product or service already a market success at home or in another international market?
Are you ready to explore new unproven markets (i.e. the US) with that proven product?
What makes you think your product/service is right for the US market?
Are you exporting to the US already?
Are you getting website hits or orders from the USA?
Does one of your existing customers serve the US market, using an alternative supplier?
Is one of your existing customers exploring or starting up in the USA?
Will your product/service appeal to US customers?
Is your product/service cheaper or technically better than those currently available in the USA?
Are you prepared to invest time and money in the USA?
2. Understand the US Market
Get an understanding of the USA — the biggest economy in the world. There are more than 300 million people, five time zones and virtually 50 separate 'countries' under one federal umbrella. Each state shares common language and currency, however cultural differences can dictate market challenges.
Tap into government support available for businesses. If you're in the UK, then representatives from UKTI has market and sector specialists available to help. They can provide impartial advice and guide you through the subsidised programmes offered to businesses by UK Government. Free services are often offered by US economic development teams, too.
Consider other research sources:
Trade and professional publications
Websites (including potential competitors)
Hoovers business information website
Colleges and Universities
Trade Associations and Chambers of Commerce
And ask yourself, do US regulations or certifications apply to your product/service?
3. Build a Business Case for the US
Who are your potential American customers and ultimate end users of your product/service? Do you know where the majority of these potential customers are geographically located in the US? US Census data indicates a large shift of population on the American East Coast from the New England states to the south.
Determine business set-up and operating costs since they vary by location. Along with this comparison, focus on US locations on a regional basis:
Consider time difference – 5 hour difference between US East Coast and UK (six hours Europe)
Business climate – ease of doing business (State laws and taxation)
Check out US Right-to-Work States
Think about industry clusters
Consider workforce needs – now and in the future
Look for programs that support you after the 1st year
Determine what is the profit potential for Year 1, Year 5, Year 10?
Now, verify your research findings and plan your trip to the USA.
4. US Reality Check: An Intensive Research Visit
You should perform 'on the ground' research to verify your desk research. By arriving to your prospective designation, you can take advantage of free, confidential visit services from US economic development professionals and see what it would be like to work along them.
Visit US trade shows and conferences to test your product/service and observe your competitors. You can also meet important trade association contacts.
We highly recommend that a company representative spend time in a relevant US location. Market test your product/service with senior industry specialists (public, private and academic) and talk to other companies from your country which have set up in the region. Meet with professional business advisors and look at property options.
Then determine if now the right time for your business to expand. Are you ready to proceed?
5. Seek Professional US Advice
Your US legal representative is an important piece of your team. Be transparent with your plans from the outset and incorporate in a business-friendly US State such as Virginia or Delaware. This does not prohibit you from establishing your US headquarters in another state, however.
Law firms can also help you protect your company's intellectual property, US contracts, terms and conditions.
And if appropriate, your lawyer can advise you on visas and US employment law.
Hiring an accountant for both personal and business use will be very helpful. The US tax structure is generally more simplified compared to the country you are originating from, however a professional can help you sort out the intricasies of the US tax system.
Insurance — both personal and business — is essential. There are many services and brokers to choose between.
Take advice sooner rather than later, to avoid wasted time — and money!
6. Chose your Route to the US Market
There are a number of market entry options, each with its advantages and disadvantages based around degree of control and cost:
Direct investment – effectively 'setting up shop' in America
Sales office – having one or two company employees in the US
Joint venture/partnership – working with a like-minded US firm to mutual benefit
Agent/distributor – a 'representative' to promote your product/service in the US
Virtual office – a low-cost option, giving you a US presence without employees
7. Getting Started in the USA
Now that you have determined a location, it's time to finish your process!
Professional Services
Secure all legal documents needed, e.g. visas, incorporation, business license, leases, and copyrights.
Open a business bank account
Site location
Secure premises – either physical or virtual
Consider your first US employee(s) if appropriate
Get ongoing free advice from local US economic development experts e.g. grpva.com
Marketing
Secure website domain name for US website
Ensure your product/service and promotional material is US friendly (customize!)
Consider joining your local Chamber of Commerce and network regularly
Do not be afraid to modify your market strategy with experience and market changes (do not be greedy – state-by-state will do nicely)
Focus on first class customer service and request constant customer feedback
Consider joining your local Chamber of Commerce and network regularly
---
CONCLUSION:
The Partnership offers a free, confidential visit service with a tailored itinerary designed to enable you to achieve your specific US business objectives. We know your time is precious so we will not waste a minute of it.
The Process
You complete a simple e-questionnaire, ideally four weeks before you travel to Virginia. From this, the GRP team will draft an itinerary identifying who you would like to meet. You may want free legal or financial advice, view real estate, meet recruitment companies or seek market advice from potential customers/partners. You then approve the itinerary and GRP will secure all the necessary appointments. Make your flight bookings and you are good to go! The Partnership can also advise on hotels in the Richmond Region.
The Service
A Partnership team member will pick you up from your hotel and take you to each appointment. Your schedule will be packed with useful meetings and insights into the Richmond Region. Working lunches and dinners will be included and you will rapidly get a unique picture of business in Virginia; indeed one UK visitor said after a busy two-day schedule, that he had "earned an MBA in American business"! We want you to experience the Richmond Region first hand, so please come and visit and see what we can offer your business.