Blog | 2 min read
Active lifestyle options abound in Richmond, Virginia
April 13, 2018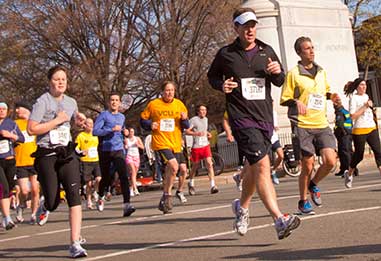 Named one of the nation's fittest cities and among the best running cities in the country, Richmond, Virginia, and the surrounding area offer a plethora of options to keep and maintain an active lifestyle.
In fact, that's the goal of SportsBackers, a local nonprofit charged with making its residents the most physically active in the country. The organization hosts multiple events in the region, including the annual springtime Ukrop's Monument Avenue 10k called one of the best races in the country with more than 30,000 participants. The autumn Richmond Marathon has been called one of the top 15 races in the U.S. and named "America's Friendliest Marathon."
For extreme sports enthusiasts, the Dominion Energy RiverRock event is held here and has been named the nation's largest sports and music festival. For those wishing to explore the nation's only class III and IV urban rapids right downtown, kayaking, canoeing and whitewater rafting is available along the James River, a system of more than 550 acres to explore. Running parallel to the river is the 52-mile Virginia Capital Trail for cyclists connecting Richmond to Jamestown, Virginia. An extensive park system throughout the region also includes Pocahontas State Park with 7,700 acres of park and forest land and an additional 100 local parks and 6,500 acres of designated park land.
With so much to offer, Richmond, Virginia's recreation and leisure scene is one of the best in the country. It's no wonder the region has been named on the "Best Places to Live in the U.S." With numerous running and sports events, art walks, live music events, cultural festivals, and many more options suited for people of all ages, backgrounds and abilities, in Richmond, the only issue you'll find is deciding where to explore first.