News | 7 min read
Facebook announces $1 billion data center in Henrico
October 5, 2017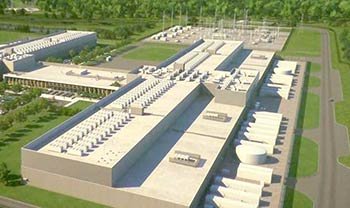 Major data center project will create thousands of construction jobs, more than 100 full-time operational jobs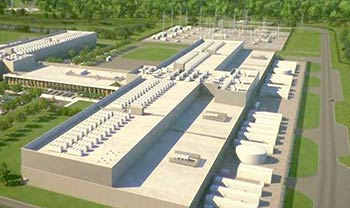 RICHMOND – Gov. Terry McAuliffe today announced that Facebook will bring more than $1 billion of new investment to the Commonwealth. Facebook is directly investing $750 million to establish a 970,000-square-foot data center in the White Oak Technology Park in Henrico County.
In addition, due to a new renewable energy tariff designed by Dominion Energy Virginia and Facebook, hundreds of millions of additional dollars will be invested in the construction of multiple solar facilities in the Commonwealth to service Facebook's Henrico Data Center with 100 percent renewable energy.
The project will bring thousands of construction jobs to the region and more than 100 full-time operational jobs. Gov. McAuliffe met with company officials about the project on multiple occasions, most recently during his San Francisco Marketing Mission earlier this week.
"I am proud to welcome Facebook to Henrico County, and we look forward to a strong partnership," said Gov. McAuliffe, speaking at the event. "When an industry giant like Facebook selects Virginia for a major operation, it's proof that our efforts to build an open and welcoming economy that works for everyone are paying off. For many years, Virginia has served as a key hub for global internet traffic, emerging as one of the most active data center markets in the world. Working with companies like Facebook and many others, we are advancing Virginia's position as a global leader in the technology economy and a world-class home to innovative companies of every size."
Founded in 2004, Facebook's mission is to give people the power to build community and bring the world closer together. People use Facebook to stay connected with friends and family, discover what's going on in the world, and share and express what matters to them.
"Facebook's decision to locate its newest data center operation in Henrico County is a tremendous economic win for the Commonwealth," said Sec. of Commerce and Trade Todd Haymore. "Virginia's information technology sector is booming, with nearly $12 billion in capital investment over the past decade and more than 650 data processing, hosting, and related establishments currently employing over 13,500 Virginians. Facebook, with more than 2 billion monthly users, is a powerful addition to the sector, and I commend the entire team who helped bring this company to the Commonwealth."
The Virginia Economic Development Partnership worked with Henrico County, the Henrico County Economic Development Authority, and the General Assembly's Major Employment and Investment (MEI) Project Approval Commission to secure the project for Virginia. The project was also made possible through a new renewable energy tariff called Schedule RF, designed by Dominion Energy Virginia and Facebook. The tariff will allow large energy users, such as Facebook, to meet their needs through the addition of renewable energy sources. This new product offering will ultimately lead to new business opportunities throughout the Commonwealth. As a secondary economic benefit, the renewable energy projects served under this tariff must be built in Virginia.
A 2017 U.S. Chamber of Commerce data center study estimates that construction of a data center of this magnitude will employ up to 1,688 local workers, provide up to $77.7 million in wages for those workers, and produce $243.5 million in output along the local economy's supply chain during construction. The same study estimates an annual injection of $32.5 million into the economy once construction is completed.
"Virginia has been a home to the Internet since the tech industry's earliest days," said Rachel Peterson, Director of Data Center Strategy at Facebook. "And thanks to Gov. McAuliffe's focus on making the Commonwealth a great place for investment, as well as Henrico County's robust infrastructure and attractive business climate for data center development, we could not be more thrilled to locate our next data center here. When considering new data center locations, we not only look for clean and renewable energy solutions, but great partnerships within the local community, a strong pool of local talent, excellent access to fiber, and a robust electric grid. Henrico County and the Commonwealth of Virginia has it all."
"We are excited to welcome our newest data center campus to eastern Henrico County," states Tyrone E. Nelson, Henrico County Board of Supervisors, Varina District. "We are a proactive community that strives to attract new businesses in key sectors and ensure the success of our existing businesses. The company recognized not only the robust and readily available infrastructure in White Oak Technology Park, but also the significant bottom line value of Henrico's recent tax cut targeted specifically for data centers. We are pleased to add another stellar company to our corporate roster and look forward to supporting their future expansion here in Henrico County."
"Access to clean energy is joining reliability and price as important considerations when businesses decide to locate their operations," said Robert M. Blue, President and CEO of Dominion Energy's Power Delivery Group. "We are pleased we have been able to develop a solution for Facebook that meets all those requirements and creates a model that can be used by other large businesses as well. It opens the door to attracting more businesses and more jobs for the communities we serve."
"I thank Facebook for its decision to invest $1 billion in the Commonwealth, which represents a major victory in Virginia's multifaceted efforts to grow and diversify our economy," said Delegate S. Chris Jones, Chairman, House Appropriations Committee and the General Assembly's Major Employment & Investment (MEI) Commission. "Economic development is a true team effort in Virginia, and I'm pleased that the MEI Commission was able to partner with and support the Governor's office, VEDP, Henrico County, and others to help secure this new investment and job creation in Henrico County."
"Virginia has so much to offer tech companies and other growing industries, and I'm extremely proud that Facebook has chosen Henrico to be a part of its expansion," U.S. Sen. Tim Kaine said. "The Henrico Data Center will support thousands of good-paying construction jobs in the region, in addition to those who will eventually be permanently employed at the facility, and I'm confident it will have a positive economic impact in Richmond for years to come."
"I am so pleased to see Facebook invest in our community, bringing more than 100 tech job opportunities for the hardworking people of the Commonwealth," said U.S. Rep. Donald McEachin. "Not only will Facebook bring more tech jobs to the 4th Congressional District, but this project will include solar panels to power this facility with 100 percent renewable energy. Virginia is once again an innovative leader in creating jobs and using renewable energy to power our community's bright future."
"I welcome Facebook to Henrico County," said Va. Sen. Jennifer McClellan. "The region's economy will benefit immensely from both the construction and long-term operation of their new data center. Facebook's continued investment in Virginia is proof that the Commonwealth is the best place to do business for technology and internet-related companies."
"I am extremely pleased that Facebook chose to accept our friend request," said Del. Lamont Bagby. "Henrico County is rapidly becoming a top destination for the technology industry. Facebook's decision to invest and locate its newest data center in Henrico County speaks volumes to the support the Commonwealth provides in our efforts to create a New Virginia Economy that is innovative and inclusive.
###