Blog | 3 min read
Five reasons to do business in Greater Richmond
July 29, 2022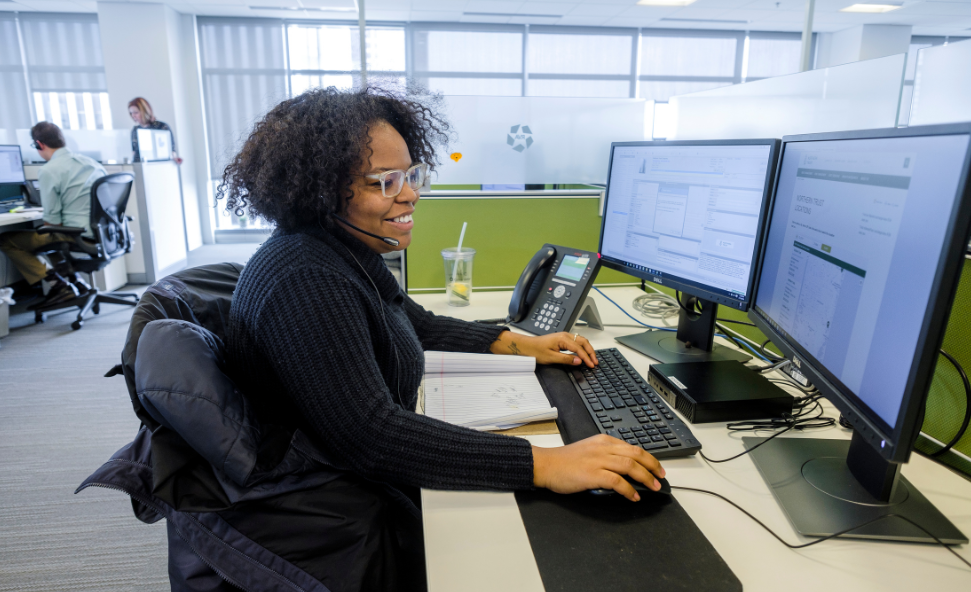 Industrial space development in Greater Richmond is at an all-time high, with more a higher percentage of construction underway now than throughout the past 15 years. The region offers extensive advantages for industrial projects, so developers and new companies are taking advantage of the region's untapped potential.
Whether you are looking for more manufacturing power, satellite office space or a new headquarters, the region delivers. Here are five reasons Greater Richmond is good for business.
1. Low electric rates
Businesses in Greater Richmond are saving on the basics like electric rates which are 30 percent below the national average.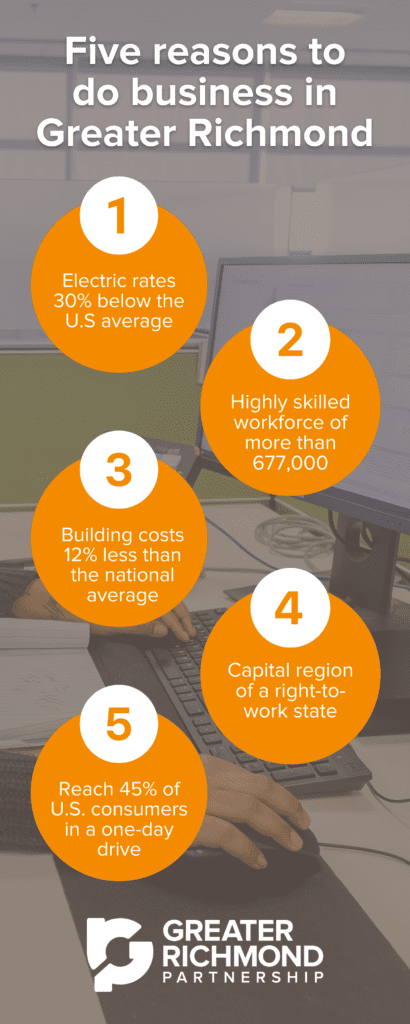 In Greater Richmond, the typical industrial electric rate is 5.02 cents per kilowatt hour as of November 2020. When compared to average rates of 6.35 and 8.92 cents per kilowatt hour offered by East Coast utilities and the national average respectively, companies in Greater Richmond in industries like Advanced Manufacturing, Logistics + E-commerce as well as IT experience more affordable electric rates.
2. A highly skilled, educated and diverse MSA
Greater Richmond draws from and attracts a highly skilled and educated workforce population of more than 677,000 from the entire Metropolitan Statistical Area and beyond. Greater Richmond boasts a significant number of higher education systems, including the University of Richmond and the state's largest university, Virginia Commonwealth University, located in the heart of downtown Richmond with a student enrollment of more than 30,000.
In addition, Greater Richmond is an incredibly diverse, minority-majority city with 36 percent of the region's workforce representing non-white individuals. The city was given a perfect score on the Municipal Equality Index and VCU was ranked fifth in a list of diverse campuses. Greater Richmond is full of major employers that are fully committed to supporting LGBTQIA+ community members, youth and people of color, among others.
3. Lower building costs and dedicated economic development offices
If your company is considering building a manufacturing plant, data center or a new HQ, Greater Richmond boasts building costs that are 12 percent lower than the national average. And in addition to lower building costs, the region's local economic development offices help support fast-tracking projects.
4. Low unionization and unemployment insurance
Virginia is a right-to-work state with low levels of unionization. Plus, unemployment insurance here is among the lowest in the nation.
5. High connectivity to other markets
One of Greater Richmond's key advantages is its strategic mid-Atlantic location along the East Coast's longest thoroughfare, Interstate 95, which provides access to 45 percent of the U.S. population within a day's drive. Greater Richmond's robust infrastructure connects it to the rest of the country and to the world with local transportation including four interstates, an international airport and river access to The Port of Virginia, one of the nation's most technologically advanced seaports.
The region is committed to maintaining its high-quality connectivity and growing its multimodal public transit and commuting systems. In addition to $2.2 billion in planned infrastructure work statewide, Greater Richmond is committed to expanding local transit and national connectivity.
If that doesn't convince you, learn more about doing business in Greater Richmond.