Blog | 5 min read
Greater Richmond's key industries hold strong in new Inc. 5000 list
September 7, 2021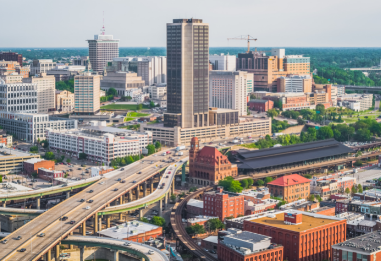 Every year, Inc. magazine publishes a list of the 5,000 U.S. companies with the most growth in revenue over the past three calendar years. This year's list ranked 44 Greater Richmond-based companies, three more than last year. Several companies included on the list represent some of Greater Richmond's target industries: Information Technology, Corporate Services, and Finance & Insurance.
Cracking the top 25 is online retailer Sassy Jones at #24. The black- and woman-owned company is led by Charis Jones, who created the company to sell hand-crafted jewelry and accessories online. Sassy Jones ranked #75 on the list last year, making it the highest-ranked company based in the Richmond Region for two years in a row.
When asked about her success thus far, Charis said in a statement, "I am satisfied, but I am not full… I know that if I can get this far, I got way more to cover, and I don't ever want to stop. I want to see just how good it can get so there's no complacency here at all."
Information Technology
This year, 11 locally-based IT firms made the list with several carrying over from last year. The companies that made the list two years in a row include Blue Ocean Brain, ProfitOptics, Forsyte I.T. Solutions, Paymerang and NDSE. The list also welcomes five new IT firms: Simple Thread, Terazo, Genesis Consulting Partners, AIS Network and Solvaria.
These companies benefit from operating in the Greater Richmond region for its competitive taxes, moderate costs and business-friendly environment. Additionally, the region's pre-certified, secure sites and connection to multiple subsea fiber lines make Greater Richmond a prime IT location.
Greater Richmond's information technology scene is abundant and diverse, encompassing fields such as fintech, telecommunications, traditional and internet publishing, as well as data processing and information services. IT companies thrive in Greater Richmond thanks to a large, educated workforce and Dominion Energy's low cost, reliable electric services. Currently, 18,000 individuals in the Richmond MSA work in computer occupations. The region is also home to nearly 30 higher education institutions which produce more than 1,400 computer and IT graduates every year.

Corporate Services
Seven companies landed on the list for the second year in a row: Practice Promotions, Executive Placements, Brandito, NetSearch Direct, Colab Multimedia, Employdrive, Lingo Staffing and CapTech Consulting. Elite Force Holdings and Astyra Corp. made the list for the first time this year.
As the capital of the Best State for Business, Greater Richmond is a prime corporate services location for its business-friendly regulations and affordable, high-quality lifestyle. The region is home to 12 Fortune 1000 companies, more than any other mid-size market in the nation. In addition to available business support services, locating companies can tap into the graduating students funneling into the workforce.

Finance & Insurance
Finance & Insurance is a strong industry sector in Greater Richmond thanks to several industry heavyweights like Markel, Capital One and Allianz Partners. These companies and more help draw talent from all over the world. On the Inc. 5000 list, the same companies are included two years in a row: Spinnaker Consulting Group, Dominion Payroll, Canal Capital Management and the Hilb Group, which is one of the region's fastest growing firms due to its 119 acquisitions over the past 11 years.
These companies were able to grow in revenue by taking advantage of Greater Richmond's key resources. More than 54,000 individuals in the Richmond MSA make up the local finance and insurance workforce. Additionally, the Richmond Region's telecommunications infrastructure is state-of-the-art with an extensive fiber optic network and digital switching capability.

BioScience
Greater Richmond saw two BioScience companies on the Inc. list this year: Avertest and VetEvolve. Avertest, which tests drugs and monitors and treats substance use disorders, made the list for the second year in a row.
BioScience companies find success in Greater Richmond for various reasons. One of the region's intellectual anchors, the VA Bio+Tech Park, is located in downtown Richmond, Va. Home to more than 60 companies, laboratories and research centers, the park employs more than 2,400 employees. Space in the park is in high demand thanks to its proximity to VCU Health, ranked among the 100 best hospitals in the U.S. by Newsweek.
Local students from community colleges and higher education institutions often funnel directly into the workforce. Local community colleges offer occupational and technical training including customized programs for individual employers. Local universities like Virginia Commonwealth University's School of Engineering offer programs in biomedical, chemical, life science, electrical and mechanical engineering.

View the Inc. 5,000 list of companies in Greater Richmond's key industries below:
BioScience:
Corporate Services:
Elite Force Holdings
Practice Promotions
Executive Placements
Brandito
NetSearch Direct
Colab Multimedia
Employdrive
CapTech Consulting
Lingo Staffing
Astyra Corp.
Information Technology:
Blue Ocean Brain
Simple Thread
ProfitOptics
Terazo
Forsyte I.T. Solutions
Paymerang
Genesis Consulting Partners
AIS Network
NDSE
Solvaria
Finance + Insurance:
Spinnaker Consulting Group
The Hilb Group
Dominion Payroll
Canal Capital Management