Blog | 5 min read
IEDC fellow Tiffany Ip completes Equity fellowship at GRP
September 19, 2023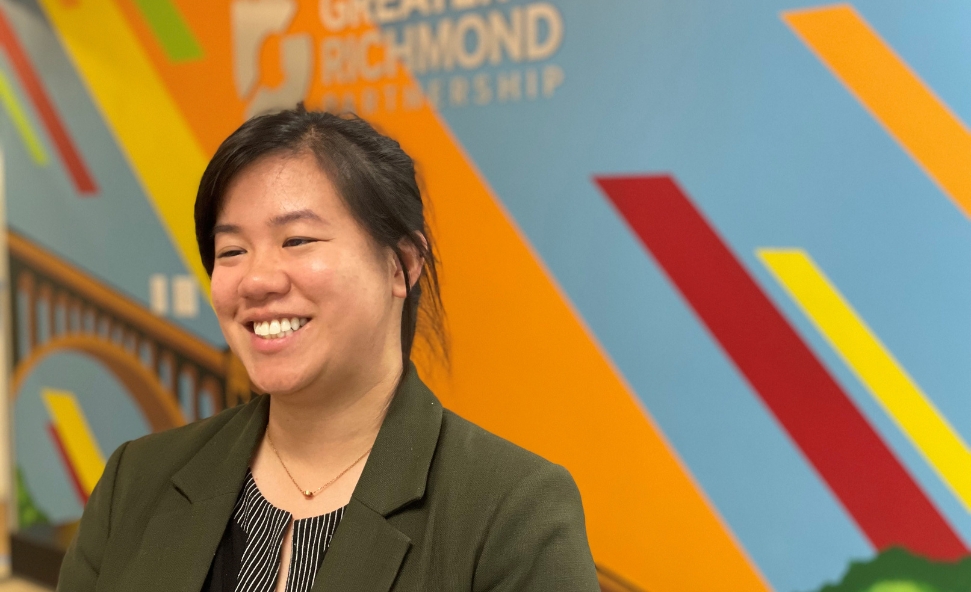 The Greater Richmond Partnership was proud to host our first Equity in Economic Development fellow from the International Economic Development Council (IEDC). Tiffany Ip joined the GRP team in June 2023 and remained on staff for eight weeks. During that time, she completed an analysis of Greater Richmond's environmental, social and governance (ESG) initiatives and developed a strategy to attract companies seeking locations that will enable them to meet these goals. GRP will utilize these strategies to attract companies to the region using Tiffany's in-depth research.
GRP Vice President of Strategy Angela Oakes oversaw Tiffany's work throughout her eight-week fellowship. To commemorate her last day with GRP, Angela sat down with Tiffany for an exit interview:
Angela: Tell us a little about yourself.
Tiffany: I'm a graduate student at Rutgers University, currently studying City and Regional Planning with a focus on housing development, urban redevelopment and real estate. I'm from Atlantic City, N.J., and lived in New York City for seven years prior to starting my program.
I'm also really into home renovation and interior design so a hobby I picked up over the last few years was building models of homes and apartments, including my own family home, on Planner 5D.
One of my big life-long goals is to be an author and I hope to write something that will someday be adapted into a movie or TV show.
Angela: What drew you to apply to IEDC's fellowship program?
Tiffany: I graduated from New York University with a degree in economics and I've always been curious about economic development as a career path. With my studies in urban planning, equity is a huge part of that work, especially with my focus on housing development.
I was drawn to IEDC's fellowship program because I felt it would give me a good opportunity to learn about economic development in a way that would provide some insight on where I want to go next in my career.
Angela: What did you hope to achieve throughout your fellowship with GRP?
Tiffany: I hoped to understand what economic development entails and how that might tie into the work I'm looking to do in the future. My economics coursework in undergrad was pretty theoretical, so I was looking to understand how organizations approach economic development in practice.
Angela: Describe your scope of work over the last eight weeks.
Tiffany: The approach for my research was broken down into four parts: research, lead generation, marketing and strategy. I first familiarized myself with the Richmond Region, its history and initiatives that address inequity. Then I looked into corporate responsibility goals to understand how Greater Richmond can help companies achieve their goals in this space. Finally, I identified companies with strong CSR initiatives or that were minority-led and conducted in-depth research to determine the best strategies to recruit them to Greater Richmond.
Angela: Tell us a bit about your findings.
Tiffany: I was able to learn a lot about how Greater Richmond is working to make its economic growth equitable across the board and how important it is to be knowledgeable of what initiatives are happening on a local, regional and state level. This involves being up to date on political and current events that can spell out different things for different groups.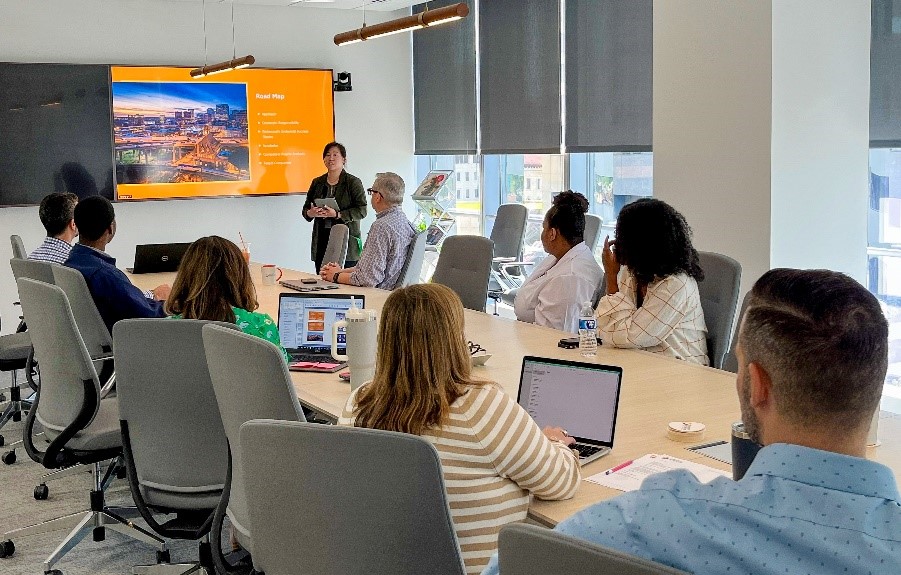 The work I've done here has also helped me understand how intertwined economic development is with city planning and how they work alongside each other. This is something I'll definitely be taking with me as I continue my studies and professional career.
Angela: What was your favorite aspect of joining the GRP team?
Tiffany: My favorite aspect was seeing how well the team works together. It's refreshing to be in a work environment where you can feel that everyone is down-to-earth and welcoming. Everyone was very eager to help me develop professionally and gave me many opportunities to meet with people in the industry and learn as much as I could. The GRP team showed me what a healthy work culture looks like and I am very thankful for their guidance and hospitality.
Angela: What was your favorite part about living in Greater Richmond?
Tiffany: My favorite part about living in Greater Richmond was experiencing the history of the area and feeling how much people care about where they live. It's one thing to read about the history and culture, but it's another to see it in action.
From the Jackson Ward Mural Tour to the Valentine Museum and the I Am Tourism Ambassador program, it's clear that Greater Richmond wants people to know what it's about. It was cool to feel that pride for the region coming from people who live here.
Angela: You were a joy to have on staff. You are a hard worker and were always determined to put your best foot forward. I know you'll accomplish great things in your career. So, what are the next steps for you?
Tiffany: Thank you! After finishing my program at Rutgers, I hope to find a role where I can learn more about urban and housing development, whether that be in New York City or back in my hometown of Atlantic City.
I am driven by a desire to find solutions to end homelessness, particularly in urban areas, and to understand the factors that contribute to chronic poverty in different communities.
At the culmination of my work, I envision a design for transitional housing that incorporates a multitude of resources, such as job assistance and mental health services, while developing programs to address the factors that are hindering equitable economic growth in the community.