Blog | 3 min read
Innovation grows in Richmond, Va.
March 9, 2018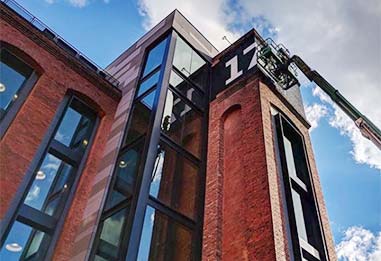 Our region has become a magnet for millennial talent and startups. Richmond is home to numerous innovative spaces to support professionals and students alike to collaborate and bring ideas to life.
Thanks to an investment from Capital One, the new 42,000-square-foot 1717 Innovation Center, serves up to 50 startup businesses in the heart of downtown Richmond. The goal is for up to 200 startup companies to use the space in the first three years, with access to more than 70 volunteer mentors who will offer business advice and leadership training. The building's operator, Startup Virginia, was founded by like-minded entrepreneurs deeply invested in the region's innovation ecosystem. The six-story building will house an innovation and research center for Capital One (the region's largest employer) and will offer space for events and educational programs.
Just around the corner, locally-headquartered CarMax has modeled its Innovation Center after startups in Silicon Valley, focusing on technology powering the customer experience. The Innovation Center's newest implemented technology is the 360-degree view from inside the car that allows customers to see the interior while shopping online. The company's current project focuses on home delivery, giving shoppers an opportunity to test drive cars if they have no time to visit a CarMax in person.
BioSciences
Health and life sciences are constantly being improved from research and development models.
The Virginia Center for Health Innovation is a public-private partnership that accelerates the adoption of value-driven models of wellness and health care. The organization consists of health care providers, health systems, pharmaceutical manufacturers, employers, consumers, and government who work together in developing recommendations about implementing health reform and to seek innovative solutions that meet the needs of Virginia's citizens and its government. VCHI also provides an online forum for individuals to share information, ideas, and innovations, collaborate on projects, and more on wellness and healthcare in Virginia.
Talent pipeline
The incoming workforce will have experience in innovative workplaces from a university level. These innovative and collective spaces are molding students to be both analytical and creative for today's competitive business environment.
At the University of Richmond's Robins School of Business, the new idea lab (or iLab) was created to foster innovation and collaboration among the students. The space features the ability to link any device to several different displays, Skype-ready screens with cameras and microphones, digital whiteboard walls that can send notes and sketches as a PDF, and moveable furniture to accommodate meetings both small and large.
Virginia Commonwealth University is home to the da Vinci Center, a unique collegiate model that advances innovation and entrepreneurship through cross-disciplinary collaboration. Students in the da Vinci Center view innovation and entrepreneurship from numerous disciplinary outlooks. Current innovation projects include clients such as Pfizer, Productiv Inc., and Hamilton Perkins Collection.