Blog | 3 min read
International and domestic talent flock to Greater Richmond
February 13, 2020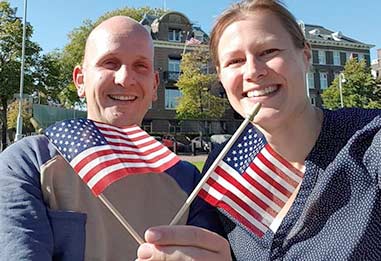 Situated in the heart of Virginia, Richmond is one of only 20 cities in the U.S. where population growth is evenly split between domestic and international migration. On average, since 2010 the Greater Richmond region has gained over 200 new residents per week.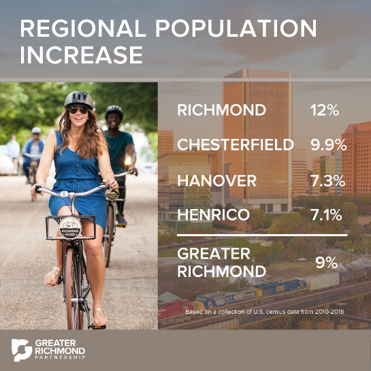 While Richmond remains Virginia's fourth-largest city, its population grew the most across the state with a 12 percent increase between 2010 and 2018. The counties of Chesterfield, Hanover and Henrico increased 9.9, 7.3 and 7.1 percent, respectively. Greater Richmond also surpassed the U.S. national average for domestic and international migration.
This population growth has directly fed into the skilled labor force, creating an ideal market for international companies looking to hire fresh, young talent. In addition to the labor force, Greater Richmond offers residents a high quality of life centered around its diverse culture.


Welcoming to global businesses
According to the U.S. Bureau of Labor Statistics, over 16 percent of Virginians now speak a language other than English in the home. In the Richmond Region, the most common foreign languages include Spanish, Arabic, French and Chinese.
Day schools are a popular option for international residents aiming to immerse their children in their respective cultures. Richmond houses the Central Virginia Chinese School; Nihongo Hoshuuko, a Japanese day school; and Rudlin, a Hebrew day school. These schools operate on weekends and help children retain cultural and native language skills.
The region has a long-standing record of success attracting international companies, housing more than 220 companies from 26 countries including Brazil, the UK, Canada and France. Success stories include companies like Mavalerio, BGB Technology Inc. and ITL Virginia, Inc.
The Greater Richmond Partnership offers a Global Assistance Program (GAP) that provides international firms with a team of local, well-qualified business service providers who can offer expert advice and as-needed support. GAP can assist in various scenarios like finding the right lawyer, accountant or insurance agent.

An affordable option
Recent data shows that Richmond has remained a desired destination for domestic migration. Net migration has increased from metropolitan areas like Hampton Roads, Charlottesville, Washington, D.C., and New York. The median age of those moving here is 26.
Population growth and business development boost every segment of the region's economy, providing business opportunities for a wide array of firms. Community development, quality of life and the arts have all benefited, along with the quality of jobs and employment opportunities for current and new residents alike.