News | 3 min read
Mayor Stoney to lead Richmond delegation to South by Southwest
March 9, 2018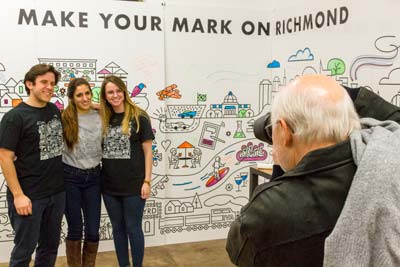 RICHMOND, VA – City of Richmond Mayor Levar Stoney will lead a delegation of business leaders from the Greater Richmond Partnership (GRP), ChamberRVA and Richmond Region Tourism to Austin, Texas, for the 2018 South by Southwest (SXSW) conference to promote Richmond as a top location for business, talent and tourism.
While there, Mayor Stoney will be attending the Mayors' Summit, also known as Civic I/O, an event that brings civic leaders and urbanists together to strategize and transform the cities of tomorrow. The Mayors' Summit runs March 8-11, which provides ample overlap with the Interactive Tradeshow from March 10-15.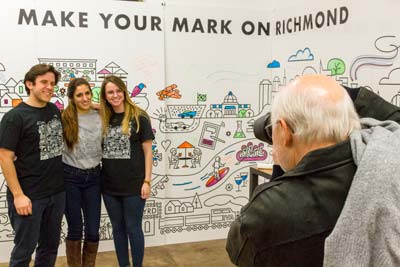 "I'm excited to attend SXSW this year to learn about other communities, what they're doing in innovation, and how Richmond can continue to grow our tech community," said Mayor Stoney. "I'm especially proud of the regional effort put forth by the Greater Richmond Partnership, ChamberRVA, and Richmond Region Tourism to showcase the exceptional creative talent in RVA."
The Mayor will participate in a number of meetings with business prospects on Sunday, and then host visitors at GRP's regional booth on Monday before returning to Richmond, said Bethany Miller, GRP Vice President of Business Development.
A student team from the Virginia Commonwealth University (VCU) Brandcenter designed the booth with an illustration from Flourish Creative's Laura Marr. The 20-foot-long mural features a dry-erase surface, inviting passersby to 'Make Your Mark on Richmond.'
Marr's mural was revealed at a kick-off event on Feb. 13 at Blanchard's Coffee Roasting Company. Blanchard's will be serving coffee in the booth – an alluring smell for attendees who need a jolt at the beginning of a long day at the conference.
"The past two years, we've focused on promoting RVA's craft beer scene by pouring samples for attendees," said Miller. "However, we've noticed that coffee is in high-demand, and we're fortunate to have Blanchard's as a partner this year."
About the GRP
The Greater Richmond Partnership, Inc. (GRP) is the lead economic development organization for the City of Richmond and counties of Chesterfield, Hanover and Henrico in Virginia. GRP recruits companies from all over the globe which provide employment opportunities and taxable capital investment for the community. For more information, visit www.grpva.com.
About ChamberRVA
ChamberRVA is building a thriving business community by supporting the success of its members, providing a strong business voice and developing leaders and entrepreneurs. The Chamber, a not-for-profit business membership association, is the voice of business in the City of Richmond and the counties of Charles City, Chesterfield, Goochland, Hanover, Henrico, New Kent and Powhatan, as well as the Town of Ashland. Please visit www.chamberrva.com.
About Richmond Region Tourism
Richmond Region Tourism, the official destination marketing and tourism organization for the Richmond Region, is a private, not-for-profit organization dedicated to promoting the Region to meeting, convention and sports event planners, tour operators and leisure travelers. Richmond Region Tourism operates three Visitor Centers located at the Greater Richmond Convention Center downtown, the Richmond International Airport and Bass Pro Shops Outdoor World in Hanover County, and a Mobile Visitor Center.
More than 7 million people visit the Richmond Region annually, contributing more than $2 billion to the local economy. Tourism generates nearly 23,000 jobs in the Richmond Region. VisitRichmondVA.com.
# # #
Photos of the kickoff event: https://flic.kr/s/aHsmedW1dW