Blog | 2 min read
New GRP mural welcomes business executives to Greater Richmond
March 3, 2023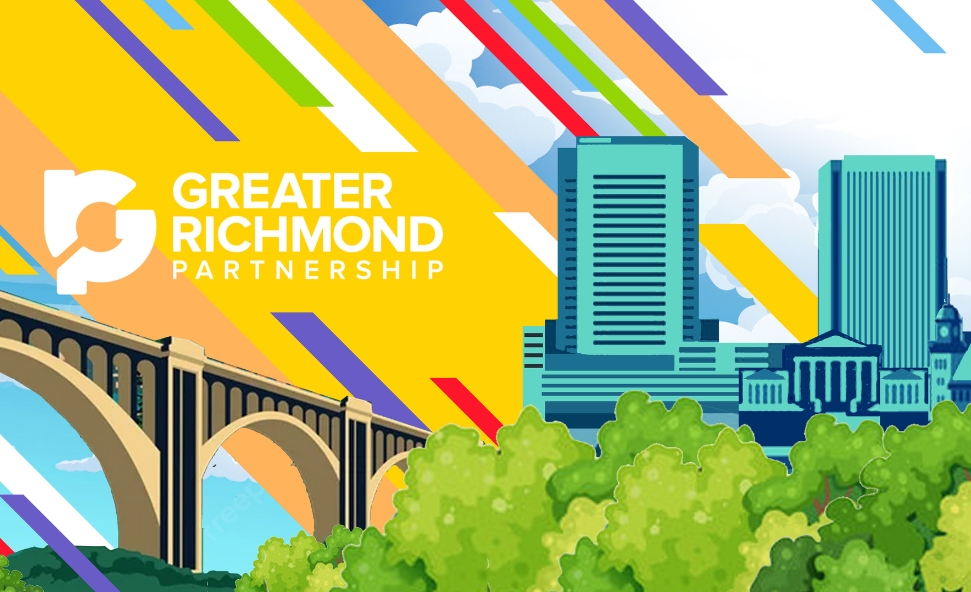 The Greater Richmond Partnership's office features a brand new mural by local artist Hamilton Glass, founder of the Mending Walls project and creator of many popular Richmond murals.
"Creativity is everything. It is," says Glass as he reflects on creating GRP's mural. "It represents the way you move to the ideas that you have and develop. Being able to do fun and exciting things is really what creativity means to me."
This mural, designed custom for GRP, will be a first look at Greater Richmond for many business executives considering investing in the region. The mural depicts aspects from the City of Richmond and counties of Chesterfield, Hanover and Henrico to convey the region's assets and business advantages. GRP team members can use the mural as talking points for the region while meeting with potential clients.
Showcasing Greater Richmond
Hamilton designed the mural with guidance from GRP President + CEO Jennifer Wakefield. According to Jennifer, "We wanted the mural to highlight our region's creative nature while telling the business case for why companies should invest here. Thanks to Hamilton's amazing work, visitors in our office can preview all four of our localities — the City of Richmond and counties of Chesterfield, Hanover and Henrico — from the comfort of our boardroom."
From a business perspective, the mural includes:
Greater Richmond's growing skyline to highlight corporate services
A graduation cap showcasing the region's educated graduates that funnel into the local workforce
A science beaker celebrating the region's Life Sciences industry
An OREO cookie to highlight Food + Beverage in the region,
A recyclable cardboard box that spotlights the region's sustainable packaging sector,
Two hands engaging in a handshake representing regional collaboration,
And the fiber optic cables, airplane, interstate signs, bus and anchor all represent Greater Richmond's strong network of infrastructure.

Other elements in the mural highlight Greater Richmond's superior quality of life and iconic local symbols like the James River Railway bridge as well as Hanover's mouth-watering tomatoes. The region's quality of life is expressed through the greenery, the kayakers rowing down the James River and a mug of local beer.
Take a look at how the mural was created in this video: