Blog | 2 min read
Partnership provides in-market tours to tell Greater Richmond's story
November 30, 2018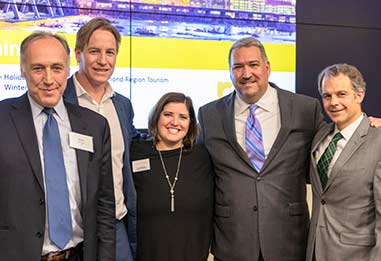 The Greater Richmond Partnership (GRP) team is regularly on the road traveling to meet with executives looking to expand or relocate their company to the East Coast. However, marketing the Richmond Region can't be done just through domestic and international travel. Sometimes the best way to discover the business advantages of Greater Richmond is experience it in person.
Over the last month, the GRP team has helped coordinate visits from influential site-selection consultants, media and UK parliament.
Last week the GRP partnered with the Greater Richmond Association of Commercial Real Estate, and Virginia Economic Development Partnership and our localities (City of Richmond and the counties of Chesterfield, Hanover and Henrico) for a Consultant Mini-Mission. GRP Vice President of Domestic Investment Bethany Miller led our guests Didi Caldwell and Tess Fay of Global Location Strategies on a familiarization tour of the region's assets. Gov. Ralph Northam and Secretary of Commerce and Trade Brian Ball helped welcome our guests to the region.
Richard Bradley, Worth Magazine Editor-in-Chief and Chief Content Officer, spent a couple days learning about the region's business and philanthropic communities. He also participated in GRP's Fall Investor Forum and provided insight into the external perceptions of the area and how visibility of the region's strengths can be increased.
Keeping our international relationships strong, Olga Molnar, GRP's Vice President of Global Investment, coordinated a visit with Mark Garnier, UK Member of Parliament and Regional Envoy to the USA. The visit provided an opportunity for local business leaders with connections to the UK to discuss policies impacting their business, such as Brexit and international trade.